A winning landing page does little to convert visitors if the page isn't getting traffic. For immediate traffic results, many marketers turn to pay-per-click campaigns. There are four primary methods for driving traffic to your landing pages using PPC: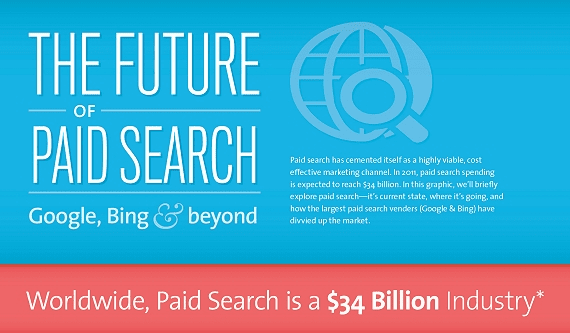 Text ads
Display (banner) ads
Social media ads
ReTargeting
Most ads are based on either cost-per-click (CPC) or cost-per-impression (CPM):
CPC: The cost to an advertiser each time a user clicks on the advertisement
CPM: Typically, the cost per thousand impressions. This means you, as an advertiser, will pay a set amount for every thousand times your ad is displayed, whether that results in any click-throughs or not
If you've never run a PPC campaign, it's easy to get lost in the numerous variables that can influence the success of your ads. Fortunately, we've put together a quick guide to help you choose which method is best for you, and we've named a few noteworthy tools that can help you do it right.
You might also want to check out the infographic at the end that shows how important paid search is and how fast it's growing.
1. Text Advertising
Pay-per-click text advertising allows marketers to bid on keywords for ad placement on websites or in search engine results pages (SERPs). In the case of text ads, there are no images to worry about, your text does all the talking. Think about Google search engine results pages; On the top in a shaded area and to the right of the organic results is a list of text ads from relevant advertisers in the network.
Google offers several user tools that can help organize text ad campaigns, and the search giant provides valuable feedback and optimization tools for easy campaign management.
The text ads appearing in the top shaded area and to the right of the screen are from advertisers who have bid on landing pages as a key phrase.
Google AdWords
By far the most well-known PPC engine, Google AdWords allows marketers to bid on keywords and automatically places ads on relevant websites within its advertiser network (those using Adsense) or in its own SERPs (as illustrated above). Users set a maximum bid rate and a maximum budget per day for selected keywords and phrases. The Google AdWords Keyword Tool helps users identify profitable keywords, competition and average costs.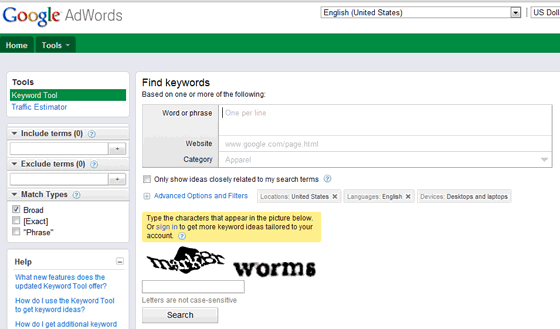 The Google AdWords Keyword Tool is a useful tool for any marketer looking to target a specific term on the Web.
Google's Traffic Estimator provides estimates of average cost-per-click, daily clicks, ad placement and overall daily budget based on user-specified data, including:
Keywords
Maximum bid
Maximum daily budget

If you're using Google AdWords, check out the Traffic Estimator Tool, which helps you identify the keywords within your budget.
Bottom line: Google AdWords advertising is a strategy for gaining exposure on the first page of Google's search engine results pages and on websites in their Adsense network.
2. Display (Banner) Advertising
Display ads involve graphics, video or sometimes, audio. Otherwise, they're pretty similar to text ads and are usually positioned on a website immediately below the header area, in the left- or right-hand sidebar or near the footer, below the page content. However, display ads have gotten a bad rap in the advertising community, primarily for their annoying ability to disrupt a user's ordinary web experience with unwelcome audio and video, particularly in the form of pop-ups.
Of course, pop-ups have lost their appeal with many advertisers for this reason and in response to the rise of pop-up blockers, many are now incorporated into web browsers. That said, there's still a market for display ads when they're unobtrusive, and the right user tools can help advertisers deliver an effective marketing message.
BoostCTR
BoostCTR is a crowdsourcing platform connecting companies to designers, copywriters and pay-per-click geniuses. Providers compete for business based on results, allowing marketers to test-drive vendors before choosing the most effective campaign.
But it doesn't end there; BoostCTR's network includes experts in user experience, optimization and conversion testing, so a campaign is never just created and turned over to the company. BoostCTR's testing services can be used to continuously monitor, test and revamp campaigns, saving business owners valuable time.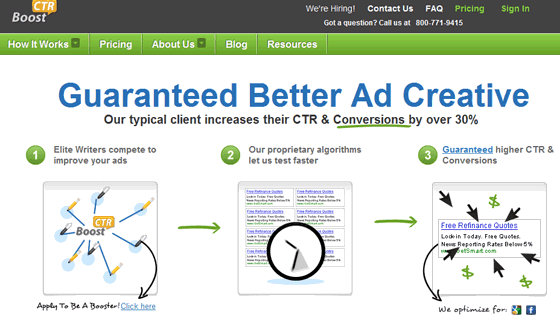 Boost CTR specializes in creating effective ad creative that gets users' attention and also offers a suite of tools designed to maximize campaign results.
Bottom line: BoostCTR offers businesses a multitude of options for handling PPC campaigns from start to finish. It can be expensive, but hey, time is money, right?
3. Social Media Advertising
Social media advertising is another emerging tactic for driving landing page traffic. Ads can be placed typically in either text or display format (depending on the channel). Each social network has its own specifications and its own user base (which of course often overlaps with other networks).
Facebook Ads
Facebook has more than 845 million active users; more than half log on at least once per day. Marketers can target Facebook ads based on:
Location
Education and work
Language
Gender
Age
Relationship status
Likes and interests
Connections
Facebook ads can be purchased on a cost-per-click (CPC) or cost-per-impression (CPM) basis. Similar to Google AdWords, Facebook ads rely on user-provided maximum bid price and maximum daily budget, and both copy and images can be changed at any time. Facebook offers ad analytics, which have recently become more robust, but it's also possible to integrate Facebook ads into Google Analytics or other tools.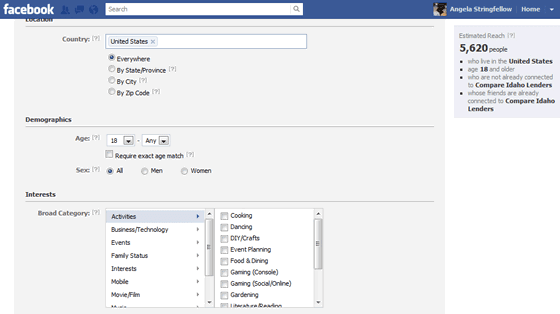 Check out Facebook's Ad Analytics to monitor and tweak your campaigns.
Bottom line: The social nature of the platform can increase visibility if users share information on ads they've clicked on. Many businesses choose to advertise a Facebook business page; New likes will appear in his or her newsfeed, advertising the page to their friends. Some say Google AdWords produces better conversion rates for their campaigns though.
LinkedIn Ads
LinkedIn is a widely-used social network, most known for its strong business-oriented user community. Ad-targeting options reflect LinkedIn's business and career-oriented user base, allowing marketers to target ads based on:
Job title
Job function
Industry
Geography
Age
Gender
Company name
Company size
Group memberships
Like Facebook ads, LinkedIn ads rely on user-specified maximum bids and maximum budget. Ads may appear on any of these types of pages:
Profile pages
Home page
Inbox
LinkedIn search results pages
Groups pages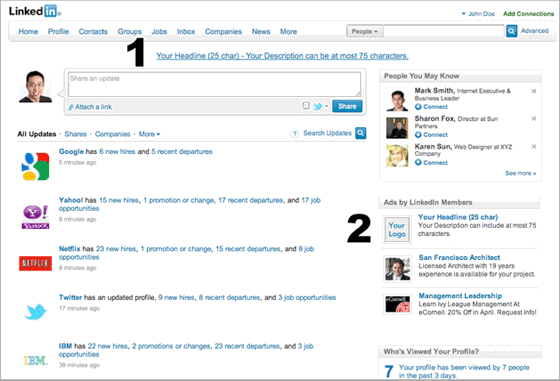 LinkedIn ads are ideal for marketers targeting career professionals, and ads can be targeted by industry.
Bottom line: LinkedIn's audience tends to be more business-minded and educated than the average Facebook user, making this an ideal channel for targeting those demographics. But if the educated professional isn't your target audience, steer clear of LinkedIn.
Campaign management
Of course, it's always nice to have a single tool that can manage all of the above in a single interface. We've got one of those for you, too.
Trada
Trada, another crowdsourcing platform, brings it all together with the option of delivering ads to Google, Yahoo, Bing and even Facebook. Trada operates on the principle that managing separate campaigns on multiple search engines is too time-consuming for most business owners. Trada provides comprehensive PPC campaign creation, management and monitoring that spans several channels.
Instead of a single campaign optimizer, Trada's services incorporate a whole team of experts who collaborate, and they only get paid when the business' goals are met.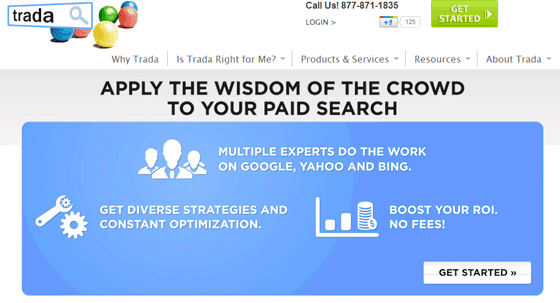 Are you a hands-off marketer? Outsource your entire PPC campaign to Trada – if you can handle the price tag.
Bottom line: Businesses can outsource entire PPC campaigns to Trada. If you're a hands-off kinda person, you'll love Trada.
Retargeting
Pay-per-click alone, if executed well, can produce high conversion rates and drive company profits. However, retargeting builds on traditional advertising best practices; specifically, the idea that a prospect must be exposed to the same message several times before making a purchase. Radio ads, for instance are repeated several times during a day or drive time to increase the odds of the same consumer hearing the message multiple times.
Retargeting does just that by tracking prospects who have visited a website and focusing future ads to the same audience. Here's a look at a few retargeting tools:
AdRoll
AdRoll points out that just 2 percent of visitors to an online retailer convert to customers on the first visit. The other 98 percent convert on subsequent visits. AdRoll tracks visitors that reach a business' landing page and display ads to these visitors as they browse other websites. The company reports a $10 ROI for every $1 spent on retargeting using its services.
AdRoll requires businesses to supply their own creative, which means some businesses will want to outsource to a designer to create ads and graphics. The company offers three tiers of pricing plans encompassing a host of solutions, including more than 30 inventory channels and A/B testing. AdRoll's campaigns operate on a cost-per-impression basis, so fees are based on the number of times an ad is viewed by the target audience, not the number of clicks.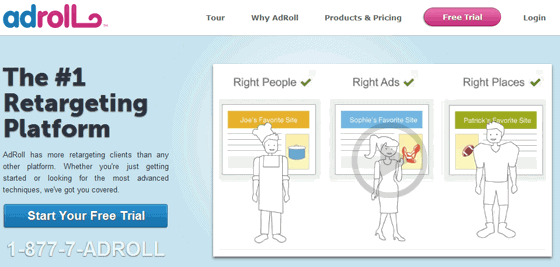 AdRoll is an awesome retargeting tool, if you have the resources to supply your own creative.
Bottom line: AdRoll promises an impressive ROI, but you'll have to supply your own creative, which adds to total in-house or outsourced design costs.
Google Remarketing
Google AdWords also has a retargeting feature, which the company refers to as remarketing. In the Audiences tab in the Google AdWords dashboard, users can opt to add a remarketing tag (a snippet of code) to targeted pages, allowing Google to track page visits. AdWords campaigns can then be used to retarget consumers who have visited certain pages or even to up-sell consumers who have already purchased a product.
The process is simple: Users create a remarketing list and paste the remarketing tag into relevant pages. Ads will then be displayed to users who have already visited tagged pages. Users can view remarketing lists and tweak them throughout campaigns for a totally customized reach.
Bottom Line: Google's remarketing feature operates seamlessly with an AdWords campaign. This feature may not be included in some packages offered by third-party vendors though, so marketers wanting to outsource their entire PPC campaigns should choose providers wisely.
ReTargeter
ReTargeter boasts decreases in bounce rates by an average of 20 percent and a three-fold increase in conversions. The company uses the same general retargeting principle as other companies, but also offers initial campaign management. Beyond this, ReTargeter offers specific packages to drive Facebook business page likes, email campaign services and a social package encompassing blogs, Facebook and YouTube.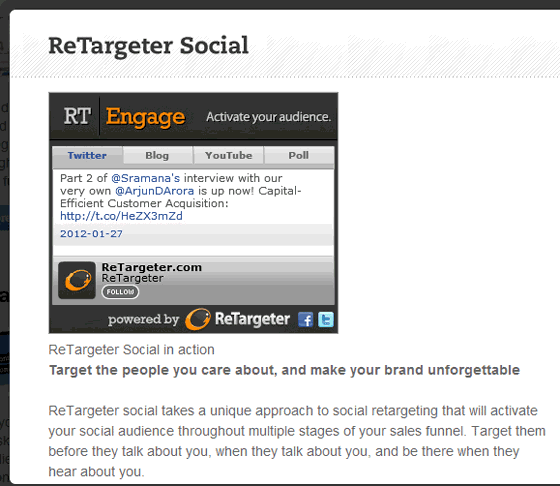 ReTargeter offers a host of solutions for a variety of needs.
Bottom line: ReTargeter offers a host of packages and services to expand on the idea of retargeting and improve social engagement.
---
There's one thing every business wants out of any effort designed to drive traffic to a landing page: results. Many traffic building campaigns can be handled by a business owner or marketer, but if you're looking for premium results, using a PPC tool or even outsourcing to an expert is well worth your time and money.
---

++ Click Image to Enlarge ++


Source: The Future of Paid Search Infographic