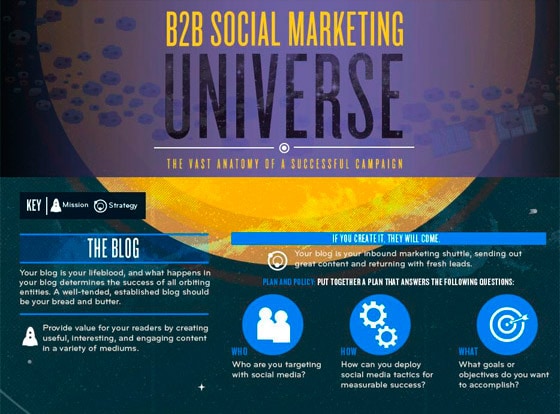 Earlier this week we started talking about using social media to generate B2B leads, and today we're going to follow up with some more stats on the subject – not that we're trying to ram the message down your throat that social is good for business or anything…
The infographic below (changing into a lawyers voice), will show within reasonable doubt, that in fact, social media should be a big part of your B2B marketing strategy. And furthermore, should be a high priority piece of your planning for every marketing campaign.
---
Some Highlights
Everything starts with your blog: If you want to share or start a conversation with social media, you need a story. Your story is your content. So focus on creating industry leading, original content on your blog, so people will link to you, subscribe to your RSS and come back.
Where are B2B companies spending time on social networks?:

Facebook: 34.6%
Twitter: 25.6%
LinkedIn: 25.3%
Does that make sense?
Other studies show that LinkedIn generates more B2B leads that all of the the other social networks. I guess you have to test it with your target market to see what works best for you. But one thing I will say in LinkedIn's favor is that it's targeting/segmentation abilities are second to none and allow you to really hone in on your target market.
---
The jury says: Don't forget to use the tweetable stats and quotes at the bottom of the page so you can show off your new social B2B marketing education. Along with the 3 bonus blog posts on the subject of B2B social media marketing.
You're welcome.
---

Tweetable Stats
34.6% of B2B companies are active on Facebook to promote their blog and build brand ambassadors
» Tweet This «
[Infographic] Your blog is your inbound marketing shuttle, sending our content and returning with leads
» Tweet This «
[Infographic] 25.3% of B2B marketers use LinkedIn to reach high profile influencers
» Tweet This «
---
Useful Links About "B2B Marketing With Social Media"
---