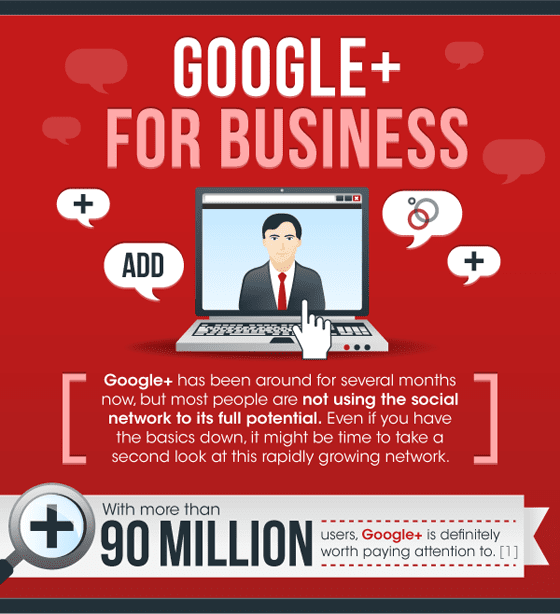 Get ready for some proof that Google+ is important for your business.
It's the final day of infographic week based on our Ultimate Guide to Marketing with Infographics, and I'll be sharing our fourth infographic example using the 12 steps that make marketing data visualization easier. This time I'll be running through why you should be using Google+ for your business.
Don't forget the tweetable facts taken from the infographic at the end of the post.
But I don't want a 3rd sock!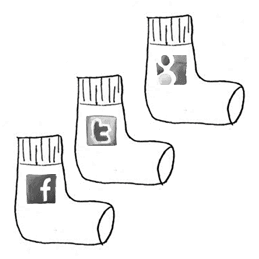 That title was the best quote heard at last years SEOmoz MOZcon conference – in reference to Google+ being an unnecessary extra social network after Twitter and Facebook. Things have changed now and Google+ is emerging as a great location for businesses to interact with their followers.
"On Air" video hangouts are great for broadcasting and chatting with people en masse – you can use them to train existing customers on using your product or just have an open Q&A session. This can make your customers feel really included in the progression of your product if you do it right.
And if you happen to be a Red Hot Chili Peppers fan (and a guy), you'll know what to do with that third sock.
The stats don't lie
To add a second musical reference, as Shakira said – "Hips Don't Lie" – well, neither do the stats in the infographic below. But there are a lot of them so I'll do a quick highlight run-through of the best of the bunch. You can tweet them out and look super smart at the end of the post.
Google+ For Business – Summarized
90 million users: And this is only going to grow (fast) because Google is making a Google+ account mandatory for all Gmail users.
Indexed by Google: Naturally your Google+ business page will get indexed super fast – this will help more people find your business.
Frequency: 60% of Google+ users log in every single day compared to 50% for Twitter.
Curation: The way Google+ is set up makes it much like a magazine, so you should use it to curate useful content to draw people back.
How to spend your time: Find info your circles (nicely segmented) would enjoy and share it with them. Post several times a day to reach your global audience.
Retention: As I mentioned above – host hangout events that your customers can attend, which will increase their loyalty to your brand and make them ambassadors for your product/service.
+1: When people +1 your content there's a good chance it will rank higher in the search results.
Segment: Use circles to segment and target your customers with relevant information and dialogue.
So, with the highlights out of the way, check out the full – and very informative infographic below.
---
Tweetable Facts