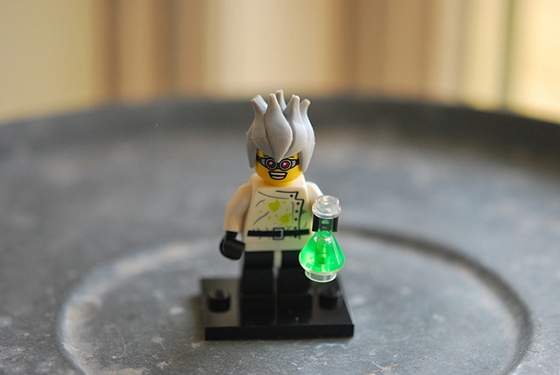 Are you blindly following "best practices"? Summon your inner mad scientist and put your assumptions to the test. Image by
Julochka
via Flickr.
When optimizing landing pages and marketing campaigns, many marketers look to the pros for advice.
Conversion rate optimization veterans have spent much time in the testing trenches, where they've both triumphed and seen epic conversion fails. Learning from their mistakes can save you hours of trial and error – and many marketing dollars.
The first ever Call to Action Conference featured heaps of CRO advice from our speakers, but one recurring theme kept cropping up:
Never trust so-called "best practices." Question everything and test your assumptions.
CRO isn't about following the rules. It's about learning effective tactics and then testing them. For science.
Here are 10 testing tips from the conference to help you identify the assumptions you're making – and start testing them for game-changing results.
1. Oli Gardner: Test your testimonials
Including raving testimonials from your customers on your landing page is universally accepted as a conversion rate booster.
But for Oli Gardner, co-founder of Unbounce, you still need to test: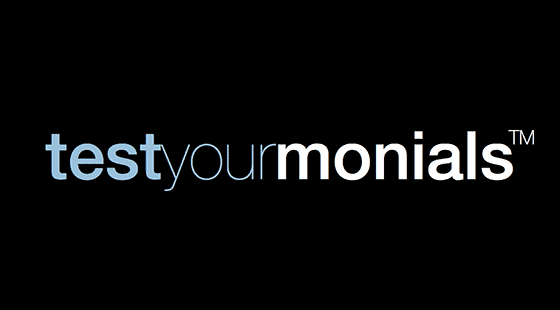 Testimonials can actually work against you if they appear fake, or if they come from people who are not relevant to your target customer.
According to Oli, any testimonial you select should be:
Believable and come from someone your ideal customer will relate to.
Only as long as it needs to be. Lengthy wall-of-text testimonials will create perceived friction because they feel like a chore to read.
Presented in context.
Most importantly, every testimonial you select should be A/B tested to validate your assumptions. Even testimonials from real customers can appear fake to visitors (and you may not even realize it).
2. Chris Goward: Test your unique value proposition
Chris Goward, founder of WiderFunnel, understands the importance of a balanced testing diet:
"Don't rely too much on metrics/data, 'best practices' or intuition – you need a balance." – Chris Goward
For Chris, you need to draw on your intuition to create educated hypotheses about what your prospects want on your landing page. And to tap into what they want, you need a solid unique value proposition.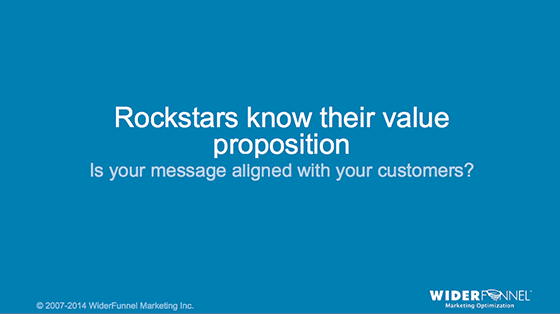 Even the most researched and data-based UVP can rest on an assumption – so you need to test it. On your landing page.
Landing pages are the best place to test your UVP @chrisgoward #CTAConf

— Alex Harris (@alexdesigns) September 12, 2014
Bonus tip:

Need some UVP testing inspiration? Chris recommends pulling the last paragraph from your landing page and test placing it at the very top. In his experience, the last paragraph on a landing page is often the best at communicating UVP.
3. Brian Massey: Test unexpected language
If the copy on your landing page fails to resonate with visitors, then you're likely missing out on conversions.
In his presentation, Conversion Scientist Brian Massey explained that writing landing page copy that resonates with prospects is a matter of getting past the "bouncers" in their brain.
He described two bouncers (each corresponding to a section of your prospect's brain) and broke down the type of language that allows you to "get past them" to increase conversions.
Bouncer #1: Wernicke
To get the approval of Wernicke, you should write copy that feels relevant, tells a story and draws on prospects' emotions.
Bouncer #2: Broca
On the other hand, Broca is surprised and delighted by things that are unexpected and hard to believe.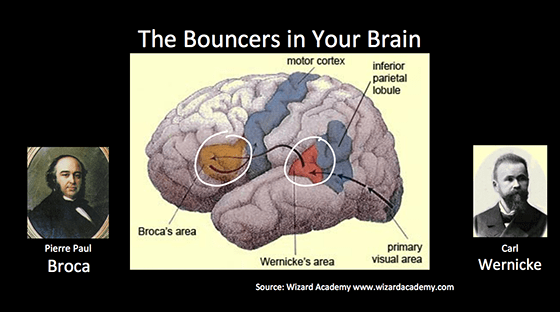 For Brian, getting past the bouncers in your prospects' brains is a matter of testing relatable and emotional language, as well as language that is unexpected and shocking.
You need to get past the bouncers in your customers' brains @bmassey #ctaconf

— Nick Keyko (@nickkeyko) September 12, 2014
4. Joanna Wiebe: Test known copywriting formulas
You've probably heard some of these conversion clichés before:
Always make copy as short as possible
Always use an orange button
Never be clever
Never lead with a feature
But for Joanna Wiebe of Copy Hackers, successful conversion rate optimization is about questioning everything – "best practices" and popular copywriting "formulas" included.
If you're a copywriter or marketer, you might recognize this classic headline from a 1926 ad written by John Caples: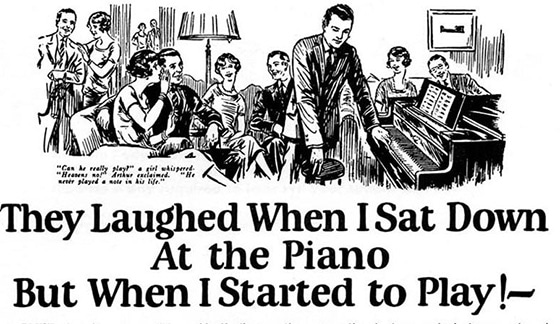 According to Joanna, this cliffhanger style of headline is behind the success of sites like ViralNova and Upworthy.
When Joanna started working with a client who offers guitar lessons, she saw it as a perfect opportunity to put this legendary headline to the test.
And boy did she put it to the test; the variation copying the John Caples headline formula saw a dramatic 30% drop in conversions.
The moral?
5. Joanna Lord: Test for the metrics that matter
For Joanna Lord, VP of Marketing at Porch, conversions aren't everything.
In fact, Joanna has found that a high-converting landing page can have negative implications downstream – in terms of poor retention and creating poor experiences for people who would otherwise be life-long customers.
In A/B tests she ran for Porch, she found that vague CTA copy such as "Love your home" and "Get inspired" lost upfront conversion but won in the long-haul by attracting high-value customers who came to love the brand and stuck around.
"It's all about finding a balance between conversion and the POV of your company. Don't over-index on conversion and lose what's special about your voice." – Joanna Lord
If you get people to click but they don't convert at the end of the day, then the business hasn't changed.
Bonus tip:

Joanna advocates created a culture of testing at work. Encourage each other to try out-of-the-box testing ideas. To make things really interesting, gamify testing internally: place bets.
Testing culture: Plinko board with gift certificates – if you have a winning test, you win. Gamify it. @JoannaLord #CTAConf

— Anna G. Jacobsen (@annagjacobsen) September 12, 2014
6. Angie Schottmuller: Test your personas
For Angie Schottmuller of Three Deep Marketing, great landing page A/B testing ideas can be uncovered when you consider the different buying modalities (or personas) of your prospects.
Creating these modalities helps you understand and cater to the desires and motivations of your users.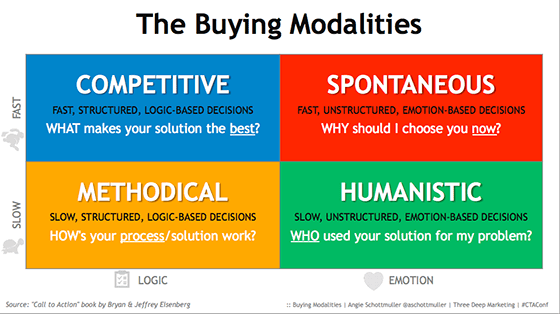 Each modality can be paired with various landing page attributes that they're naturally drawn to.
For example:
Spontaneous personas are fast, unstructured, emotion-based decision makers (think Jack Sparrow). As compulsive buyers, they respond well to guarantees because they allow them to quench their thirst and get a refund later if it doesn't work out.
On the other hand, methodical personas are structured, logic-based decision makers (think Sherlock Holmes). They like to know about the methodologies you use: the specifics of your product or service.
Because they're so detail-oriented, they're most likely going to read your entire page – so place methodology details below the fold (where the other modalities aren't likely to snoop).
Looking into each buyer persona and how they interact with your landing page will give you golden A/B testing ideas to help you move the needle for your business.
Account for all four modalities in every page @aschottmuller #CTAConf

— Nikki K. (@PhoenixNikki) September 12, 2014
7. Peep Laja: Test for validity, not statistical significance
In his presentation, Peep Laja, founder of Markitekt, explained that half of the marketing advice you receive will work… you just don't know which half.
And the only way to find out is to test.
By now you're probably sold on running A/B tests to validate assumptions, but how do you know when a test has won or lost?
Peep emphasized that, contrary to popular belief, statistical significance does not equal validity.
In order for a test to be valid, you also need a sufficient number of conversions per variation:
You need at least 250-400 conversions PER variation. Way more if you want to segment the data. #CTAConf #digitalmarketing

— Erin Peters (@ErinKPeters) September 12, 2014
8. Tiffany da Silva: Collaborate on testing ideas
Coworkers can also help you uncover the assumptions you're making in your A/B tests.
When Tiffany da Silva, CRO at Shopify, was asked by a colleague if she had tested removing elements of social proof, the question caught her by surprise. She thought it was a given – social proof always increases conversions, right? – but she still ran a test to (dis)prove her assumption.
Running an A/B test for a variation without testimonials resulted in the biggest conversion lift that Tiffany had at her company.
Tiffany's takeaway from this experience?
"Collaborate with your colleagues – put your heads together from disparate subject matters. Gain trust in one another."
9. Sean Ellis: Test small, then scale
For Sean Ellis, CEO of Qualaroo, growth is impossible without the data-based insights that come from A/B testing.
Once you've found an A/B test that shows promise, Sean suggests investing more into the hypothesis to double down and build momentum.
For example, when Airbnb discovered that listings with high-quality photos received 2-3x more bookings:
First, they formulated a hypothesis.
Then they hired professional photographers and validated their idea.
Then they worked on a scalable solution to implement site-wide optimization.
For Sean, successful conversion rate optimization requires that you view growth as a continuous process, not just a set of tactics: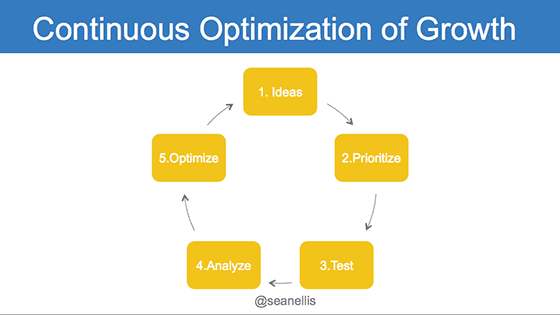 Testing your ideas gives you insight that feeds into further hypotheses. In the process, you get to know your customers better and make more educated guesses about what will increase your conversions.
10. Braden Hoeppner: Embrace losing tests
As the CMO at Clearly Contacts, Braden Hoeppner has learned that you can't fail at A/B testing.
Even if your hypothesis loses, it isn't a complete fail – A/B testing is about learning.
Your business will only continue to grow if you are always learning. And the best way to do that is to be bold with your A/B testing ideas.
"Marketers these days are hired to take risks. Experiment and make mistakes – just move the ball forward." – Braden Hoeppner
At some point, Braden says, you will gain insights – if not only through the process of elimination.
You can't fail at testing as long as you're learning @braden #CTAConf

— Nikki K. (@PhoenixNikki) September 12, 2014
Conversion rate optimization isn't a static discipline
CRO isn't a perfect science; it's an ever-changing landscape that requires you to adapt and constantly think outside the box.
Sure, the pros can give you testing inspiration, but you have to be prepared to get your hands dirty and test everything yourself.
If you're not sure where to get started, getting to know your customer intimately will help you make intelligent A/B testing decisions. As conference attendee Jen Havice put it:
Big takeaway from #CTAConf is know your customer inside & out. Testing only as good as the data you're working with and questions asking.

— Jennifer Havice (@jenhavice) September 12, 2014
What are you waiting for? Which of these A/B testing tips will you implement today?
P.S. We're already thinking about CTAconf 2015! It'll be twice as long, with twice the speakers and twice the attendees. There are 50 discounted super early bird tickets up for grabs (with a 100% refund if you can't make it once the date is final), so save your spot now!
---