There are A/B testing ideas all over the web.
But if you're like me, you're tired of hearing that you should test the color of your CTA button. You want to spend your time running tests that will really move the needle for your business.
You can become a smarter A/B tester by leveraging a resource right in front of you: your target demographic.
Now, I'm not talking about simply knowing their age and occupation.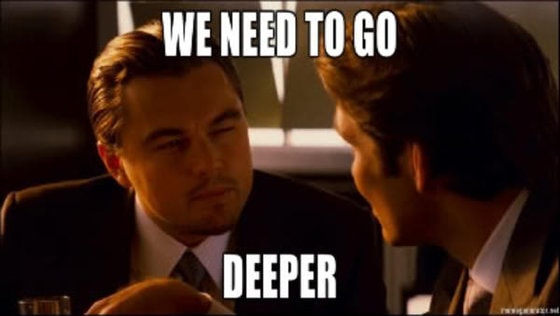 Digging deeper to uncover your target audience's psychographic information – their lifestyle, habits and aspirations – will give you a goldmine of A/B testing inspiration.
Here are two questions you need to ask to dig deeper and figure out where those opportunities lie.
Question #1: What Do You Already Know About Your Prospects?
Start by asking yourself, "What takes up the majority of my target demographic's time? What is most important to them?" Ask questions like the following:
Where do they buy most of their clothes?
What kind of restaurants do they frequent?
What radio station do they listen to in the car?
What websites are they visiting?
The questions are truly endless. It's all about outlining who your target demographic is and really understanding their pain points and passions.
Not sure where you can find this information? There's no one "best way" to do demographic research, but here are some ideas to get you started:
If you have a sales or customer support team, take one of your coworkers out for coffee and pick their brain about which questions customers ask.
Use social media monitoring to discover what prospects and customers are talking about online.
If there are forums or social media groups related to your niche, join and do a bit of eavesdropping.
Dig even deeper by conducting phone interviews with your customers. If you can rally enough people for a focus group, great. If you can't, consider a Twitter chat!
Steal A/B testing ideas from your target demographic's favorite brands
After gathering information about your customers, you should have a list of interests, brands, companies and organizations they appreciate and use. Now you can study and deconstruct these companies' marketing strategies by asking questions like this:
What tone do they use in their social marketing and landing pages?
What kind of hero shots are splashed on their landing pages?
How much copy are they providing?
What benefits and lifestyles are they emphasizing?
What are the common design styles, fonts and colors they are using?
Then, search for common threads. Are there any design features or themes that keep cropping up? A specific tone being used or lifestyle being represented? If so, could any of the recurring themes work well on your landing pages? You may stumble upon a great idea for your next A/B test.
As you ask yourself these questions, just remember that you're uncovering testing ideas.
Don't assume that everything on your target demographic's favorite yoga site will work on your landing page. As CRO consultant Michael Aagaard wrote on the blog, the key is to understand the "underlying principle that made the change work and then find ways of transferring that principle to your own landing page."
In other words, it's not about copying the design of your target demographic's favorite band's website for your SaaS landing page. It's about extracting the underlying principles that make their landing pages work and discovering how that applies to your own product or service.
How asking this question brought 4FRNT a 35% lift in conversions
We have a really cool ski-manufacturing client called 4FRNT. What are the key ingredients of their brand voice? Gold medalist designed and tested skis, insane Go-Pro videos of steep mountain and half-pipe runs and incredibly cool artwork plastered all over their products.
Their original landing page had clickable pictures of skis with details about each when you hover over the photos: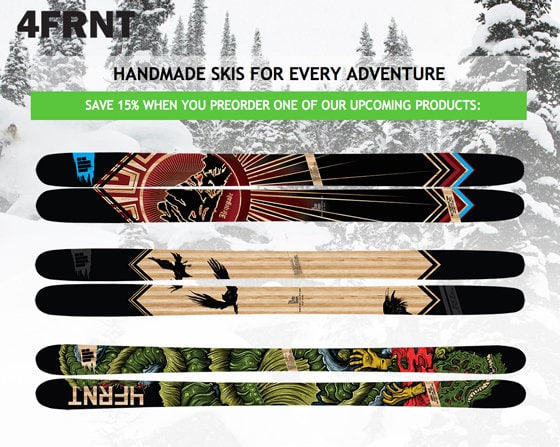 Not bad, but the page had room for improvement. After all, if someone never hovered their cursor over any of the skis they would never learn anything about them.
To come up with testing ideas, 4FRNT turned to a demographic similar to hardcore skiiers: skateboarders.
If you have any skater friends, you'll know that they love having custom artwork on their equipment. But beyond intricate artwork, they're also all about board quality and the brand of their wheels.
With this in mind, we figured that skiers might also appreciate more information up front. For a more compelling and information-driven approach, we decided to make the name and type of ski more easily accessible: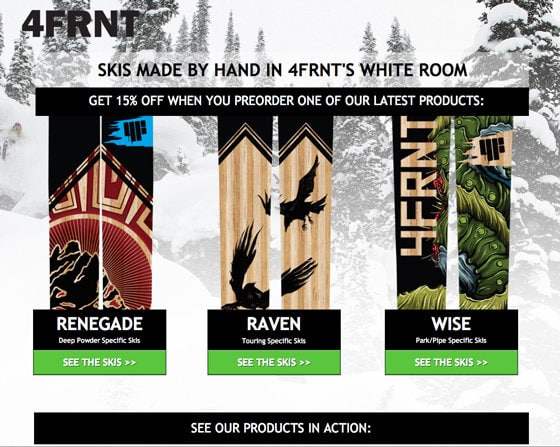 Looking to a demographic similar to 4FRNT's target customer to uncover A/B testing ideas really paid off. Emphasizing the beautiful artwork and providing a little more information resulted in a 35% lift in conversions.
Takeaway:
Looking at what's important to your target demographic and picking apart what they like about other brands creates a precious pool of A/B testing ideas.
I have another question that delves even deeper into your target demographic's mind and could leave you with some A/B testing diamonds.
Question #2: Who Do Your Prospects Aspire to Be?
For this question we're going to follow a similar process. In a perfect world, with a little more time, motivation and resources, what would your customer be doing?
Need help picturing it? Ask yourself these questions:
What skills are they developing in their free time?
What are they saving for? (Vacation? Speed boat? 72-inch TV?)
What's on their Amazon wish list?
What's on their Pinterest boards? (Travel locations? Food? Motorcycles?)
Who is their favorite superhero?
Again, that last question might be a little strange, but the millionaire gadget-freak Batman tells you something different than the flying, invincible Superman. Even their costumes say different things about design sensibilities.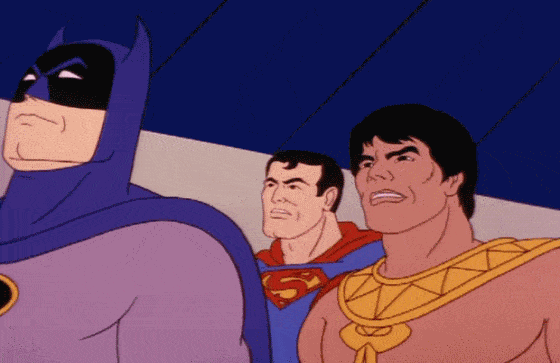 What are we looking for?
An emotional connection. Your target demographic might eat lunch at McDonalds every day (who they are now), but we can learn from the fact that they're watching parkour videos on their smartphone while they eat (who they aspire to be). Mimicking the look and language of Red Bull's ads on your landing page could boost conversions because it resonates with their ideal self.
By integrating similar styles and elements from your target demographic's aspirational brands, you are appealing to a deep emotional need. Your product or service bridges the gap between who they are and want to be.
How asking this question brought Clubs of America a 20% increase in conversions
Clubs of America (another client) wanted to advertise their Beer of the Month club. Their original landing page focused on the features of the subscription with an attractive and enticing hero shot, but it wasn't performing how they wanted.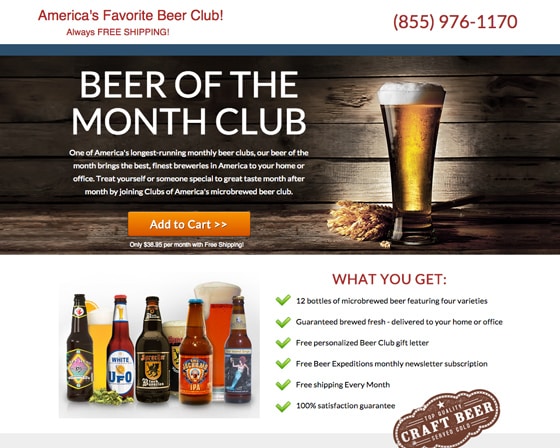 To find A/B testing ideas, we turned to the beer club's demographic.
They're mostly men. Picture the guy who's enjoying his beer with friends, watching the game, barbecuing and doing other manly things. This beer club ships out microbrews, though, not a cheap convenience store option. The ideal subscribers should appreciate a quality product. Think Ron Swanson.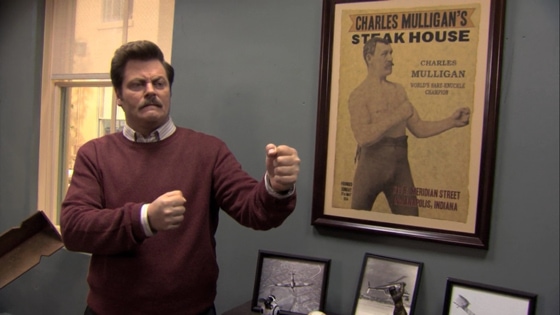 Using that information, Clubs of America looked to Dollar Shave Club, micro brewery websites and Nick Offerman's own wood shop. These sites all emphasized a love of woodworking, a focus on the quality of the product and design elements that a classy ale-drinking, boxing gentleman might recognize. If these men liked something that evoked groomed mustaches and cigar smoking, then we needed to give it to them.
Here's the result: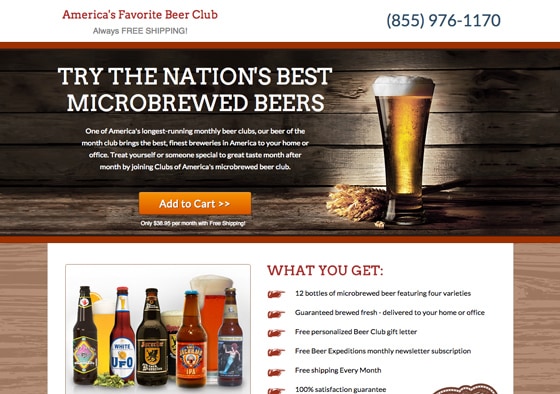 What changed?
A new wood grain background, similar to Dollar Shave Club. This evokes a more handmade and rustic feel than the old grey background.
Warmer colors for a cozy pub feel, rather than a sterile liquor store.
A headline that focused on the quality of the product. This isn't your dad's grocery store beer – these are small-batch brews made by craftsmen across the United States and delivered to your front door.
Small custom design elements (like those little pointing hand bullets) for the inner 1800's gentleman. Tommy Walker over at Conversion XL points out that using stock photos/elements makes it easier for your customer to associate you with a scam site. Plus those little hands have so much character!
This page not only looked better, but outperformed its predecessor with a 20% increase in conversions.
We want to give credit to general best practices and testing ideas, though. We ran a third variant that was exactly the same as our redesign, but with the form higher on the page.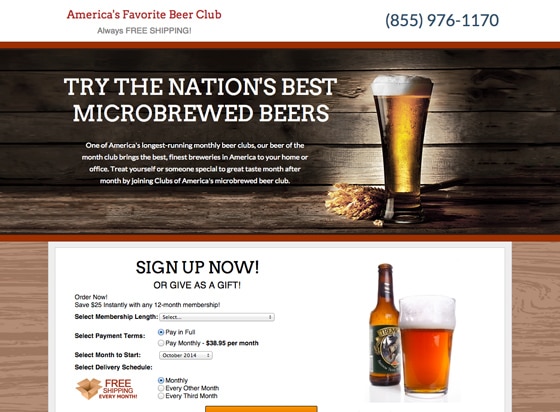 This page performed even better with an overall 37% lift in conversions from the original design.
By combining demographic research with "best practices," the pages were given a substantial conversion boost. I think that's something we can all toast to.
Go forth and test
Exploring your target demographic shouldn't be your only resource, but it is a never-ending pit of brilliant ideas that can bring results for your landing pages. Here are your steps:
Study who your target demographic is and who they really want to be.
Identify the brands that are important to them. Extract the principles that resonate with your target demographic.
Make your product or service the perfect solution to bridge that gap between who they are now and who they want to be by testing copy and elements that you know they already love.
These three steps will fill your brain with new and smart A/B testing ideas. What are you waiting for? Go forth and test!
Has your target demographic given you any A/B testing inspiration? Let me know in the comments!
Listen to Allison on the Call to Action podcast:

---