Andi has 1.5 children, owns a condo, and spoils her Yorkshire Terrier, Boo-Boo.
A stock image of a woman holding her Yorkie grins at you from above this user persona description. The profile kinda helps you understand your audience, but how the heck would somebody have 1.5 kids? Is Boo-Boo the .5?
Don't get me wrong—personas can be great for understanding your audience at a surface level. But they don't always cover the diversity of your customers and their true identities.
You'll have to dig deeper to get a good grasp of your audience's backgrounds. It'll take more work, but you'll get tons of benefits from truly knowing your customers.
How do you start reaping those rewards? Let's start with demographic segmentation. This practice will define your audience in more detail than a high-level persona.
In this blog post, we'll look at what demographic segmentation is, explain why you should try it, and show you how to use it for your landing pages.
What Is Demographic Segmentation?
Demographic segmentation is marketing segmentation based on demographics. But, what exactly are demographics?
Demographics are traits like age, ethnicity, gender, location, job, and education level used to categorize people. You'll often see them in a census or a survey.
So, in simple terms, demographic segmentation is the start of splitting up your audience into categories based on factors like age and location.
(Keep in mind that demographic segmentation doesn't categorize individuals based on psychological traits like personality and interests—that's psychographic segmentation. Demographic segmentation looks at who your audience is, while psychographic segmentation tackles how your audience is.)
Why Segment Your Audience by Demographic?
Simply put: Segmentation gets results.
According to a Campaign Monitor report, marketers can get up to a 760% boost in revenue from their email campaigns when they segment them.
In the world of landing pages, this stat has oodles of potential. Email campaigns and landing pages both need content that feels relevant to their readers to succeed. So, how does segmentation supercharge landing page content?
When you segment your audience by demographic, you can:
Learn what makes your audience segments unique. Demographics say a lot about someone's life situation and the people they interact with. Factors like age and location will lead you on the path to IDing what makes your customers tick.
Personalize your messaging and copy. A little bit of personalization goes a long way in marketing writing. Eighty percent of consumers say that they're more likely to buy from a company that personalizes their experience.
Target your ads and content. Advertising technology can show your ads to members of the demographic groups who care about them the most. Think how a local store will have much better luck marketing to people in its area than people across the country.
Keep an eye on changes in your audience. As G2 points out, demographic segmentation pushes you to learn who buys your product and find new chances to think outside the box. It'll also keep you informed about new demographics checking out your product.
Demographic segmentation works magic on landing page campaigns. You can divvy up your landing pages by segment, then test your tactics for each demographic using a tool like Smart Traffic.
What Demographic Data Can You Use for Segmentation?
The data you can use for audience segmentation will depend on the available info. That availability varies based on your sources, collection methods, and reasons for data collection.
Qualtrics explains that you can get demographic info from public records or private surveys. While the former is easier to find, the latter will give you richer details.
The most typical demographics used for segmentation include:
Location
Gender
Race/ethnicity
Marital status
Employment
Income
Education level
Depending on your organization, you might get leverage out of more specialized demographics. For instance, a political campaign could benefit from data on party registration and donor status. Or an auto business might see which customers are car owners and which are new drivers.
How to Supercharge Your Landing Pages with Demographic Segmentation
By now, you know that smart demographic segmentation lifts landing page conversions. But, what does it look like when you do it right? Let's see three types of demographic data in action on landing pages.
Location
Companies that depend on IRL business can bring in nearby customers with location-based segmentation. This practice is beneficial when you have more than one location.
For example, Jet Pet has two resorts in Vancouver highlighted on its local landing page.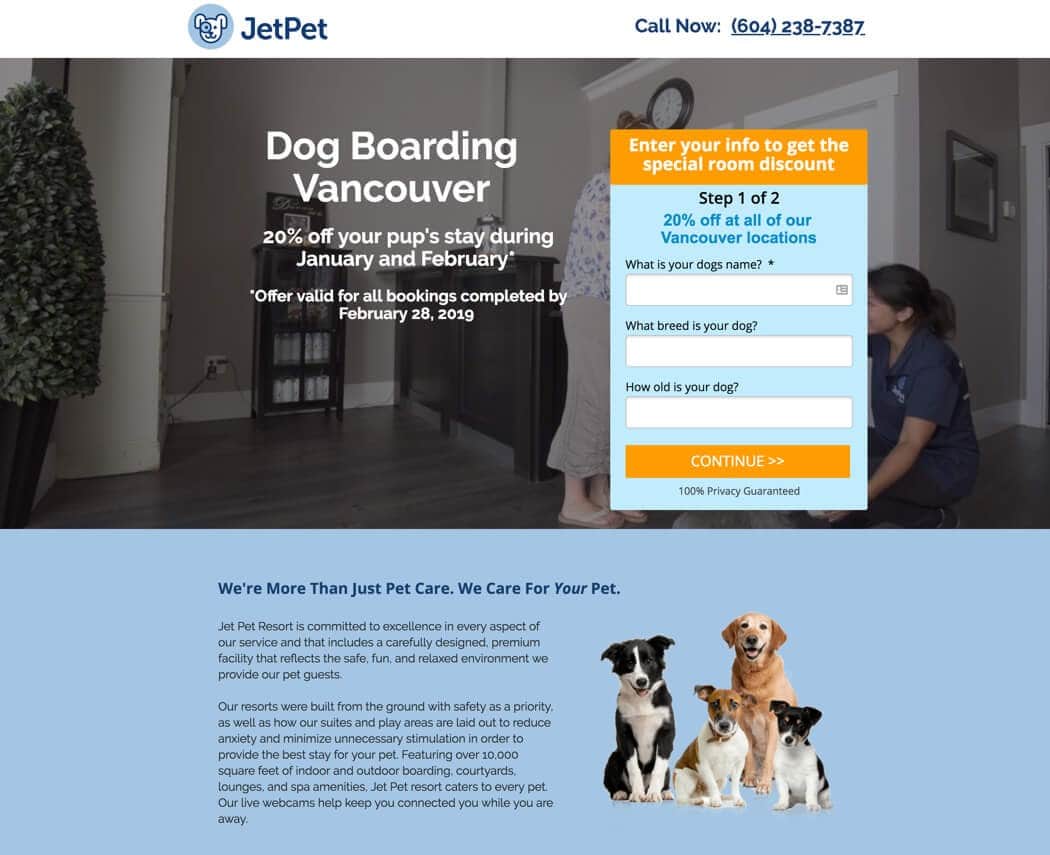 We named this landing page one of our favorites of 2021 for plenty of reasons, including its geographic value statement. It also uses Unbounce's Dynamic Text Replacement (DTR) to swap in keywords that the user searched to get to the page.
DTR comes in handy when you need to customize snippets of your landing pages to different demographics. As we covered in a blog post about scaling local PPC campaigns, you can use DTR to add location-based keywords. For example, instead of making different landing pages for Houston and San Antonio, you can trigger location names from keywords.
Age
Age is another popular demographic for segmentation. After all, a five-year-old and 55-year-old will have majorly different tastes and life situations. Check out how age groups impact university landing pages in this example from Athabasca University.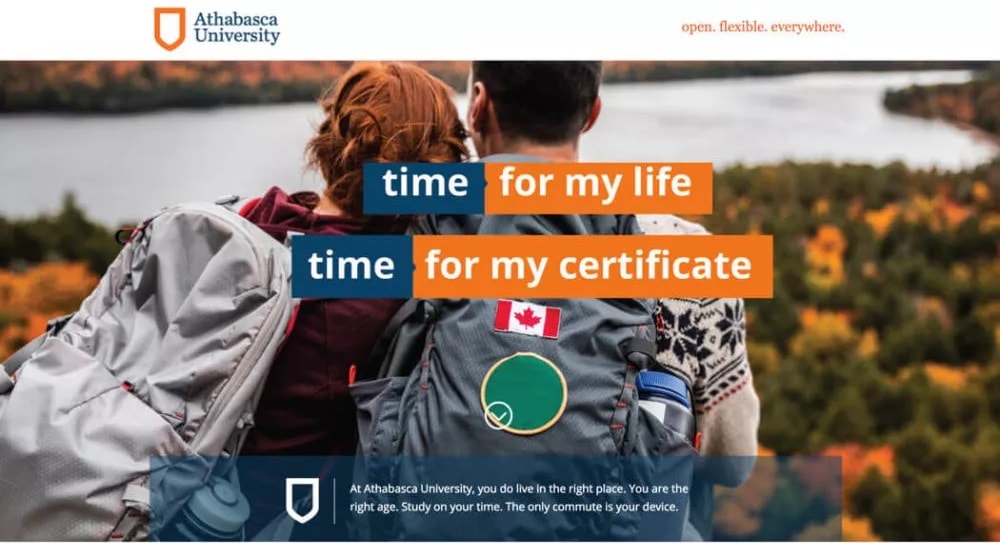 Plenty of universities target their landing pages to students from high school or their parents, but Athabasca's distance programs need a different approach. The phrase "You are the right age" and a review from someone who completed their degree later in life appeal to older students.
Marital/relationship status
A person's relationship status can say a lot about their stage in life, living situation, and family makeup.
When you work in the wedding industry like Zola, it's a must-have demographic, and the company's a master at segmentation. Zola already has to target engaged couples, so it needs to break down that relationship status by engagement stage.
This landing page aims for search terms related to a specific time in an engagement: the exploratory phase of planning. It also uses gender-based targeting for grooms looking to help their brides. As you can see from this example, you can go deep with your demographic segmentation.
Want to make hyper-specific landing page variants for each of your demographics? Make the landing page creation process easier by using customizable templates and other design aids to iterate quickly.
Know Your Audience Inside and Out
Understanding your audience inside and out is key to boosting your landing page conversions. Think of demographic segmentation as one more step in the journey of getting to know your customers. You'll want to combine it with the other data points you have on them to get the whole picture.
When you pull off demographic segmentation, you'll get better landing page copy that directly speaks to your visitors. Every landing page will feel like it was made just for your audience—and your conversion rates will be better off for it.
Try out demographic segmentation on your landing pages with a free Unbounce trial, and use Smart Traffic to direct your customers to the landing pages that resonate most with them.