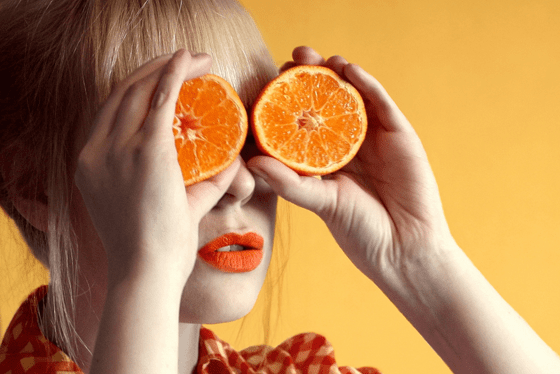 A "squeeze page" is a landing page that's designed with one purpose in mind: to get the visitor to give you 1) their first name and 2) their email address.
Why?
So you can initiate a strategic email marketing campaign – usually comprised of auto-responder emails that are dripped to the lead's inbox in an effort to convert them over time.
Squeeze pages are kinduv a big deal for lead gen. As I'm sure you already know.
Yet as critical as squeeze pages are, we tend to talk more about the elements on these pages – or the impact of Panda on their search ranking – than we talk about the most important part of the page…
…the part that actually squeezes the visitor's email addy outta them…
…the part that can make or break your conversion: The digital content itself. As in, the downloadable ebook. Or the four-part course delivered via email. Or the special report.
Because your visitor is signing up to receive your digital content, it behooves you as a marketer to put at least as much effort into your free digital content as you put into the squeeze page that promotes it, the ad that leads to it and the emails + landing pages that follow it. Here's a simple 5-step process to create awesome digital content for lead gen on a squeeze page…
First, Determine the Best Types of Content for Your Visitors (Media)
You've got a lot of options when it comes to creating digital content to drive leads. You could create any of the following and more:
A video or video series
An enewsletter
A printable PDF newsletter
A free report
A free webinar
An interview series
A podcast
A whitepaper
An interactive checklist or worksheet
A free video course
A free text-based email course
A free starter kit or toolbox
That said, there's no point in creating content that your lead won't even consume. So ask yourself a few Qs before you start generating a 25-part podcast series:
1. What sort of media do my visitors prefer to consume?
Are they busy developers who would like an audio file to play in the background while working? Are they marketers who might like to insert your content as slides in a PPT for their CEO?
2. Where are they when they consume most content?
Context is everything. Are your prospects sitting in office cube farms where an audio or video file might be too noisy? Do they travel frequently and like to read on their iPad or Kindle? Are they commuters or fitness enthusiasts who would rather listen on their iPhone than read or watch on a laptop? Do they read their emails on a mobile phone while standing in line?
3. How much time do they have for me?
Everyone in the free world is busy. Will your lead tolerate a 21-part series delivered via email over a 3-week period… or will they find more value in an instantly downloadable PDF?
Marie Forleo has a diverse, busy audience of women in early stage small bizzes. Although her squeeze page does not explicitly reference the type of content a subscriber will receive, as we can see here…: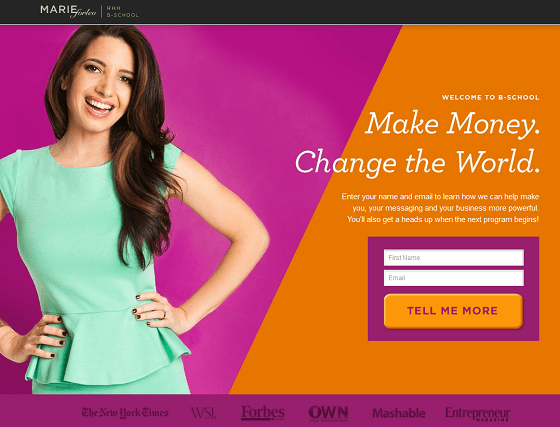 …the content that she delivers via email is purposefully designed to match the various content consumption needs of her new subscribers: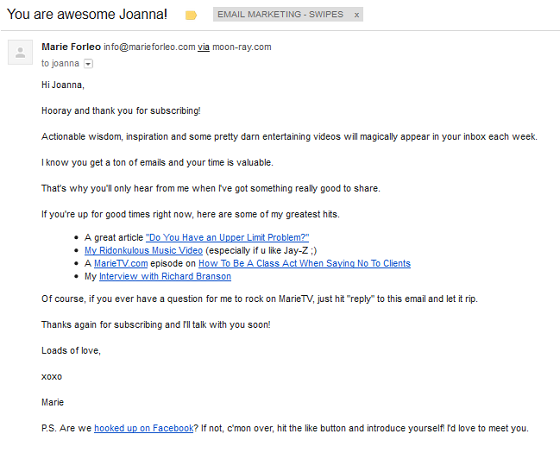 For new subscribers who prefer to read – or who may be unable to watch / listen from where they are – Marie offers a blog post. For new subscribers who prefer to consume video content, she offers a music video, an interview with a key influencer (Richard Branson) and a MarieTV episode, which just so happens to be accompanied by text. Create content in media forms your visitors are likely to consume.
Second, Shortlist the Types of Content You Can Dependably Produce
It doesn't matter if your visitor would love, adore and send flowers to a 3-part video interview series featuring Oprah, Bono and Mark Zuckerberg. If you can't create and host that content, who cares?
When you know what your visitor is likely to want to consume, line that up with the types of content you can actually produce at a reasonable level of quality. (Because, even though it's free, it can't feel free.) You don't need to have a lot of resources to create great free digital content for lead gen; you just need to be skilled with the few resources you do have.
Can you interview influencers about a certain topic? Can you record them on Skype and turn those recordings into MP3 files? Those MP3s could make for a fantastic "special report" delivered as an audio series over a short period of time.
Do you have a GoToWebinar account? Perhaps you could cap off an email series with a recorded webinar.
Are you a designer who writes well? Perhaps an ebook or designed special report PDF would make the most sense for you.
When creating content, we tend to default to a multi-part email course or a downloadable PDF ebook. Which is fine. But would your audience be more engaged – and more likely to share (yay!) – if you provided them with hybrid content… such as a an emailed course that culminates in a video interview or webinar?
Third, Find the Topics to Cover
People dig learning. It doesn't matter if you're selling custom jewelry, software or after-market rims for VW Jettas – there is always a topic that your visitor would like to learn more about. It's up to you to discern the topics that your visitors would like to learn more about, which you can easily do by:
Paying attention to the questions or comments they tweet to you
Going through recent customer / lead emails to you
Doing a short Qualaroo survey on your landing page that asks what burning Qs they have
Because there are so many directions in which you could go – and because a multitude of options usually cripples the likelihood that you'll actually do something – here are 3 paths you may want to take when addressing your audience's most desired topics.
1. Create Content about "Best Practices"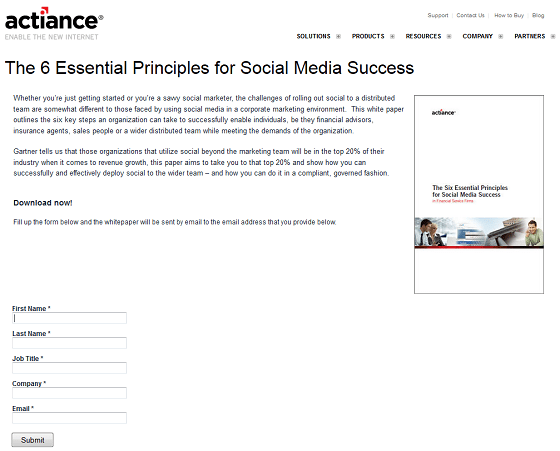 Source: http://info.actiance.com/principles-for-social-media-success
~
2. Create Content about Worst Practices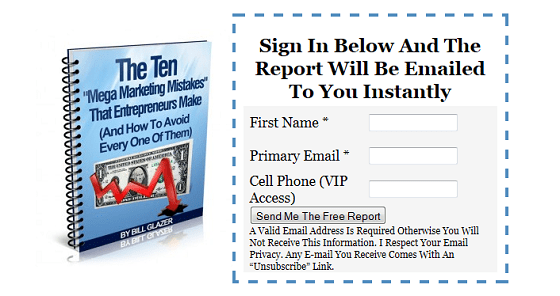 Source: http://nobsmiami.com/
~
3. Create Timely or Immediately Relevant Content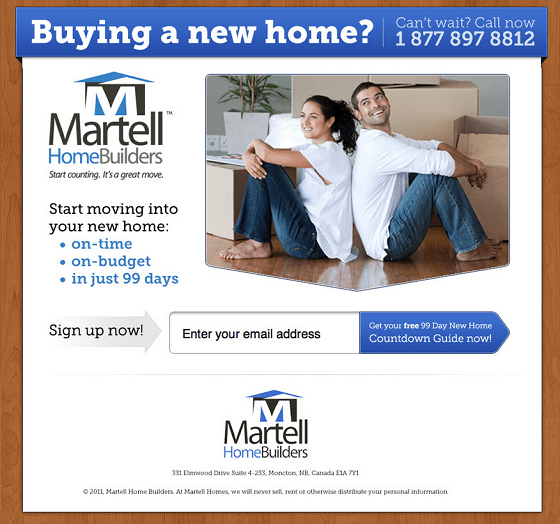 The more squeeze pages you have and the more market segments you wish to connect with, the more content you may find yourself producing. Great content is worth the work required to create it. Monetate does a great job of producing ebooks covering best practices and timely content, as shown here:
Monetate's Best Practices Ebook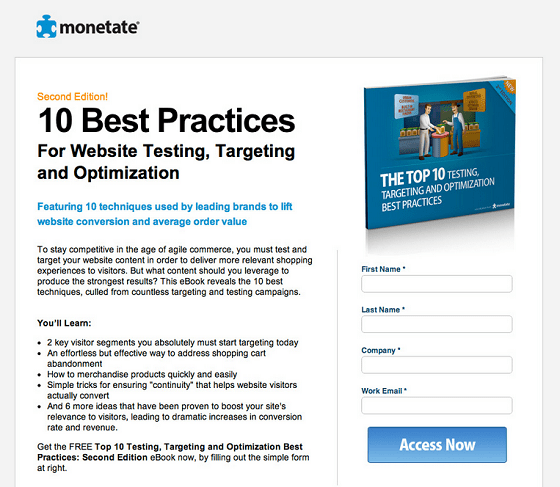 www.monetate.com
~
Monetate's More Recent "Big Data" Ebook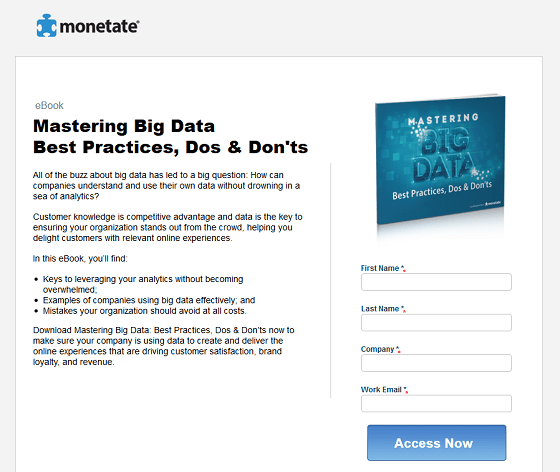 http://pages.monetate.com/mastering-big-data-ebook/
Fourth, Create It!
Great content does 3 basic jobs:
Provides the promised value to the lead
Highlights your awesomeness
Promotes sharing
When creating content, we tend to think about accomplishing Job 1 more than 2 or 3… But if you only get Job 1 right, then you only got the "content" side of "content marketing" right.
In addition to creating content that is well-researched, well-produced and highly valuable, add in stories, testimonials and some good ol' fashioned name-dropping – if need be – to ensure your leads know what a big deal you really are and why they should not only open your emails but also consider buying your stuff. Remember that your leads are new to you, so they know very little about you. This content is a key part of your branding and new user onboarding. In his email series for new subscribers, Ramit Sethi actively builds his credibility / authority from the very first email, shown here with cred-builders circled: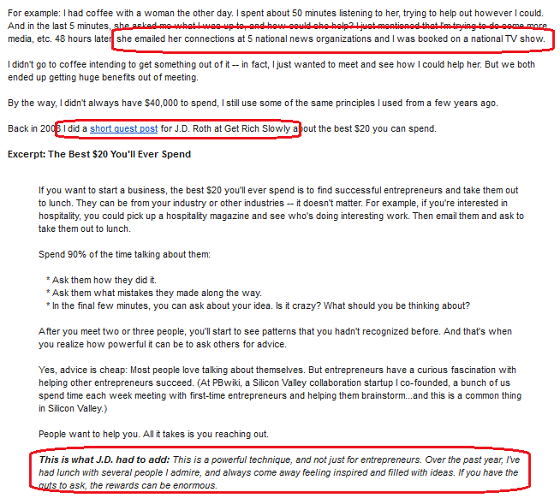 Sharing is obviously a very big deal – and people are more likely to share if you ask them to. Don't create content that doesn't invite at least 1 share for each recipient.
If you create video content, you may want to consider posting your videos to YouTube rather than hosting them yourself – to encourage social shares and traffic generation.
Fifth, Connect to the Next Level of Content
Your content is not an island. Each of your content marketing efforts should lead to the next level of content for your new subscriber to consume.
For example, Drayton Bird – one of the greatest copywriters of our time – has a 51-part email drip campaign that he sends to new subscribers. Each email has a call to action that leads naturally from the content of the email, the first 4 of which are:
Email 1: Download a free copy of Claude Hopkins's "Scientific Advertising"
Email 2: Watch a free video (1:11) on "how to write to persuade"
Email 3: Watch a free video  (1:12) on a practice of copywriter John Caples
Email 4: Get Drayton Bird's 3-part video course for $59.97
Should your "next level" of content be free or paid? A good rule of thumb is to give away 3 pieces of content for every 1 pitch you make. Just as Drayton Bird does.
Finally – test it! We use Unbounce for our Copy Hackers squeeze pages, and they are seriously awesome for generating pages like these and testing them. So make one squeeze page with X offer and another squeeze page with Y offer, and split-test them. May the best content win!
Now It's Your Turn
Set up an Unbounce page with a lead form – and use the 5 steps above to either repurpose existing content in a way that is meaningful for your page visitors or create brand-new content that closely matches their needs, provides value and encourages shares.
Before you do that, leave me a comment below. I'd love to hear (and respond to) your Qs about creating content… or knock around ideas for optimizing your content. So comment now…!