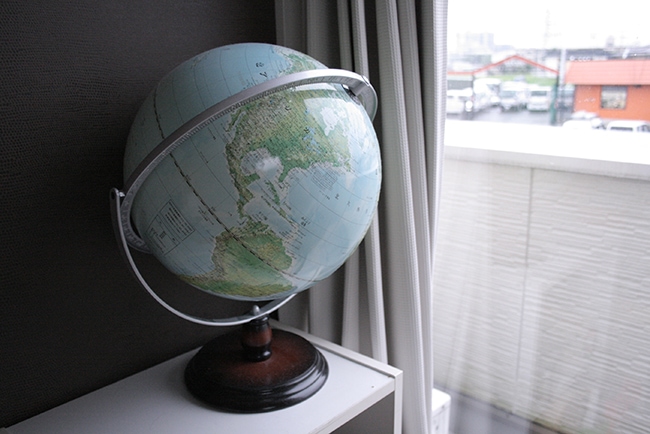 Global marketing. Localization. International marketing. Entering emerging markets. Basically, world domination.
These are large, terrifying words because they represent an even bigger, intimidating marketing strategy. And when you think of putting that strategy into action, the reasons (excuses) start to pile against it:
"Global marketing is for deep-pocketed Fortune 500 companies like Coca-Cola or Salesforce."
"It's just too large of a project to take on right now."
"We really don't have the bandwidth or time or budget."
So you shy away from the thought of expanding beyond the borders of where you set up shop. Until eventually, you hit a ceiling and your company stops growing…
But the fact is that doing the same ol', same ol' won't allow you to continue to grow (how do you think you become a Fortune 500 company, anyway?). There are massive opportunities to be explored in different markets — opportunities that others may see as obstacles or risk.
And investing in a global marketing strategy isn't as daunting as you might think.
There are small steps you can take to develop a global digital marketing strategy — starting with your content marketing — and they're all pretty digestible and straightforward.
Start with what has worked in local markets
At its core, international marketing strategy isn't rocket science. It's about taking what works and doing more of it.
Think about how you grew your current marketing channels, drove leads and ultimately got more customers. Then replicate that strategy and localize it in other markets.
From the beginning, at Unbounce, we've focused on growing our content channels and distributing that content through an engaged online social community. As co-founder Oli Gardner puts it:
Unbounce has been a content-driven company since day one.
So when we set out to tackle international marketing, looking beyond our North American customer base, we knew that focusing on the content strategies that brought us growth over the last six years was a great place to start — from writing epic blog posts to comprehensive ebooks and revenue-generating webinars.
Knowing that these content marketing campaigns brought us growth in North America, we set out to replicate them for the German market.
Leverage content that has performed well
A study of Fortune 500 companies showed that those that localized their content were two times more likely to increase profit and 1.25 times more likely to grow earnings per share year over year.
As Scott Yancey, CEO at Cloudwords puts it:
Localization of content is critical for engaging audiences outside company headquarters because it represents marketing personalization in its purest form.
You can't just translate all your landing pages and pricing pages and call it a day. Like any other leads, leads in other markets expect you to deliver value.
So how do you get started on localizing content and driving leads?
1. Prioritize and identify opportunities
If you think of about creating localized marketing campaigns for the world, you'll easily get overwhelmed and it will seem like a massive undertaking. Take it country by country, step by step, and you'll see results faster.
Which markets represent the biggest opportunity for you? To determine the potential of various countries, you should ask questions like:
How many customers do you currently have in specific regions and how much success have you had in that market?
How much revenue do you pull in from that country? How much revenue per user?
What's churn like in that region?
How easy it will be for your company to do business in that market? What are your emerging markets?
How mature is the market? Will you have to educate the market about your product/service and create more top-of-the-funnel activities?
How easy will it be for people to pay you? Do they readily use credit cards? This article about selling through a subscription model in Brazil shows how laws, politics, taxes and bank rules can all represent hurdles for SaaS companies looking to expand their reach.
Make it a goal to identify your top three growth markets. Once you have a clearer picture and a deeper understanding of where you should go… well, go there.
2. Hire a unicorn
Once you've chosen a country, you'll want to hire a local marketer.
Ideally, this person will be a full stack marketer who has a deep understanding of that specific region (whether they're originally from there or physically living there).
You'll want a marketing ambassador who can communicate effectively with that regional market while simultaneously driving results for your business. In short, you'll want someone who gets sh*t done.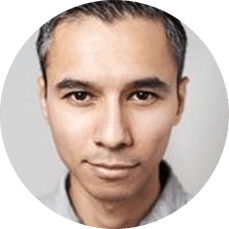 Fabian Liebig has quickly become the face of Optimizely in Germany, just as Inken Kuhlmann has become the face of HubSpot in the German, Austrian and Swiss region (DACH). At Unbounce, we've got our very own DACH marketer too: Ben Harmanus.
Locals value being able to interact with an ambassador for your company — whether via email, Skype, webinars or live events — in the language of their choice.
The day a brand gets a local ambassador is the day they truly become a local player.
3. Look at your data and identify popular content
Once you've got your country and your marketer, it's time to start marketing. But where to start?
When it comes to content marketing in these new markets, you don't have to reinvent the wheel. Think of the the current content that attracts new visitors to your website and converts them into leads and customers:
Dig into your traffic data to see which evergreen blog posts are performing well. Translate those posts or write original content on a similar subject.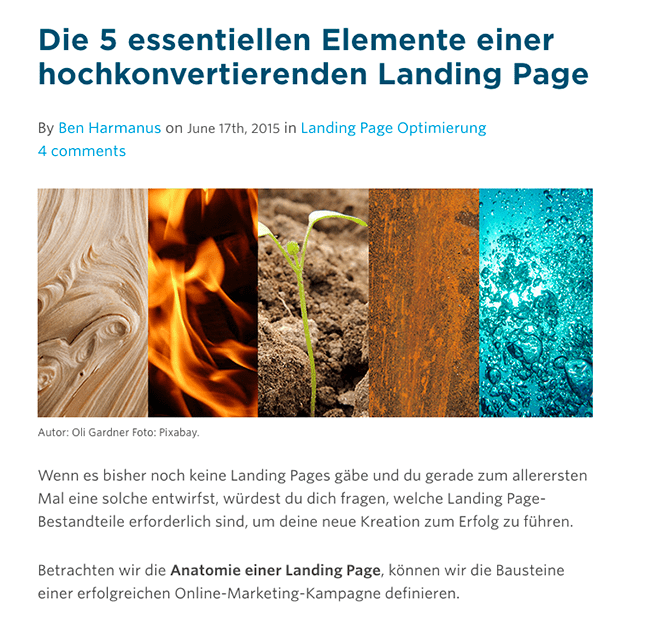 Evaluate which of your ebooks has brought you the most leads. Don't forget to ask yourself if the content is still relevant to the market you're expanding to.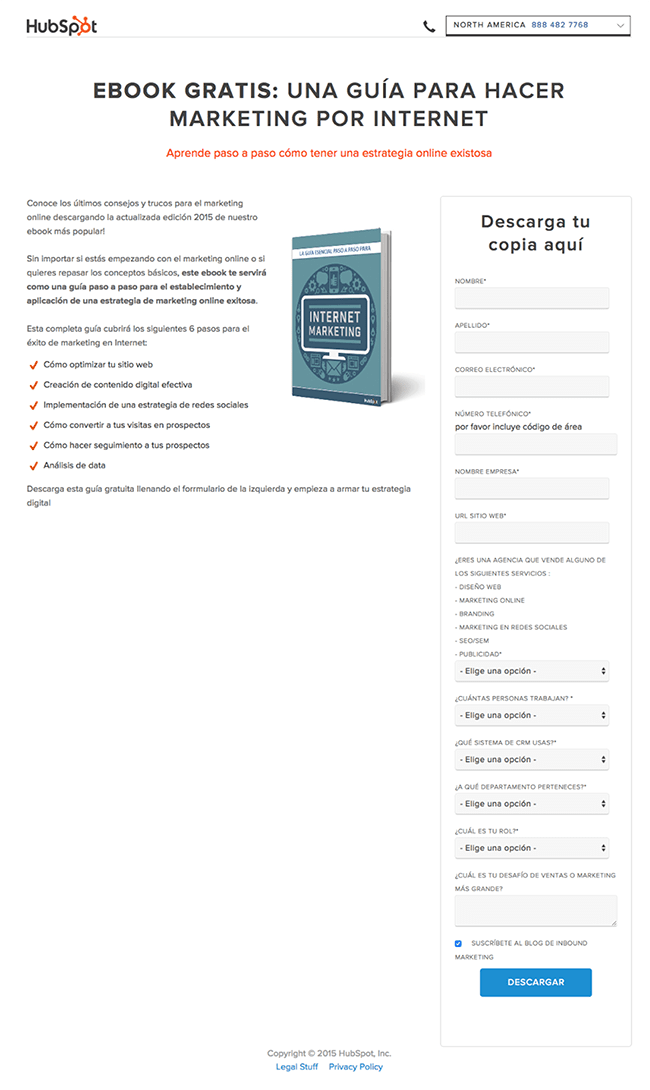 HubSpot, the masters of lead gen, translated and localized an ebook to grow their Latin American leads and customers.
Instead of subtitling webinars, get local experts to hold webinars in the language of the market you're expanding into.
4. Translate and localize content pieces
Equipped with a list of content validated by your original market, it's time to start preparing content for your new market by translating it. But translating your content word-for-word isn't enough for it to resonate with new markets. You've also got to localize it.
What exactly does this mean? You need to be flexible and react to trends in the particular region. For example, while North Americans love football, baseball and ice hockey, everyone in Europe is talking about soccer (or football – you need to localize language as well!).
This will determine which pop culture references you make in your content, but also which tactics and strategies you should write about. In the words of our DACH marketing manager Ben:
The knowledge level in Europe or Germany is very different. All the marketing trends from North America take 2-3 years or even longer to become some kind of trend over here; 4-5 years to become a best practice.

I have to be careful what topics I pick to position the brand. You need to adapt. Choose your topic and combine your content with trending topics in your local market.
From there, create a new category or WordPress install for your new, translated blog content and get to posting.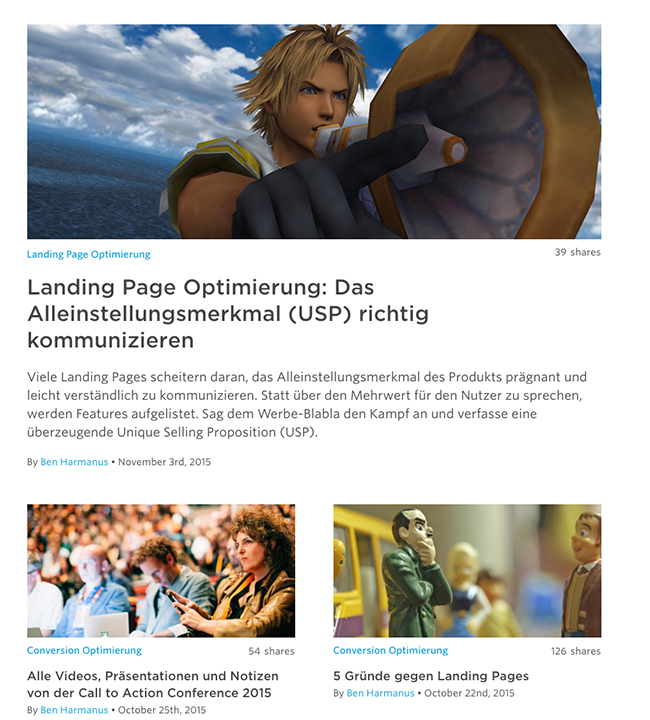 Once you've got the ball rolling, you'll also want to email your current customers from that region and invite them to read your blog content, subscribe to a webinar or download an ebook in their native language.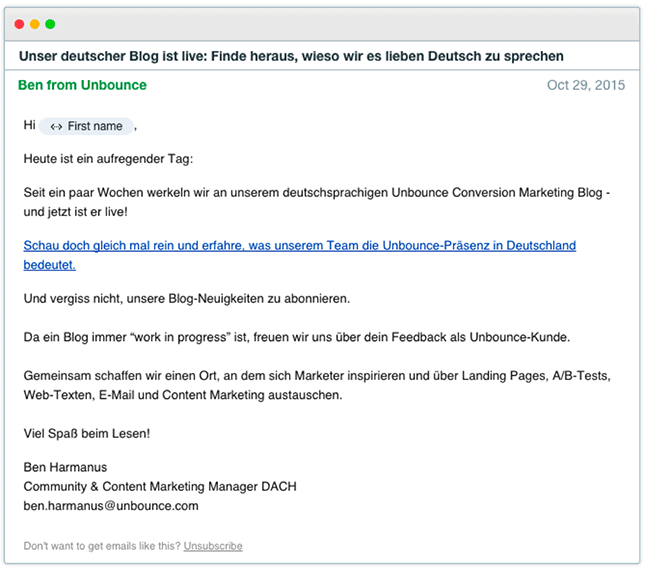 This is the email we sent to our German customers, telling them about the launch of our blog and inviting them to subscribe.
Chances are they will be delighted to find content in their native language, which could potentially lower churn and increase customer lifetime value. They might even share the piece with their friends.
You know what that means, right? Leads on leads on leads!
5. Create localized landing pages to generate leads
It's nice to think that if you create content, people will come, but you need to give people opportunities to convert.
To get started, you'll want to translate a number of your landing pages:
Blog subscription landing page: Don't forget to give people an opportunity to subscribe to regular blog updates, whether in the blog sidebar or on a dedicated blog subscription landing page.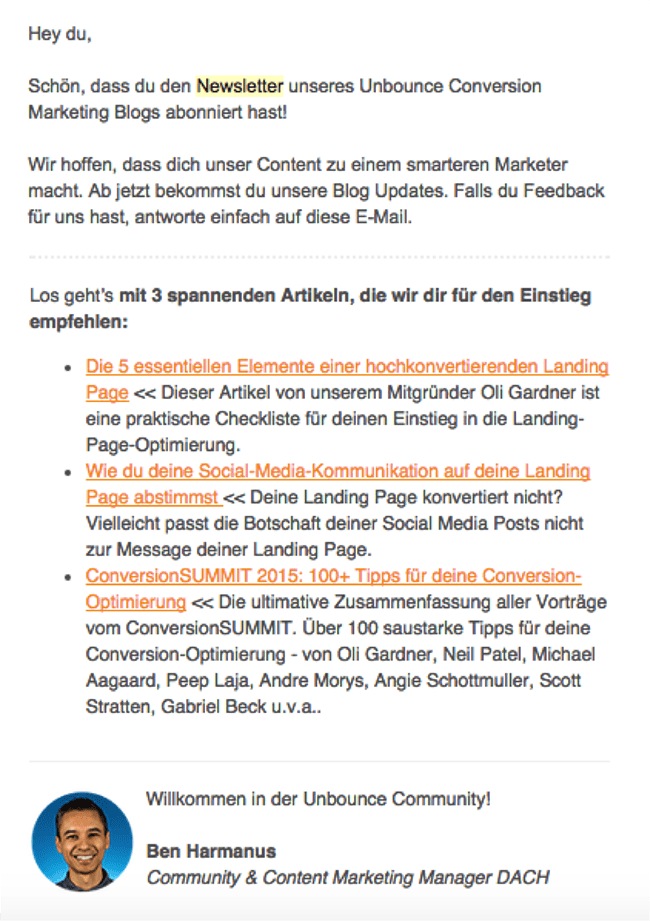 The email prospects receive upon signing up for our German Newsletter.
Lead gen pages for ebooks and webinars: Just as you would on your current blog, be sure to optimize posts for lead gen. For example, have a look at this CTA our German community manager Ben placed at the end of a German blog post: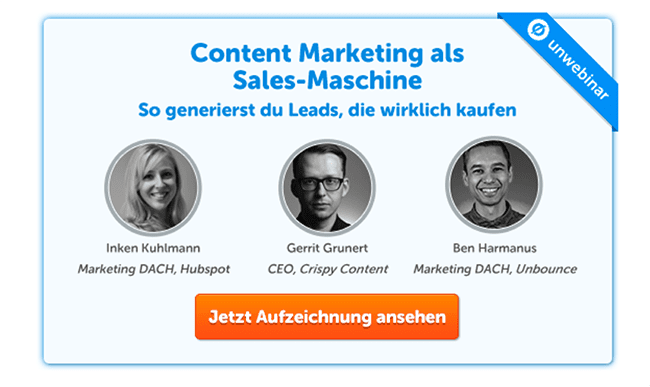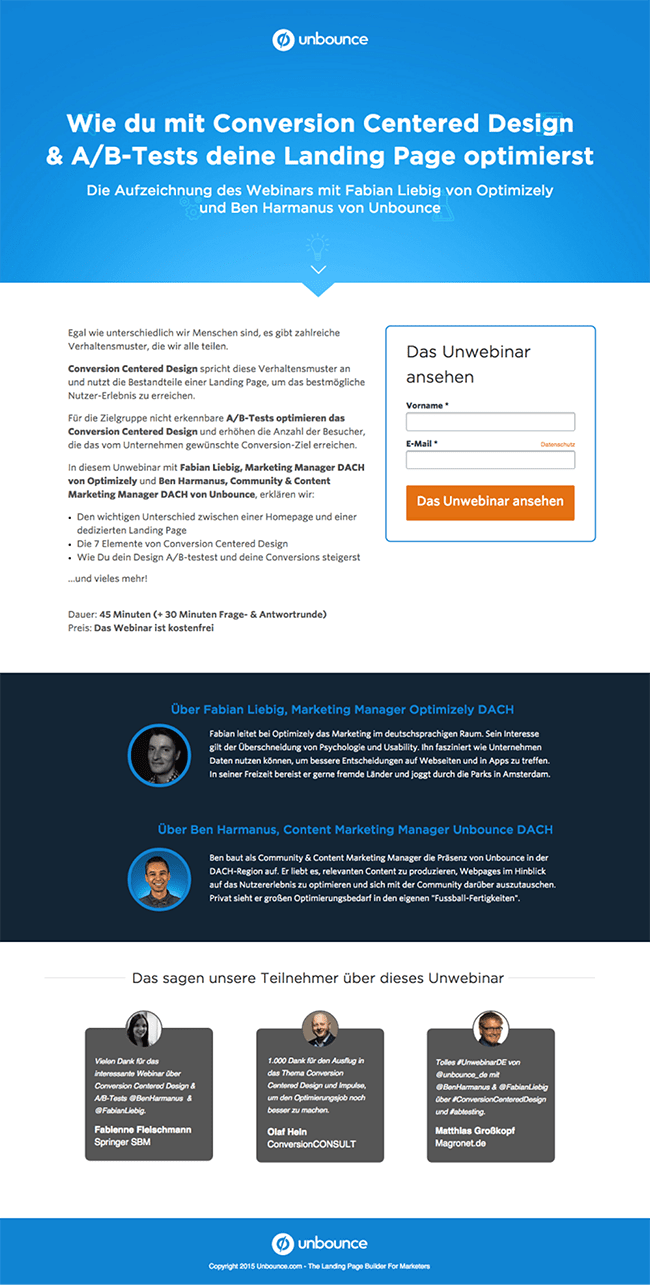 Pricing page/trial sign up page: Building out an entire localized website can take some time. If you don't have the development time (who does?) or budget to fully translate your website site at first, get your local marketing manager to build and localize a simple landing page that they can send traffic to in the meantime.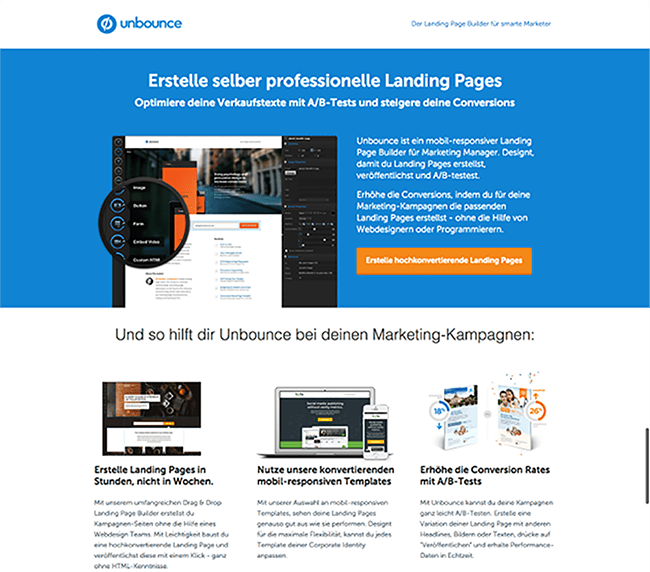 This is our
product page for the DACH region
. While we localize our website to give our DACH region a dedicated web experience, we send traffic to this. Click for full-length landing page.
6. Build localized communities around your content
Once you've got your content and lead gen landing pages in place, you want to drive as much traffic as possible.
Ideally, you've hired a local marketer who can now begin to help you build a community and audience around a specific region.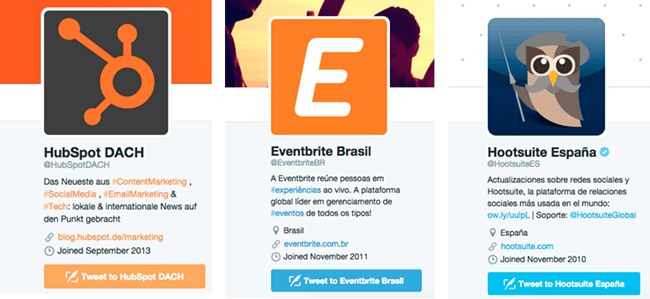 Eventbrite, HubSpot and Hootsuite have individual, region-specific social accounts to target a localized audience.
Have your unicorn run these accounts — their deep understanding of the market will help them speak to audience members in language they can really relate to.
Are you ready to take on the world?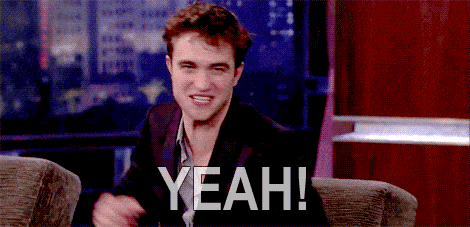 Moving into different markets can feel daunting and intimidating.
But if you take it one step at a time, leveraging past content marketing campaigns that you've run, it starts to feel much more manageable.
And then you no longer feel like you have the weight of the world on your shoulders.
Want to know more about how to approach global expansion? HubSpot has an amazing ebook titled The Global Marketing Playbook that dives into Global Marketing even further. Be sure to check it out.
Get Your Free Global Marketing Playbook
Get Expert Advice on Global Marketing, From Organizational Structure to Tech and Everything in Between
By supplying your contact information, you expressly consent to receiving more information about HubSpot and Unbounce. You further authorize Unbounce to pass your information to Hubspot for these purposes. You can unsubscribe at any time.