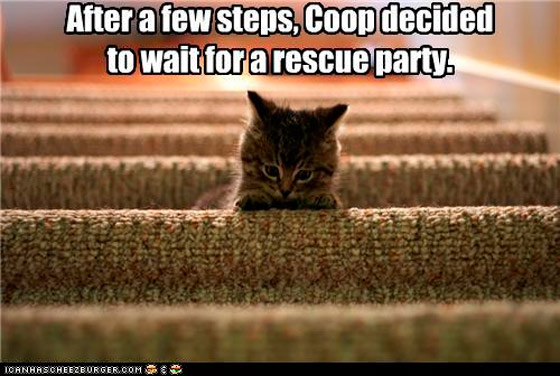 Selling stuff is hard, don't put extra steps in the way… (
Image source
)
I read a blog post that accused landing pages with high conversion rates of possessing magical powers–capable of sending subconscious, hypnotic messages compelling visitors to take a desired action. So far as we know, no such magic exists. The simple truth behind high conversion rates on Ecommerce websites is less romantic. It's smart landing page optimization that converts page views into customers.
For those new to Ecommerce landing page optimization, here are a few tips to get you started:
1. Testing Once is Lame – Keep Going
The key to effective landing pages and higher conversion rates is constant tinkering. Leave the set-it-and-forget-it mentality to Ronco's rotisserie. For your website, plan to optimize a landing page once, then optimize it again… and again. Your target market will change, your products will change, your competition will change; your landing page must remain responsive to that change. This, of course, requires a bit of self-awareness.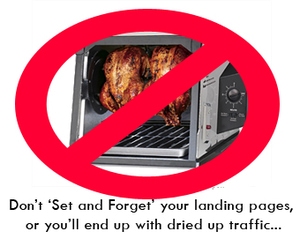 Are your off-page marketing and advertising messages placed where your target market is most likely to see them? This changes over time and with seasons, so constant evaluation is necessary.
Is your landing page design simple and clean? Too much information with many text and graphic elements can confuse and overwhelm the visitor. Your layout should quickly draw the eye to a particular location and communicate the most significant aspects of the call-to-action.
2. Message Match – Consider Where Your Visitors Came From!
A landing page is a first impression for the visitor. Visitors should feel as though the message from the directing source is continued at the landing page. There certainly shouldn't be any conflict; if you advertise a 20% off coupon on a banner ad, your landing page must offer the same discount.
Where does the traffic to your landing page originate? Your PPC campaigns need unique, targeted landing pages that are relevant and surprising.
Customers want information before buying, especially with high-ticket items; take the time to provide it for them.
Videos that highlight product use and alternative uses provide a fast, interactive source of information
Free reports and comparisons to competing products increase your level of transparency
Camera+ uses a landing page that relies on product and feature descriptions reposts reviews from authoritative sources.
Follow this Unbounce interactive guide to targeted landing pages for PPC campaigns leading to higher conversions and lower cost-per-click.
3. Compelling Copy (duh)
Is there anything more agitating than someone who takes 20 minutes to ask you to do something that will only take 20 seconds of your time? Make sure your call to action is short, simple and effective. Then test it and improve it.
Some tips for compelling, effective copy:
Use active speech – Compare: "These people used our product and loved it. You will too!" versus "Join the thousands of people using and loving our product!"
Use words that provoke positive emotion – like boost, revitalize, success and achieve.
Consider words that evoke curiosity – like secret or exposed.
Deploy words that trigger action – like simple, urgent or limited time deal.
Create a deadline – a sense of urgency encourages people to decide and act quickly.
Tell them "why" – if they don't know why they should act, they won't. Explain why urgent action is beneficial –they'll save money, increase sales, access to the last and final free copy, etc.
Make it short and simple – A long and complex process is a pain and users are unlikely to prolong their suffering for your sake.
4. (Ab)Use Your fans
Your customers listen to each other when they recommend products and companies on Facebook and Twitter. Social Commerce Today reports customers are twice as likely to buy when they see social media recommendations. You can use the same theory to support your landing page.
Add excerpts of testimonials and reviews to your landing page.
When you receive a positive email from a customer, respond to thank the sender and ask to use the email in your marketing.
Comments from your blog posts are already public, place them on your landing page where prospective customers can see the conversation.
Monitor your social media pages for nuggets. Use your landing page to boast re-tweets, display your number of Facebook likes, or use Facebook wall posts to share how users are enjoying your products and services.
Ask influential people to provide endorsements. Highly trafficked bloggers, YouTubers with lots of subscribers, even indirect competitors can create strong strategic marketing alliances that can boost your reputation and increase conversions.
There's no crystal ball that will tell you exactly who will be coming to your Ecommerce website and how you can convert them from a reader to a shopper and ultimately a customer. But a landing page with a simple layout, consistent design, a clear message with a desired action, can make it seem like magic… minus the strange incantations.
Ready to convert more visitors? Make more money? This holiday guide to optimizing your ecommerce pages is a steal, and guaranteed effective year-round!