Are you ready to learn more about conversions, but not sure where to begin? We have you covered in this post – catch up on the latest and greatest information in this list of over 50 awesome posts on conversions from 2011. There's something for everyone, from blogging to social media, landing pages to squeeze pages, increasing conversions vs. conversion killers, design, and more!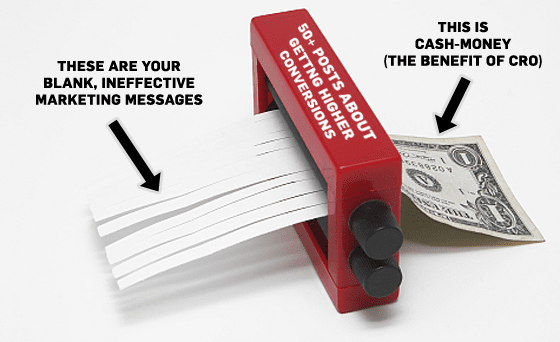 Read these blog posts and start converting more visitors into paying customers.
Beginner's Guides to Conversions
A Beginner's Guide to Successful Conversion – Converting visitors into valuable users is arguably the most fundamental element of managing a website. The author takes a closer look at conversion, discussing what it is, covering some common pitfalls, and tackling how to improve your site's conversion rates.
Clicking Me Softly: A 5-Day Crash Course in Conversion – Explore the ideas, tools and methodology necessary to maximize the efficacy of your customer's life on the page which will make your pages better, more focused, more persuasive and ultimately more successful.
The Debate of Web Sidebar Design and Conversions – Whether or not sidebar design hurts conversions has to do with what you define as a conversion and your overall conversion goals.
Blogging and Conversions
The Ultimate Guide to Increasing Blog Conversion Rates – Seven conversion site reviews with over three hours of conversion consulting that will show you how to increase blog conversion rates without messing around with any of that "tech" stuff.
How To Measure Blog Conversion – A simple step-by-step guide to establish a blog conversion strategy and measure it by setting Google Analytics Goals.
The Simple Anatomy of a Conversion-Optimized Blog – Carefully crafted blog posts can do wonders for your lead generation efforts. You just have to know how to do it right. The author walks you through the anatomy of a smart, lead gen-optimized blog post so you can start converting that blog traffic into precious leads. Luckily, it's far from complicated.
Blog Conversion Rates: How a Few Simple Tweaks can Increase your Blogging Revenue – Diving into the concept of the Most Wanted Response – identifying the action you want people to take and using blog design to achieve this goal.
8 Conversion Rate Optimization Tips for Bloggers – While the author doesn't pretend to have all of the answers, here are 8 CRO (Conversion Rate Optimization) tips he has learned that can help you increase your blogging conversion rates dramatically.
5,867 Words on Becoming a Conversion Machine: A Guide for Bloggers – The top three tips you should implement now plus 17 more tweaks to help grow your blog conversions.
Copywriting and Conversions
Are You Making These 3 Common Conversion Testing Mistakes With Your Sales Copy – It is about using time tested sales methods that work. And time tested sales methods will work in your niche, sometimes they just have to be tweaked a bit. That is why the author recommends testing while avoiding these common mistakes.
Post-Click Copywriting Tips for Higher Conversions – Once you get visitors on your page, learn how to get persuasive, get creative, and get optimized for conversions.
Conversion Case Studies
Conversion Infographics
How Messaging and Design Affect Conversion Rates – The examples presented in this infographic should be used to inspire thought, but more importantly to remind you of the importance of testing, and that you should employ a process for conversion rate optimization.
Are Third-Party Tools Secret Conversion Killers – A lot of people have unwittingly inserted a chunk of code on their pages that could be dragging down their website's performance and thus lowering their conversion rates. Learn about the myth of a single line of JavaScript.
Conversion Killers
Conversion Tools
Increasing Conversions
Landing Pages, Squeeze Pages and Conversions
Micro Conversions
Micro Conversions: The Key to Maximum Lifetime Customer Value – Understanding micro conversions is part of the process of understanding why the vast majority of your customers walk away from your site without doing anything. While you may be focused on trying to increase your 2% conversion rate, there is a more holistic view you can take on conversion that will help Improve your website and business.
Should You Optimize for Micro-Conversions – Should you run micro-conversion optimization tests to improve your results? Conversion testing expert, Chris Goward, discusses how to set testing goals and when to use micro-conversions.
Social Media and Conversions
Your Social Media Avatar and Conversion – How to make your social media avatar or profile picture lead to more conversions.
Measuring Social Media ROI & Goal Conversions with Google Analytics 5 – Learn how to use Google Analytics 5 to measure social media ROI and the relationship between social media referral traffic and conversions.
Social Media Marketing – An Interview with Tamar Weinberg – Tamar discusses social media marketing, metrics, conversion, branding and development of a personal social style.
Cost Per Like Campaigns On FaceBook: The CTR, Conversion Rate, Reach Tradeoff – Here are some conversion tips if you are building or plan to build a like acquisition campaign on FaceBook.
7 Approaches To Engagement Conversion, 5 Explicit Tactics For Twitter & FaceBook – The seven general approaches (and most important things to remember) when integrating social conversions into your website.
What Can Social Media Teach Us About Conversion Optimization – Can conversion optimization also learn something from social media marketing? The answer is yes. In particular, one key lesson: people prefer dealing with other real people.
How to Track Social Conversions on Landing Pages – While many people include social sharing buttons on their pages, few of them track their usage. But to optimize something, you need to measure it. The author shows you how in this post.
How to Really Get Conversions from Social Media- Here, the author goes into the techniques and knowledge that you'll need to take what you already have in social media (even if you have nothing going yet) and turn it into a converting machine for your business.
Website Design, Mobile Design and Conversions
Mobile Apps: Design for Mobile Conversion – Make sure mobile devices like the iPhone, Android and iPad easily use your online store. All are touch screen dependent which is an important item to consider when looking to develop a mobile version of your website. Besides utilizing this technology, here are a few key things to keep in mind when designing for a mobile device.
Designing Websites to Increase Traffic and Conversion – Businesses should focus on the needs of the customers through analyzing the following areas as part of their online marketing strategy.
How Images Improve or Destroy Conversion Rates – When you use images on your site, two things can happen: Images can either help you achieve your business goals, or hurt. Until you learn the subtle nuances of how images affect people, you're standing in front of a firing squad wearing a blind fold.
These are just a sampling of selections from my RSS subscriptions. So now it's your turn – what have been your favorite posts this year about conversions and conversion rate optimization? Please share your favorites in the comments below!