The campaign conversion path is often a long and windy trail that consists of your prospect having objections and you effectively countering them.
If you've done your job properly, your prospect will eventually end up at a crossroads: one path leads to a conversion and the other to the back button — or worse, your competitor.
Of course, we know which path you want them to take… but how can you make sure you've done everything possible to close the deal and make sure they take your desired path?
More importantly, how do make sure you earn your coffee?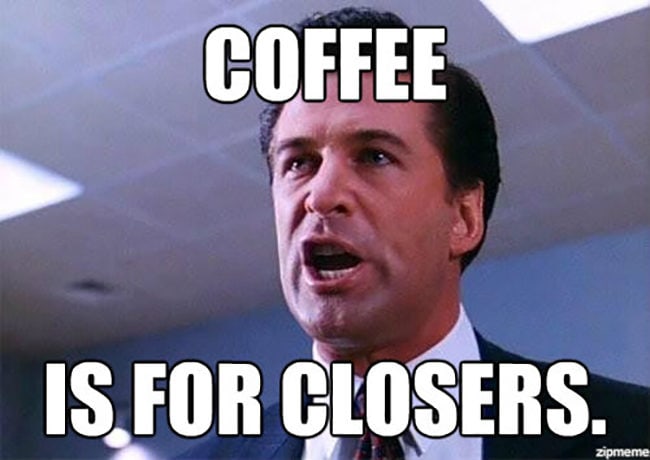 Conversion-Centered Design (CCD) is a framework for leveraging principles of persuasive design, copywriting, and psychology throughout the campaign process to nudge your visitors toward a conversion.
The CCD principle of Closing is about studying the area around your CTA, the design of your CTA and the copy you use to inspire a click.
There are several factors that influence the decision to click — some are positive some negative.
Negative influences
Negative influences include what I refer  to as "stop words": words, phrases or graphical elements that are placed in close proximity to your CTA which may create a moment of pause as your visitor contemplates their meaning.
Words such as "spam" in privacy statements below your CTA have been shown to decrease conversions because they plant a negative inference in the mind of your prospects right at the point of conversion, when they might otherwise not have been thinking that way.
Trust seals – especially when there are several banded together – are commonly used with the goal of increasing confidence, when in reality they can sometimes come across as desperate, causing reflection like "Why are they trying so hard to convince me of the security of this transaction? Is it not really secure or trustworthy?" More often, the key to a secure transaction is the presence of the lock icon in the address bar that denotes that the page uses a secure socket layer (SSL).
Psst:
Did you know? All professional level Unbounce plans include SSL on custom domains.
Start a free 30-day trial today
and see the difference SSL makes on your conversion rates.
Positive influences
Examples of positive influences are statements that reduce anxiety at the point of conversion.
For instance, being explicit about how long it will take for a call back gives people a point of reference. "We'll respond to your request within four hours" is much stronger than no statement at all. Placing this short statement either directly above or below your CTA will ease the anxiety at the perfect moment
For a webinar registration, mentioning that the session will be recorded eases the anxiety of not being able to attend, encouraging people to register anyway.
Button copy
Another critical part of the conversion equation is what you actually write on your buttons: your call to action.
At Unbounce, we've looked at our customers' landing pages to learn more about the impact of different words and phrases in CTA copy. And some of the data is quite surprising…
The price of free
Contrary to popular belief, I've found in several A/B tests that the word "free" can have a negative influence on conversions.
I think in part this is because we are all becoming savvier about marketing practices. Giving your email to a company is a form of social currency and thus is not free. We understand that we'll be marketed to via email — making the reference to "free" seem a little like a bait and switch.
On the microsite for our Landing Page Conversion Course (below), I used a Qualaroo survey widget to ask what was preventing people from starting the course. Two common answers were "How much does it cost?" and "I don't know how much it is."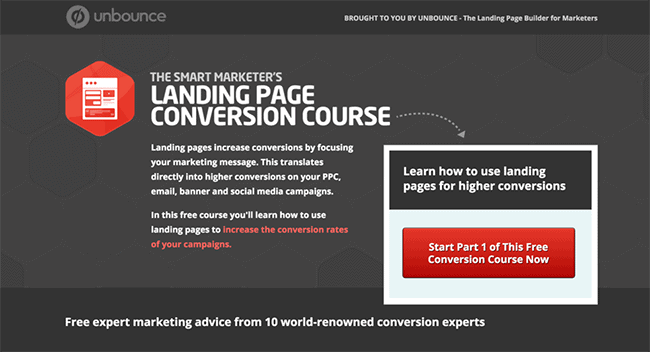 Based on that feedback, I hypothesized that reiterating that the course was free in close proximity to the CTA would result in more conversions (clicks on the button).
I used my photo (as the author), and in a subtle way mentioned that the course was free.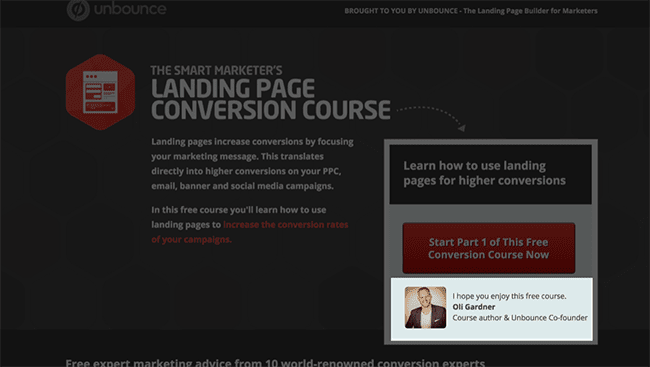 The result of the A/B test?

For this test, I split the traffic 10/90. This was to accelerate the speed of the test based on knowing from historical data that the current champion consistently converted at 26%.
The new treatment lost by 14%.
What made this treatment lose? Was it my face? (I hope not.) Was it the word free?
This got me thinking about the power of the word "free." We dug deep into our customer data and discovered the following impact of including the word "free" in a CTA (versus not mentioning it).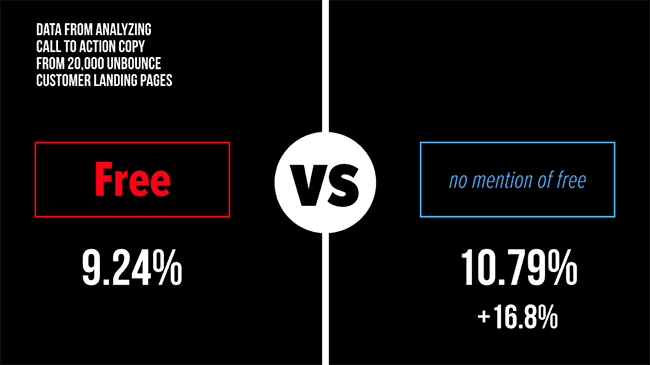 As you can see, across 20,000 landing pages, CTAs without the word "free" converted on average 16.8% better than those with the word "free."
So if free doesn't work… What does?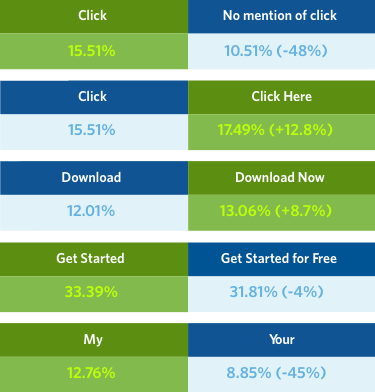 Data shown represents lead gen landing pages only (pages with a form).
The chart above illustrates some other words that are commonly used in CTA copy, and their effect on conversion.
As you can see, even a slight variation in button copy can affect conversion rates. But before you go changing your CTA copy, it's important to note that these are average conversion changes based on aggregate data. Therefore, use the data to inform your A/B tests, not to make off-the-cuff changes.
After you close the deal
Think your job is done after you've snagged that conversion? Think again.
As a optimizer, you should think of what a possible next step could be, and design an experience to ask your new lead/customer to take that action.
This is where the CCD principle of Continuance comes in. Read on to learn more about Continuance or download a PDF of the entire CCD framework to read at your leisure.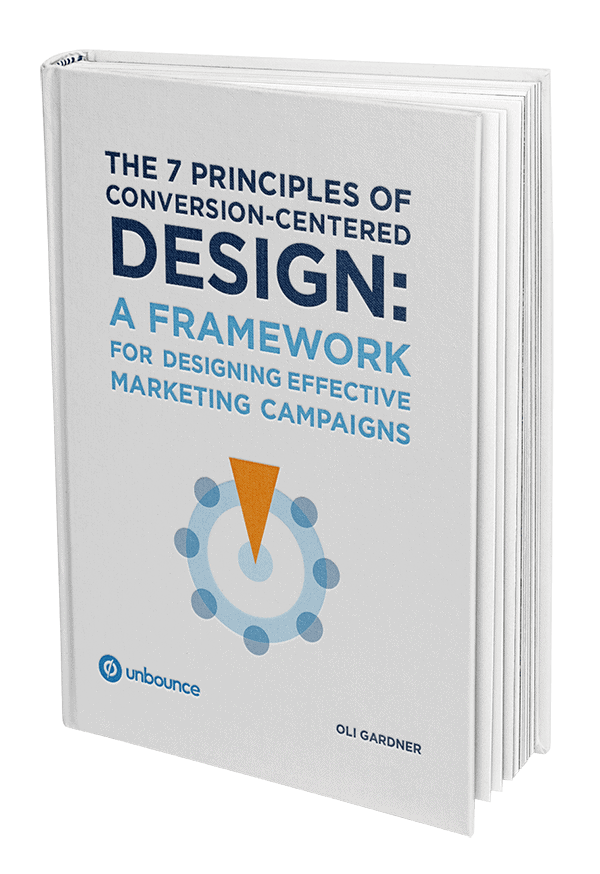 Want better conversion rates?
Download the Conversion-Centered Design framework and become an expert at building delightful, high-converting marketing campaigns.
By entering your email you'll receive weekly Unbounce Blog updates and other resources to help you become a marketing genius.