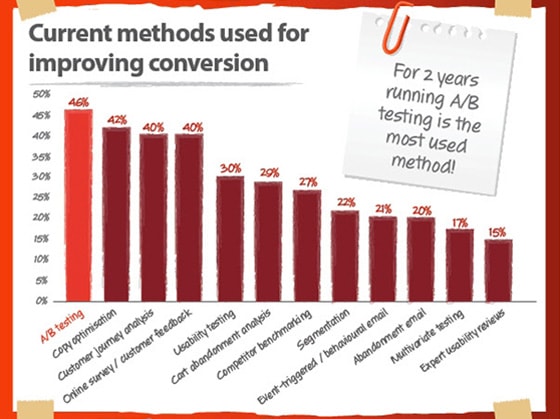 Three cheers for A/B Testing! Hip, hip hooray!
One of the hardest things about conversion is getting up-to-date stats (many people want average conversion rates, but unless you get them for specific industry verticals, they are often just vanity metrics). The nice thing about this infographic is that it keeps it simple and only gives one example – for retail. The bad news is, that despite growth in the market, conversion rates are going down.
Why do you think that is?
Bad marketing? Improper use of testing methodologies? Lack of expertise? All of the above?
The infographic suggests that the reason for the decrease in conversion is due to too much money being spent on acquiring visitors ($92), but virtually nothing ($1) is spent on converting them into customers. If you are in this boat, you should read about Conversion Economics, you'll learn how much of your monthly budget you should be spending on optimization efforts, compared to driving traffic to your site.

---
So let's recap the most salient points represented in the infographic; What's happening in conversion land 2012?
Happiness with conversion rates is low: After 4 years of research, only 1% of those polled were very satisfied with the optimization efforts. I'd bet that this is because A) untrained people are running optimization efforts, or B) the time to market is so slow (due to IT bottlenecks) that nothing gets done.

There's also the case where clients or bosses just don't believe in the concept so it gets tried, fails and is cut from the budget. If this has happened to you, you should read How To Demonstrate the Value of Conversion Rate Optimization to Any Boss (or Client).

A/B test win!: For the past 2 years, A/B testing has been the methodology of choice. But the type you choose is really dependent on your goals, and the size of your campaigns. A/B testing is run out in the wild, whereas many other testing methods that can be quickly done in-house to help you build a sense of how to improve your pages. Although that ideally feeds back into another A/B test. Double win.
Multivariate (MVT): Is considered the most valuable, but most difficult to implement. One of the reasons for this is that you need a bucket load of traffic (or time) to reach any level of statistical certainty that your test is accurate. Which is why only 17% of companies polled are using it vs. 46% using A/B Testing.
The 4 variables that improve conversions and sales: Perceived control, having somebody directly responsible, incentivizing staff, and using a structured approach. I like these as they point towards placing marketing campaigns (and optimization) in the hands of the marketing team and holds them accountable for success. And there's nothing that helps generate success than a little (or big) incentive.
More landing pages over time: Marketers are starting to get on board with the fact that targeted landing pages increase conversions. The infographic's conversion maturity model shows how companies use landing pages over time: starting to test landing pages, testing landing pages, and finally testing & using multiple landing pages. Ideally, you should get to the point where you are using landing pages for all of your marketing campaigns, as it helps you measure the ROI. This draws back nicely to the accountability mentioned in point #4.
The 5 best ways to increase conversions: Finally, to summarize everything mentioned above, the graphic finishes off with a process you can follow to achieve success.

Make someone directly responsible: Give someone control and incentive them.
Implement a structured approach: Remember it's a process not a one off project.
Always be testing: Use A/B or MVT depending on your needs.
Usability testing: This is the best way to observe what – and listen to why – people are doing things on your website.
Segmentation: Segment your customers and visitors for actionable insights. This also allows you to segment your email campaigns with more relevant and targeted messaging.

---
Tweetables
You can change what gets tweeted before it goes out, so don't be afraid to click.
For 2 years running, A/B testing is the most used method for improving conversion.
[Infographic] For every $92 spent acquiring customers, only $1 is spent converting them.
Implement a structured approach to improving conversion: It is a process, not a one off project.
[Infographic] The retail market is growing, but conversions are falling. Why?
---