This post was originally published in 2014, but we gave it a refresh. Since launching the Unbounce Marketing Blog, this post has become one of our top-performing posts of all time. We hope you enjoy the read.
Research shows there are over 205,000,000,000 emails sent each day. 205 BILLION.
To give yourself the best chance of cutting through with your email marketing, you need to send emails your customers love.
But how?
By thinking about each customer's current relationship with your business, you can send emails each individual customer will find relevant. Here are six ways you can send emails your customers will love.
1. Segment your users
The most obvious place to start in order to send emails your customers want to see is segmentation. Don't send everyone the same thing! This sounds obvious, but very few businesses take the time to do any segmentation at all.
There are many, many ways to slice your customer base, ranging from something as basic as RFM:
Recency (when did a customer last buy from you)
Frequency (how often does a customer buy from you)
Monetary Value (how much do they spend)
…to much more complex statistical models that try and factor in a whole range of historical data and future estimates.
Even some simple segmentation will put you ahead of the pack. Next time you send out a promotional newsletter I'd recommend having at least two segments: Customers that have purchased before and new customers.
Use simple segments to change your offer in each email you are sending and, ultimately, improve your profit from this campaign.
For example, why not offer new customers — who have subscribed but never bought — a discount. Give past, loyal customers access to a "hidden" series of products for the new season as a reward for their loyalty.
The best part? Implementing this type of segmentation can be as simple as pulling the order history out of your database and adding a true or false value to your email marketing list.
And don't forget to measure the net result and see how it compares to your normal promotions. I'd be surprised if the results haven't improved.
Already doing basic segmentation?
A clever, more advanced trick, is to use trigger-based emails to send very specific emails to your customers based on what they do on your site.
Amazon is always a great example of this in action, as they hone in on your browsing history and actively follow-up on-site activity with a series of emails.
Setting up emails like this can be done with good lifecycle email marketing software that allows you to track your customers' actions and trigger a series of emails to users who look at product category (cameras, for example) but do not checkout.
The web is a powerful place, and you are now able to access and use more information about your customers than ever before.
Use your customers' information to segment when sending marketing emails and you'll be ahead of (or at the very least on par with) your competition!
---
2. Set up an automated campaign
Automated emails give you the power to personalize in a way you simply cannot recreate manually. Below are a few examples of quality automated emails that show their power:
1. A founder sending an email within an hour of a customer signing up
At scale this sort of email is impossible to keep on top of if you're emailing manually. With a little engineering and (ensuring you keep things simple) you can quickly implement an email like this that goes out to customers automatically.
As long as you actually follow up on any responses, you'll find that this campaign really resonates with new customers.
2. Drilling down your funnel, like this example from Flightfox
Every business has a funnel of some sort. You should be tracking where your customers are in your funnel and using email to move customers from one step to the next.
The best way to do this is to provide useful information each step of the way. Sending tens, hundreds or thousands of customers an individual email based on where they are in your funnel could not be done manually, but automated emails give you the power to send something individually relevant.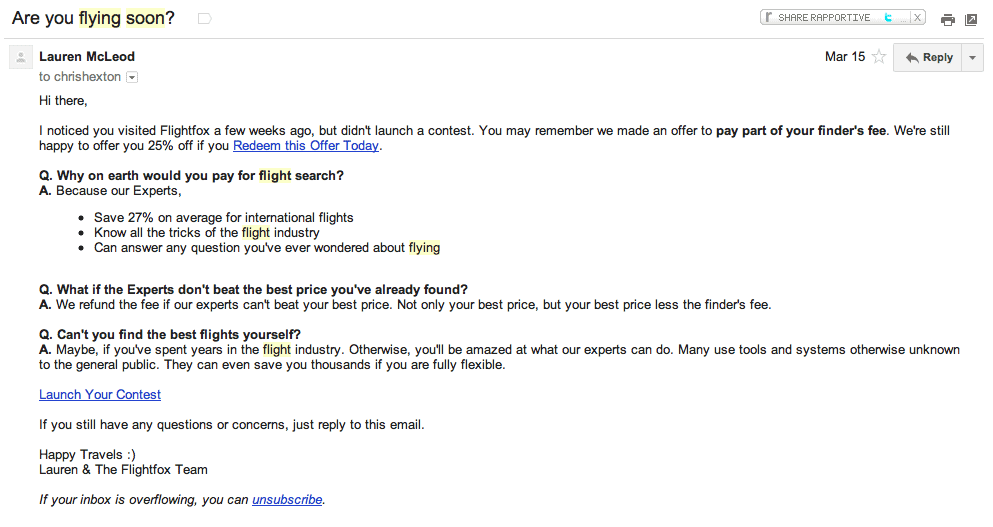 This doesn't mean you have use formal language or lots of pictures. Take a look at the example above from Flightfox, who used a simple, plain-text question-and-answer format to double the conversions on a lifecycle email.
3. This hyper-relevant example from Amazon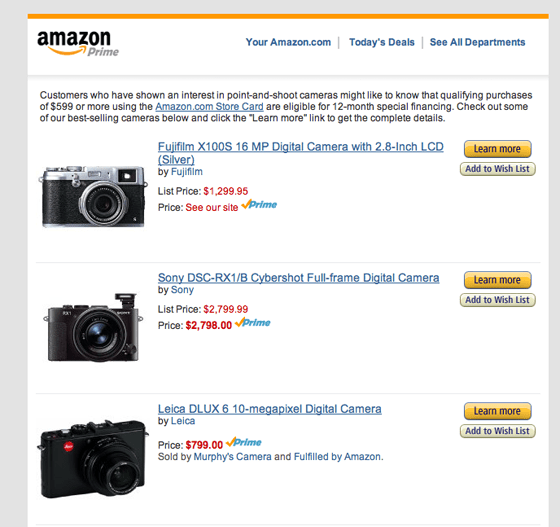 Sending emails based on a customer's specific browsing habits is something you could never do with a team of people (it wouldn't be very efficient!), but using automated emails allows you to trigger an email with content related to your customers' experiences so far on your website.
Don't underestimate the power of automated emails!
(I could spend a lot of time going through how to setup automated lifecycle emails, but this slideshow does the job faster and smoother than I can!)
The point:
Set up an automated email to guide customers through your funnel.
Use a simple, personal question-and-answer style format to make sure the email is helpful.
Consider sending a series of emails, not just one, and don't be afraid to send the first email a few hours after your customer first triggers the action in question.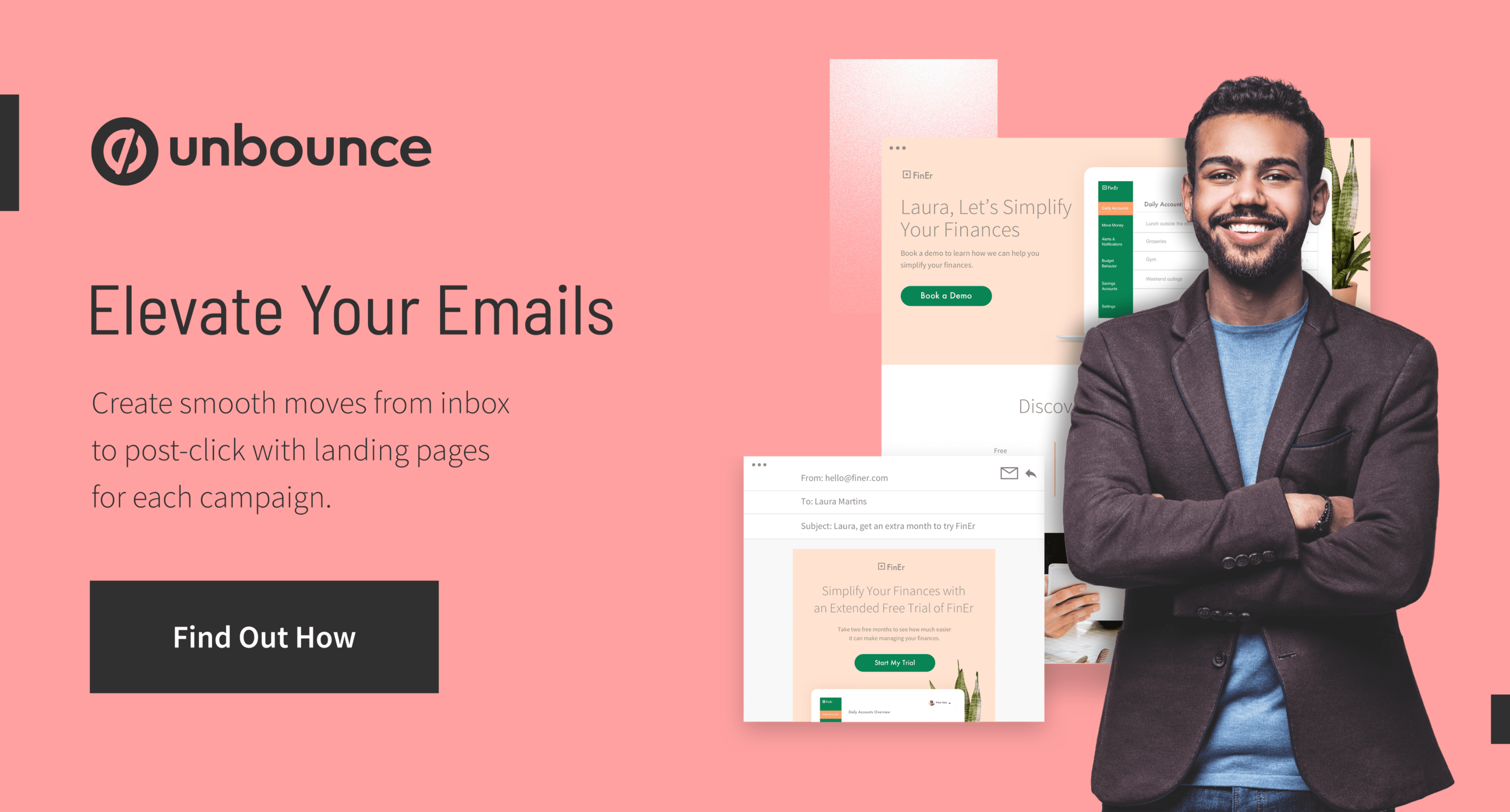 3. Send from YOUR email address
I did a search of my inbox the other day for the term "noreply" and got over 1,000 results since the start of March. Admittedly, I get a lot more emails than the average user, but that's a lot of noreply@domain.com addresses.
These emails were from startups, big brands and everything in between. In many cases they were simple promotional emails or updates.
There is no REAL reason to use a noreply email address for a marketing email. Even if you're sending the email to hundreds of thousands of people you can use an address like info@yourdomain.com or support@yourdomain.com. Active communication with your customers is the way of the future.
As HubSpot points out in their slideshow, What The F*ck Is Social Media?, brands are winning engagement with their customers at every opportunity across every medium.
There are all sorts of tools out there to help with managing customer responses, my favourite being HelpScout.
Bottom line: you should use a personal email and give your customers the chance to respond if they want, because…
What if your customers have a question about your sale?
What if your customers respond and ask how to setup a new feature?
For every 10% of customers that bother to head back to your site and find your support email or create a ticket, you can guarantee that 90% will simply bail when they can't hit reply.
Do you want to miss out on 90% of what your customer base are saying? Talking to customers is everything when it comes to running an online business. You can't chat to them over the counter but you can chat to them via email!
The point:
Use a REAL email address, not noreply@domain.com.
---
4. Run a simple A/B test
Thanks to awesome tools like Visual Website Optimizer and Unbounce (shameless shelf plug), savvy online businesses use A/B testing to regularly improve their landing pages and funnels.
…but hardly anyone I talk to A/B tests email campaigns like they should. Running an A/B test might sound complex but it can be as simple as you want.
As an example close to home, I have recently been testing the format of my blog post update emails:
Do customers prefer to receive the entire post in an email or do they prefer a summary with a link to the blog post?
Do customers want to see a "hand-written" synopsis of the post by me (adding a little flare to the summary) or are they happy to simply get to the point?
Does having an image in the blog post update email make a difference?
All of these questions stem from wanting to write emails that your customers will love more. Getting customers to open, click and convert from your emails is important, and seeing the results of tests like those above is simple, thanks to the email marketing software on the market today.
So… next time you're writing a campaign, have it in your head to create a second variation.
Test the 'From' address (for example, using "Chris from Vero" as opposed to "Chris Hexton" lifted my open rates)
Test the subject line (are you better with all caps, no caps, shorter subjects, longer subjects, a subject the same as the heading, etc.)
Test the template
Test the format
Test the offer
…and so on. Here's the results of a recent A/B test on a subject line I ran. To test a hypothesis I simply removed "[Vero]" from the subject line and changed my approach to try and be mysterious or enticing — interestingly, the open rate dropped dramatically with this variation. Lesson learned!
The point:
The value of a simple A/B test can be very powerful stuff. With a few extra hours work (or even less), you can find some permanent ways to send emails your customers love.
---
5. Simplify your copy
Ryan Hoover wrote a great post sharing his theory on Email first startups. He mentions a number of reasons email is a great medium on which to build a business. Email forces you to be simple. There's no room for bloat and, unless your emails are focused and to the point, they won't get your readers attention.
Although Ryan was talking about email in the context of starting a business, the same concept applies to any email you send
Simplify your copy, spend more time writing content that relates to where the customer is in their relationship to your business and provide a single call to action. Joanna Wiebe also has some great tips in her article "Tone of Voice 101".
Here are four steps that you should go through mentally when writing a new email campaign (or any content you're going to publish):
Would I want to read this? This is really the starting point. When you re-read what you've written, you should constantly be asking yourself, "Would I keep reading? Or would I stop?"
Am I speaking as I wish to be spoken to? Tone is hard to master: you need to be yourself and find a "voice" that makes sense to your customers and your business. You should always sense-check whether you're talking in a way that is respectful, professional and consistent.
Can I cut more out? Most people have a nasty habit of repeating themselves and writing too much. There's nothing wrong with long copy (it often converts better) but long does not equal effective by default. Get someone to proofread your content and, if you need to, cut the crap!
What is the call to action? Having a single call to action and repeating that CTA is something you should aim for in every email you send out. Keep it simple, keep it direct and make sure your customers get where you're going with it.
Need some reinforcements in writing your copy? Try Smart Copy's sales email generator to do the hard work for you. After all, who doesn't want to save time, get new ideas, and create high-converting copy easily?
The point:
Review your emails properly before you send them! Focus your emails with consistent, well-written content (take your time) and repeat your single call to action (CTA).
---
6. Give away your knowledge, for free
A tried and true tactic — customers will love you if you share your secrets with them.
Too many business owners worry about giving away information, as though a successful business is built on ideas alone.
The world's most successful online business such as 37Signals, HubSpot and Net-a-Porter all use sharing as a core part of their marketing.
Take the 37Signals blog, Signal vs. Noise. Since 1999 they've shared their ups, downs, and ideas about starting businesses, design and management online. This has led to successful books and has certainly been a dramatic aspect of the success of their products such as Basecamp or Highrise.
Net-a-Porter has always shared great content and style guidance on how to dress and look good. This magazine-first approach is a great way for Net-a-Porter to consistently market to their customers without seeming overbearing by simply offering coupons every week. Customers don't buy clothes for the sake of buying clothes: they buy clothes to look and feel good.
By sharing the secrets of how to do this Net-a-Porter constantly builds momentum, driving over 30% of their sales via email.
The point:
Give away as much information as you can to your customers. HELP them by teaching and they'll love you for it. Email is a great medium for sharing content. It's direct, it's personal and it's focused. Embrace this.
---
Bonus Tip: Pair your amazing emails with an (equally) amazing landing page
So you've created and tested your emails. Your campaigns are segmented, automated, and on point. You've even polished your copy and shared a little bit of valuable know-how with your readers.
What's next?
Creating a tailored landing page to match the call to action on your email helps ensure you lose as few potential customers as possible.
Ideally, it'll do the following:
Look and feel like a continuation of the conversation you started in your email. Your emails have built valuable trust, so don't spoil it by sending readers somewhere unexpected.

Keep them moving through the funnel. When somebody clicks, they may be interested. But they're not necessarily out of the consideration phase. Use the landing page to give them an extra bump toward converting.

Talk directly to your segments. I've already discussed how you shouldn't send everyone the same email, but the same is true of your landing pages. Once you've identified your segments, make sure you pair segmented emails with pages that speak to them.
Don't forget about the mobile experience either!
59% of emails get opened on the go, so you want to make sure your landing page is extremely smartphone friendly.
The point:
If you've done the work of getting somebody to click on your call to action, don't send them somewhere they won't convert. Use hyper-targeted landing pages with your email campaigns.
---
Rock and roll!
Focus on making your customers love your emails and you'll increase your conversions as well. Use the huge amount of data you can now capture about your customers to send smarter emails, not more emails. Make each email count and you'll be a long way ahead of the competition.
How do you send emails your customers love? Share success stories in the comments!