What is a landing page?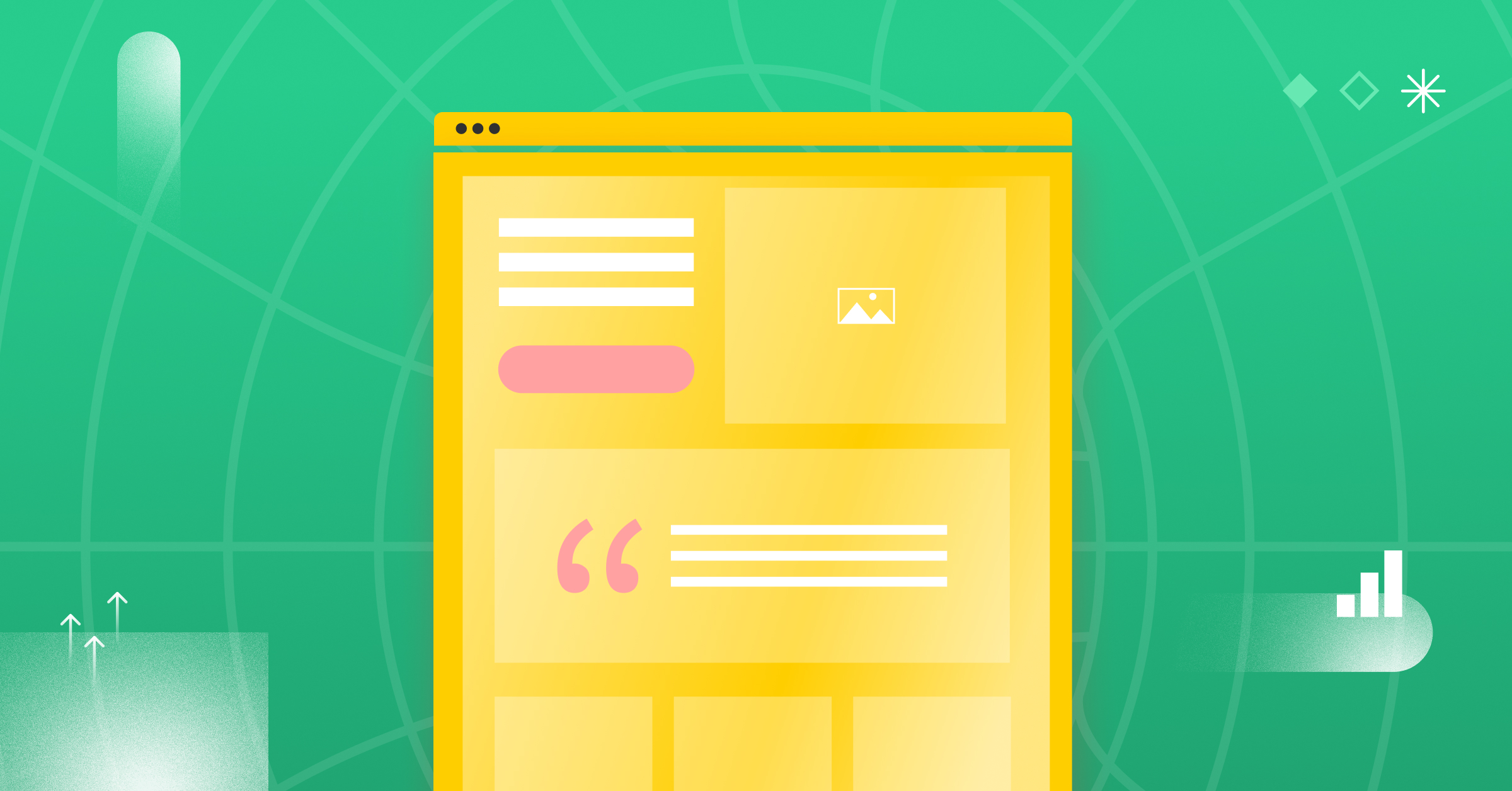 In digital marketing, a landing page is a standalone web page, created specifically for a marketing or advertising campaign. It's where a visitor "lands" after they click on a link in an email, or ads from Google, Bing, YouTube, Facebook, Instagram, Twitter, or similar places on the web.
Unlike web pages, which typically have many goals and encourage exploration, landing pages are designed with a single focus or goal, known as a call to action (or CTA, for short).
It's this focus that makes landing pages the best option for increasing the conversion rates of your marketing campaigns and lowering your cost of acquiring a lead or sale.
Here's where landing pages might fit into your marketing funnel: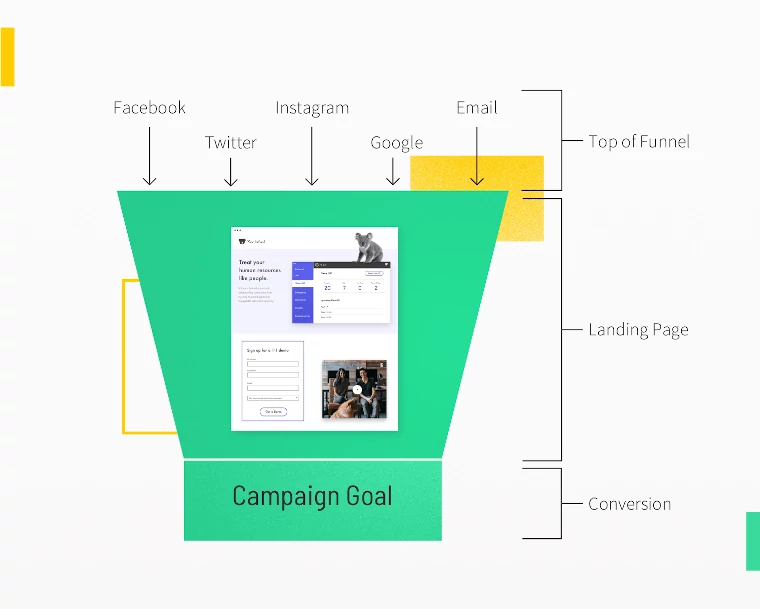 As you can see, the landing page exists after prospects at the top of the funnel click a link in an ad, email, or anywhere else on the web. It's where the conversion (like a purchase, signup, or registration) will take place.
In this post we'll explore the main benefits of landing pages and answer some common questions. By the end of this page, hopefully you'll love landing pages as much as we do.
Let's go!
The key difference between a homepage and a landing page (or why landing pages are so frickin' good at converting)
Below we've got a homepage and a landing page laid out side by side. See how the homepage has tons of links and the landing page has only one? That's pretty typical.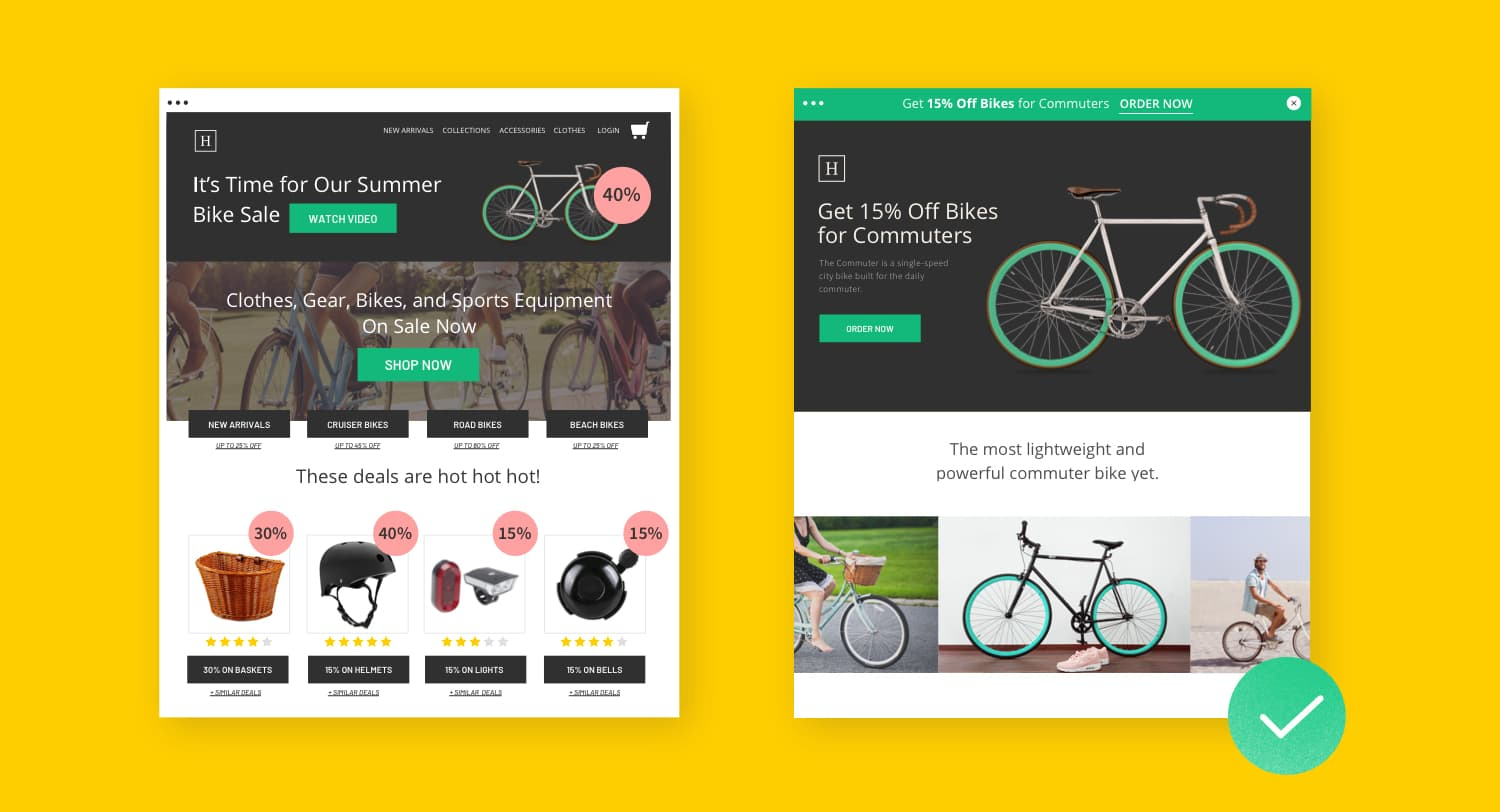 While the homepage has dozens of potential distractions—you can basically call 'em "leaks" instead of links—the landing page is super focused. Having fewer links on your landing page increases conversions, as there are fewer tantalizing clickables that'll carry visitors away from the call to action. That's why expert marketers always use a dedicated landing page as the destination of their traffic.
Sure, the homepage looks amazing. It shows off the brand, lets people explore a range of products, and offers additional info about the company and its values. From here, a visitor can go anywhere—apply for a job, read some press releases, review the terms of service, post on the community boards, etc.
But they won't necessarily make a purchase. And that's the point.
The landing page for this customer serves a completely different purpose. Paired with super slick ads that promote a single offer, everything about it works hard to turn these visitors into customers. It's doing a better job to convert the traffic the brand's already getting. That's the power of landing pages!
If you want to dive further into the differences between homepages and landing pages and which situations they're best suited for, you can read more here.
What are the different types of landing pages?
You'll see a lot of variation out there depending on the specifics of the business and whether you're looking for leads, signups, or sales, but here are the main types of pages you'll see: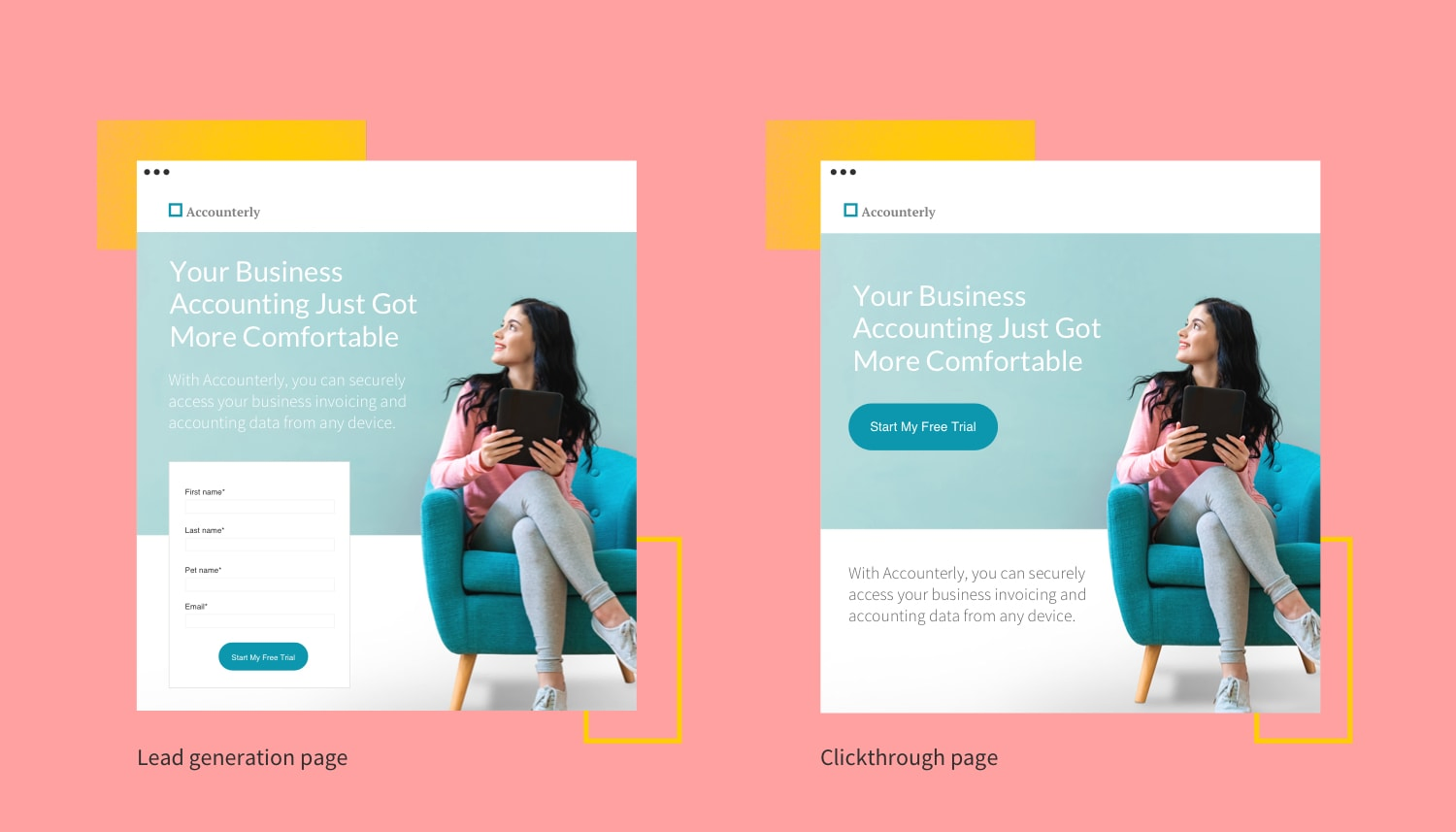 Lead generation landing pages:
Also called "lead gen pages," "lead capture pages," or "squeeze pages", these use a form as their call to action. This form almost always collects lead data, like the names and email addresses of visitors. (You can read some expert-certified lead gen strategies here.)
B2B marketers and companies selling high-ticket items use this type of landing page to build a list of prospective customers. They sometimes offer something free, like an ebook or webinar, in exchange for contact info. Ecommerce brands can also use these pages for list-building, or offering free shipping or special deals, too.
Some examples of lead gen landing pages include:
Clickthrough landing pages:
Frequently used by ecommerce and SaaS (software-as-a-service) marketers, clickthrough pages go straight for sales or subscription. Usually, they have a simple button as the call to action that sends the visitor into the checkout flow (like the app store) or completes a transaction.
Clickthrough landing pages can take different forms, including:
How to drive traffic to your landing pages
You're going to need to fill that funnel full of visitors for your landing page to work. Fortunately, you've got a lot of options. Let's explore some of the more common sources of traffic to landing pages.
Paid search traffic
Most search engines include paid advertising. When someone looks something up (say, "cheese of the month club") these ads appear clearly marked—but not too clearly marked—in the search results. Here's a typical example from Google: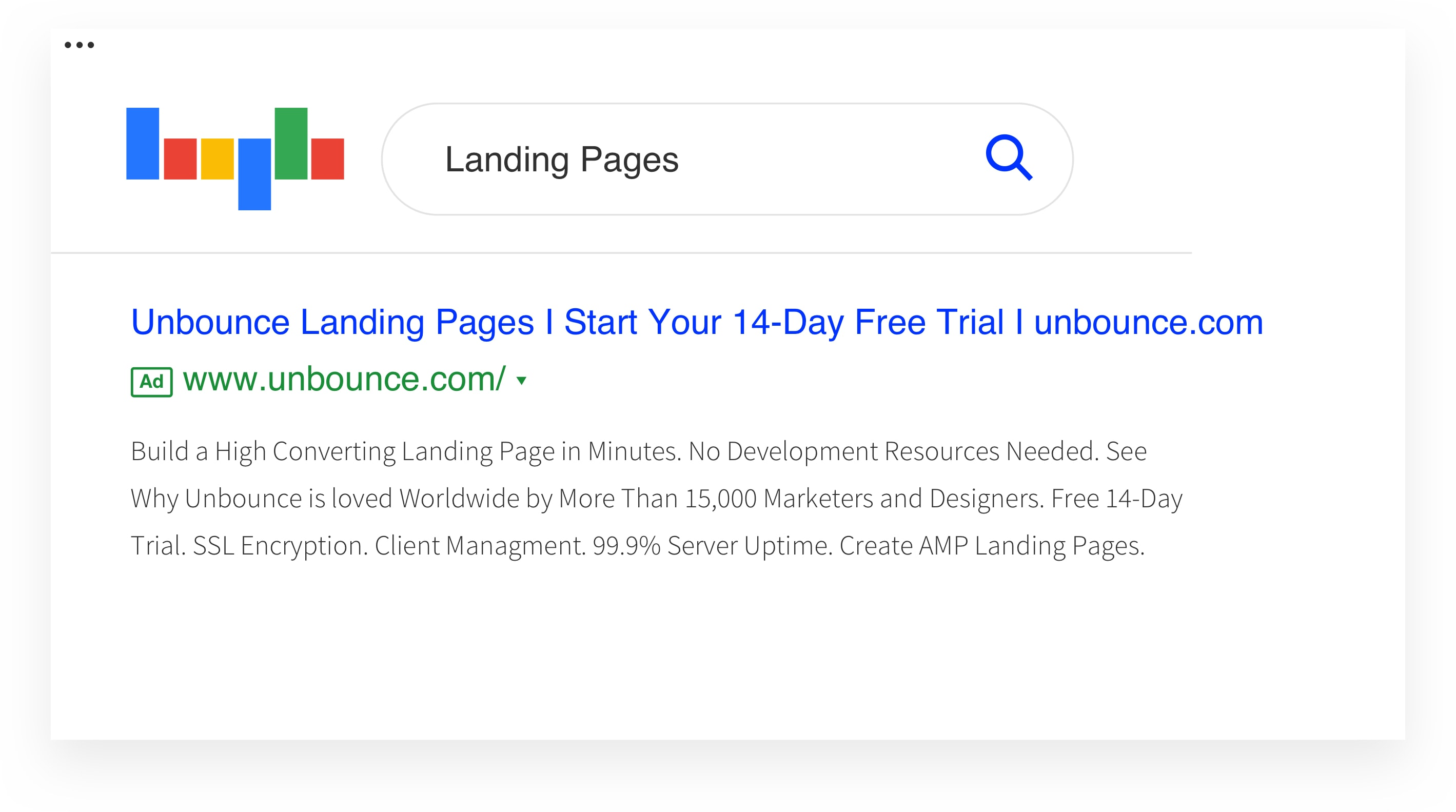 Unlike the other results on the page, pay-per-click ads are prepared and paid for by marketers. Someone who clicks will be primed by your charming copy (and, sometimes, your visuals). And you've likely targeted them based on their search term, demographic data, or interests revealed by their browsing history.
Crucially, when you create an ad, you get to choose where the link takes your visitor. Yes, you could choose to send them to your homepage. But, as we'll explore below, it's much better to create a standalone landing page that matches your ad copy and offers a clear call to action.
Paid social traffic
Running ads on social media sites like Facebook, Instagram, Twitter, or LinkedIn is a kickbutt way to target people and communities who'll be particularly interested in your brand, regardless of whether they're in the market yet.
Instead of people searching for "cheese of the month club," you might advertise to people who've added "cheese appreciation" to their list of interests in their Facebook profile. The beauty of it is that you can connect with customers before they start to look for your product—or before they want it!
Aside from offering advanced targeting features, each social channel has its own characteristics. Instagram, for example, works well for products and lifestyle brands with a strong visual appeal. On the other hand, B2B advertisers prefer to use LinkedIn to reach professionals working in specific industries.
Email campaigns
Email is often touted as the most effective marketing channel out there because of its enormous reach (and low costs) compared to other platforms. In 2022 Statista forecasted that there were 4.3 billion email users around the world, with that number projected to grow to 4.6 billion by 2025.That's more than half the planet!
A powerful combo of emails and landing pages can be used both to nurture existing relationships with customers and to acquire new ones. After building a list of contacts, your carefully crafted email lets you entice readers with your offer, while the landing page fills in the details and directs visitors toward a call to action.
Organic search traffic
The term "organic traffic" refers to any visitors who come from an unpaid source—like the bottom half of Google or Bing search results (SERPs). By creating compelling, legitimately useful content on your website or landing pages, you can ensure that your business appears more frequently in related searches. The higher your content ranks, the better.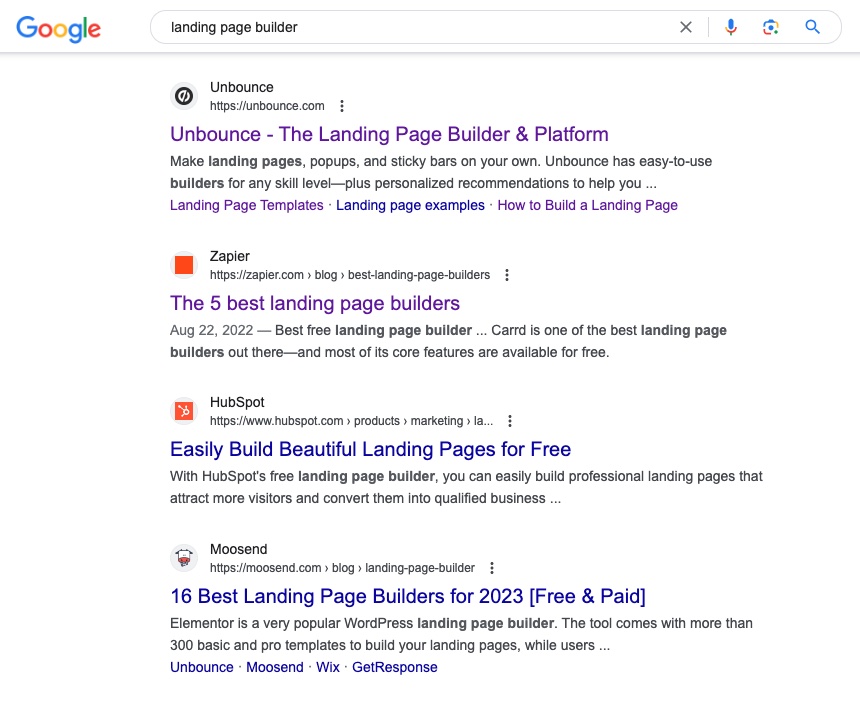 Calling it "unpaid" is a little bit misleading, however. It doesn't mean there isn't time and money invested in ranking. (If only!) There's an entire field of professionals dedicated to squeezing as much organic traffic from Google as possible through a balance of careful strategy, technical know-how, and brilliant content creation. That's search engine optimization (SEO) in a nutshell. (Read more about SEO for landing pages here.)
Are there any other channels where landing pages work?
It's impossible to cover every use case we've seen. You might run native ads during a podcast, for instance, or create interactive quizzes, or run traditional print ads with QR codes. No matter how you fill the top of your funnel, a landing page will help you make the most of it.
Why not just pay to increase my traffic?
You totally can—in fact, a lot of marketers do this. But it also makes sense to convert more visitors and get the best return on your marketing dollars. It's kind of like carrying water in a leaky bucket—you can always try pouring more water into the bucket, but fixing the leak will make your life a lot easier (and dryer).
Answers to your burning landing page questions
You've got questions, we've got answers to help you squeeze every drop of value out of your landing pages and achieve your goals.
Can any page be a landing page?
Technically, sure. The term is used this way in Google Ads and Analytics, for instance. But not all destination pages are made equal. At Unbounce (and in most marketing circles), we use the term "landing page" to describe a campaign-specific page with just one single call to action and no website navigation.
Can I have a landing page without a website?
Yup! You can create a landing page that's designed to serve a specific purpose (like selling a product or generating leads), then point all of your ads and social media posts to the landing page and let it do its stuff.
Creating one-off landing pages is especially useful for situations like short-term campaigns, where you just need the landing page to exist for a limited amount of time. Or even for testing new business or product ideas. The possibilities are limitless!
Do I need a domain for a landing page?
All landing pages—heck, pretty much all webpages in general—have a domain because it helps to identify where the page lives and how it can be found on the internet. (It's actually a little more complicated than that, but you get the idea.)
If you don't have a web domain or don't want to link a new landing page to your current domain, lots of landing page builders will have the option to publish to a default domain. (For example, Unbounce lets you publish pages on the ubpages.com domain, which is SSL-secure, indexable, and customizable to fit with your branding or campaign. Here's how to do it.)
How long should a landing page be?
The short (and somewhat cheeky) answer: Only as long as it needs to be.
The longer (and more helpful) answer: A landing page should only contain the amount and type of content that's needed to prompt users to take the desired action. Cramming extra, unneeded content onto the page can be distracting and might end up reducing conversions.
For example, if you create a landing page that's dedicated to selling your gourmet, cat-shaped cookies, then it should only contain copy, images, and interactive elements (like a form to be filled out) that will encourage users to submit orders for your delicious and adorable snacks. Don't throw in extra details about the history of your business or why you think kittens are cuter than puppies–those belong on separate pages on your website.
That's not to say that all landing pages should be super short, though. If you need to share lots of in-depth content to help visitors understand the benefits of your product or service, then longer landing pages will serve you best.
How many landing pages should I have?
That depends. Here are some factors that can affect how many landing pages you want to create:
Number of campaigns
It's generally a good idea to have at least one dedicated landing page for each marketing campaign. That way the landing page can be tailored to the campaign's specific objective, appearance, and tone.
Audience targeting
If you can divide your audience into different groups or segments, consider creating separate landing pages for each one. You'll be able to enhance the experience for each segment and maximize the chances of getting conversions.
Variety of products or services
If you offer a number of different products or services, you can create separate landing pages for each one (or each product or service category, if that makes more sense). This allows you to highlight the unique benefits of each individual thing you offer, so it has a chance to shine.
Testing and optimization
When you're optimizing your campaigns (either with traditional A/B tests or an AI optimization tool), having multiple landing page variants is essential for testing and improving your overall experience. You can test different elements across your pages to see which ones perform the best and are most effective at increasing conversion rates.
Also: More is better
Having more landing pages on your site can lead to some significant benefits. A study showed that increasing the number of landing pages from 10 to 15 gave companies a 55% boost in leads, with even larger increases for sites with 40 or more landing pages.
Another benefit of having lots of landing pages is improved SEO. With more of your pages for the search engine to index and display on SERPs, there's a greater chance of visitors making their way to your site.
How much does a landing page cost?
Before you can determine how much money to set aside in your budget for building landing pages, it's good to consider a few factors:
By considering those questions, you'll be in a better place to evaluate your options and figure out your costs. If you want to create the pages on your own (or with the help of a team member), you'll need to consider the builder tools that are available and which features you really need.
If you'd rather get external help, you can hire a freelancer or agency to design and create landing pages for you. Freelancers tend to be more budget-friendly, but agencies might be able to offer more expertise and resources, especially for larger campaigns and projects.
How can I improve my landing page experience?
That's a good question to ask—because the better experience users have on your landing pages, the more likely they are to convert. (Obvious, but true!)
Follow the tips below to create landing pages that your users will love:
Relevant content
All of the content on your landing pages should be laser-focused on giving the user what they need to convert. It should also be consistent with the path users have been following before they arrived at the landing page, like ads or social media posts. (We call this "message match," and it's a sure-fire way to improve your conversion rate.)
Fast loading times
Slow page loading can be like kryptonite to your landing page's otherwise super experience. Load times around one or two seconds are pretty fast, but it's been shown that for every extra second of load time, your conversions drop by 12%. Also, 53% of people abandon pages after just three seconds.
So work with your team, freelancer, or agency to get the load times down as low as possible—it'll be worth the effort.
Good navigation
Creating a good website navigation experience isn't as easy as just slapping some words and images onto a page. There are plenty of best practices you can follow to create an experience your users will enjoy, and happier users are more likely to convert.
Mobile optimization
It's very likely that a good portion of your audience (maybe even the majority) will be browsing your landing pages on their mobile devices, so it naturally follows that you want to provide a good experience for people scrolling on their phones.
Be careful about only doing the minimum for your mobile device-using audience. A mobile-friendly landing page design is viewable on a smaller screen—but might not provide as good an experience as a site that's been mobile-optimized, which means it's designed specifically for mobile devices. The best of both worlds is a mobile-responsive design, which is able to switch seamlessly between mobile and desktop environments.
The above points just scratch the surface of landing page best practices. For a complete guide on how to create high-converting landing pages that kick butt, check out this guide.
What is the best landing page builder?
Simply put: the best landing page builder is the one that best fits your needs, and you are the only one who can determine that because you know your business better than anyone.
That said, Unbounce's AI-powered landing page platform offers some pretty slick features and benefits—and it compares well against competitors.
When you're shopping around for builders, keep in mind that you'll probably want tools that not only help you build landing pages, but also provide ways to test and optimize them for better results.
---
Have another question about landing pages?
We hear ya. Here's three questions people often ask us:
1. What do I need to include on my landing pages?
2. Landing Page vs Homepage: What's the Difference
3. What's the best way to get started creating a landing page?
---
---
Why not learn a little bit more?
Hey, you've got the fundamentals down. Now that we know what a landing page is, let's look at the five key elements that every high-converting landing page should have.