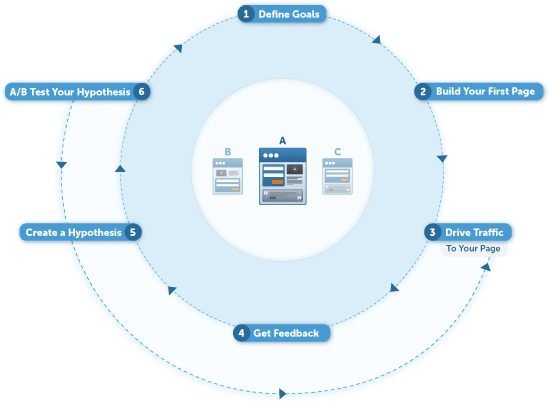 The Landing Page Optimization Process
Today marks the start of Landing Page Optimization (LPO) Week, which will include 5 great posts to help you create landing pages that convert better than ever. To give you an overview of what we'll be covering, check out this list of LPO goodness:
To give you a taste of what's in the ebook, here's a slice of one chapter so you can see what you're getting. Enjoy.
---
PREVIEW: Team Workflow in the LPO Process
There are two ways for your team members to work together:
1. The traditional linear offline approach: Here each team member does their piece of work, creates a deliverable and passes it to the next person in the line. At the end of the process, the final page design is handed to a development team to construct the HTML version and push it live.

Click for full-size image.
You can see from the diagram, that conversion reports are created by IT to be passed back to the campaign manager to discuss with stakeholders prior to making decisions on how the team should proceed with testing.
2. The collaborative multi-user online cloud approach: Here a team works together in a multi-user environment, where they can collaborate to create the page in a single place. This is facilitated by the use of a cloud-based creation tool that bypasses the IT development phase.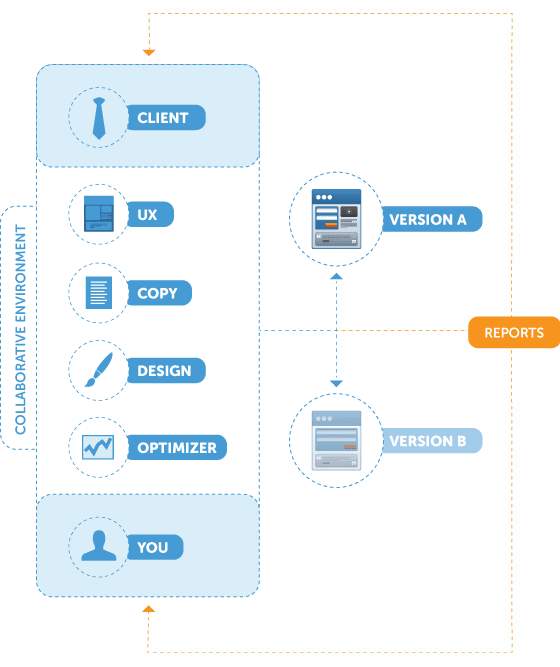 This time, conversion data is immediately available for the entire team to see, allowing testing and optimization to proceed much more quickly.
Note: this approach is made possible by online tools such as Unbounce.
---
So that's just a short preview of what's inside today's ebook. Download it now.