All right, so you launched your most recent marketing campaign, promoted it with an eagerness you didn't know you had, and juuuust as you're unwrapping your celebratory Snickers bar at your desk, lead gen Greg appears to ask when you can crank out the next one.
…The next campaign that is. He's not interested in your Snickers bar.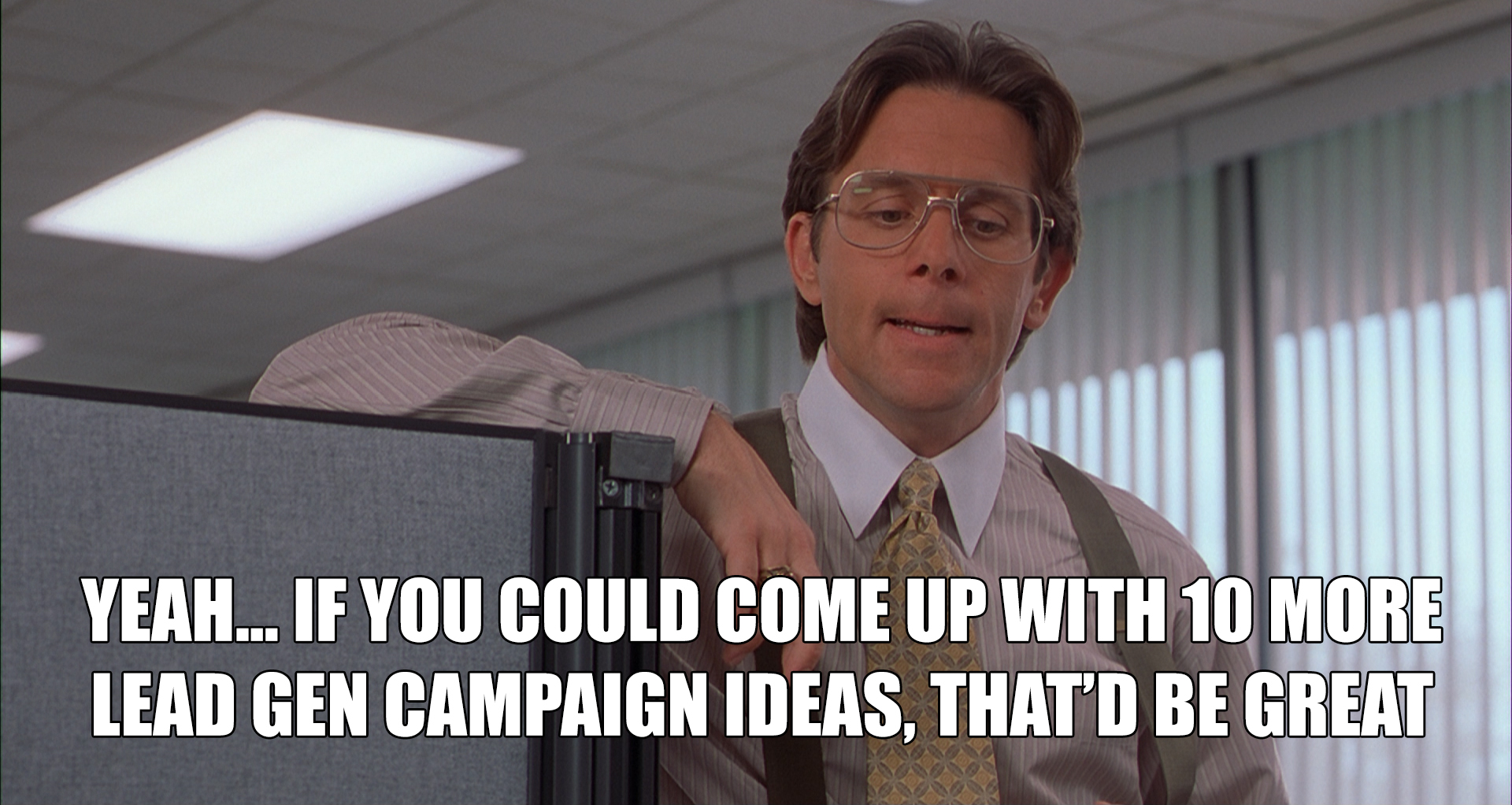 Every month, you can scramble to pull together a marketing campaign to fill your pipeline with leads, but I think you'll agree it's high time you stop winging it.
It's much more effective to plan out your efforts well in advance and create goal-driven campaigns that direct prospects smoothly through your marketing funnel from awareness to purchase.
In this post, we'll outline four strategic campaigns you can run for different stages of the funnel, and the landing pages you'll need to build for 'em. We'll even showcase some Unbounce landing page templates you can use to ship these babies out quickly (as soon as you've got the content goods to make it all happen).
To start, you'll want to run…
1. The Audience-Building Campaign
This campaign's purpose is simple: before you try to sell to anyone, you need to make it known that you exist and show that you've got a lot of value to offer.
What better way to do that than to promote the free but incredibly valuable content you publish on your blog?
To this end, you'll want to build a dedicated landing page designed to get folks to opt in to your subscriber list and receive regular blog and content updates from you. For example, here's a newsletter subscription campaign in action from Gumroad, a company that helps artists sell directly to their audience: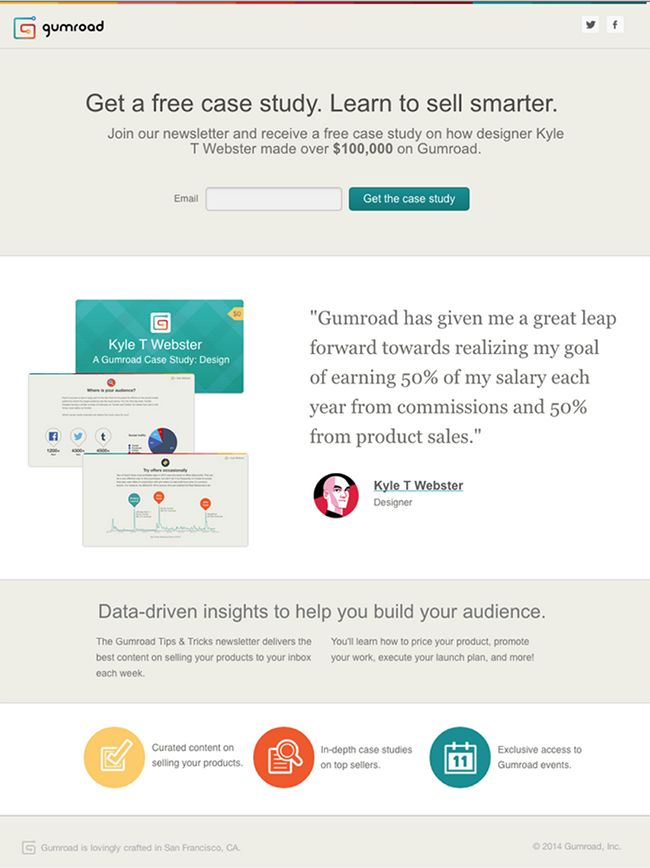 Gumroad A/B tested a variety of landing pages to learn more about what incentivized their audience to convert. The winning page now converts at a whopping 19.05%.
Jessica Jalsevac, who works on growth for Gumroad, reports that this landing page has helped increase signups by 10% over what they were last April, and it continues to generate about 5% of their monthly newsletter signups. As she puts it:
It's incredibly valuable to have a dedicated "home" for our newsletter that we can mention in interviews, presentations, guest posts and more.
Like Gumroad, you might find that including an extra incentive (in the form of a free report, ebook or case study) helps propel people toward conversion.
By A/B testing three different variations of their newsletter landing page, Gumroad was able to determine which content angle converted more subscribers – which even helped inform the brand's newsletter content strategy going forward.
Gumroad found that potential customers were less interested in tips and tricks on audience building and were more interested in case studies and hearing from fellow creators, as evidenced by the winning variant's copy.
You don't need to start from scratch!
When building your newsletter campaign, try out one of the lead gen landing page templates in Unbounce. Looking at The Moss template below, you can see it's optimized for lead generation, and with a few quick customizations (add your own benefit copy, swap out some key images) it easily becomes an opt-in page for your newsletter or blog.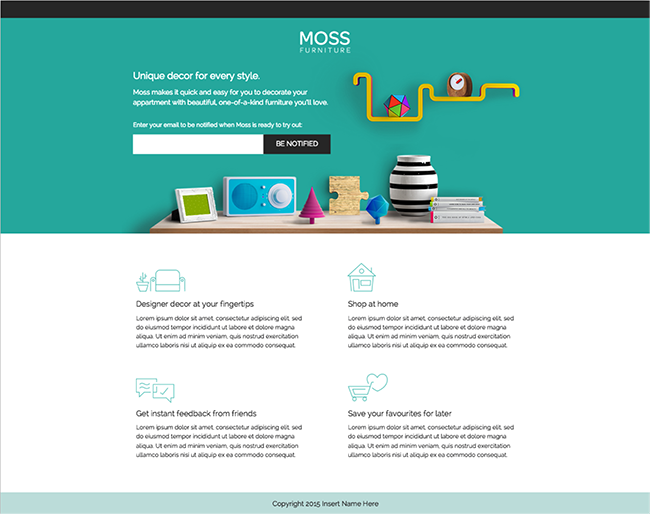 Bonus: like every template offered by Unbounce, it's mobile responsive.
Note that you'll want to build landing pages for one subscription channel at a time.
Don't prompt people to subscribe to your blog and your newsletter on the same landing page. For optimal results, pick one subscription channel and run that campaign with clear, benefit-focused copy.
After expanding your potential audience, it's time for…
2. The Convey-Your-Street Cred Campaign
Now that people are aware of what you do, it's time to show them how you do it best.
This next marketing campaign is all about demonstrating what's unique about your unique value proposition: helping you stand out in your industry and becoming top-of-mind for prospects who are shopping for a solution to their problem.
Offering a larger, more in-depth piece of content such as an ebook is a great way to achieve this. Have a look at how Monetate, a platform for multichannel personalization, offers up their practical ebooks: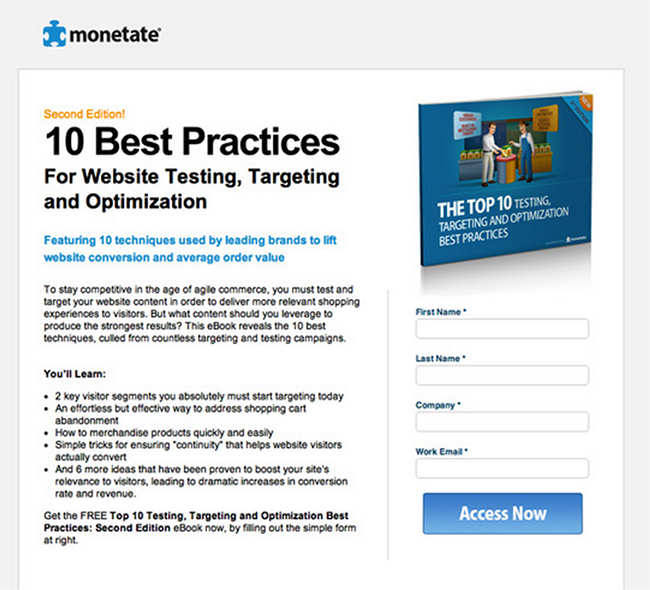 Monetate started with a blank page in Unbounce to kickstart their spiffy lead gen campaign. Because they write super targeted and industry-specific content, their prospects won't hesitate to exchange their contact info for this valuable info.
In the case of an ebook or whitepaper campaign, credibility is what you're striving to communicate – folks have to believe your content is worth their while or they'll bounce.
This credibility can be conveyed in a number of ways on your landing page. You can craft especially persuasive bullet points outlining exactly what folks can expect to learn from your content, but you can also incorporate some influencer marketing here.
When creating your ebook, consider including quotations or chapters from industry experts or influencers. This way you can include a section on your landing page highlighting the experts included in the resource. The credibility certain experts carry can be a huge incentive for your target audience to download your content and can help them clearly see its value.
Running your own ebook campaign?
To get started, try out Unbounce's Lido template: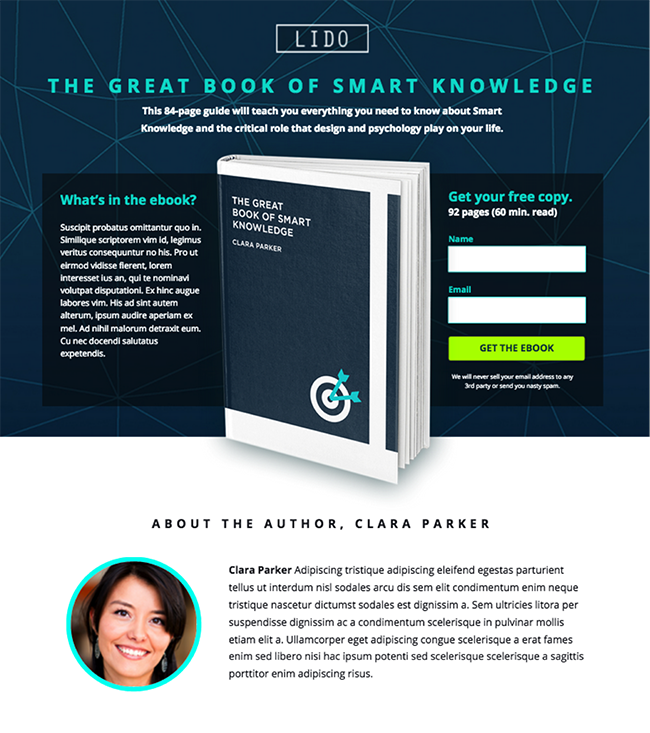 …or head over to the Themeforest marketplace and snap up the MYbook template: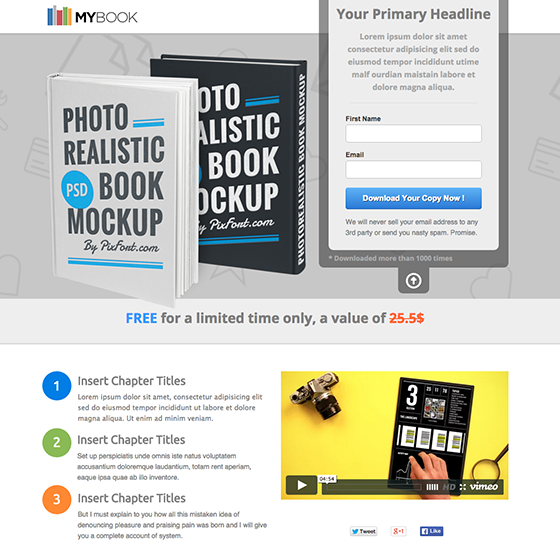 And don't forget to sprinkle in some influencer marketing for the best results. ;)
3. The Edutainment Campaign (AKA the webinar series)
While ebooks and other pieces of premium content help build your credibility, it's always a good idea to take your educational content to the next level by making it a little bit more immersive.
Why not get your target audience to engage directly with a real person from your company? A webinar series is perfect for helping prospects establish a connection with the people behind your brand.
Webinars are also a very natural way to plug your product.
At the end of your educational presentation, take an extra 15 minutes to talk about how your product or service can help a potential client meet the goals discussed in the content.
Kissmetrics knows exactly how to run a webinar campaign. They're well known for running tons of high-quality webinars, with the recordings available for download on their site at any time.
Here's an example of one of their webinar lead gen landing pages: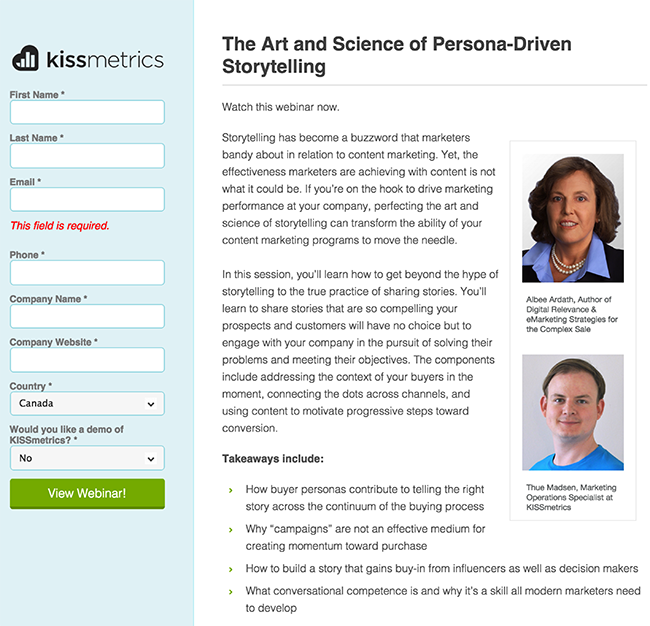 When running a high-converting webinar campaign you'll want to anticipate your prospect's objections to attending and address them on the landing page.
For example, when Unbounce runs a webinar, we want marketers to be able to take advantage of the content even if they can't attend live. To that end, we include the following line on our registration landing pages:
Even if you can't make it to the live session, register anyway and we'll send you the recording.
This simple line helps counter any objections that people might have to signing up.
The ultimate webinar template
Running a webinar? Try out the how-to webinar template in Unbounce: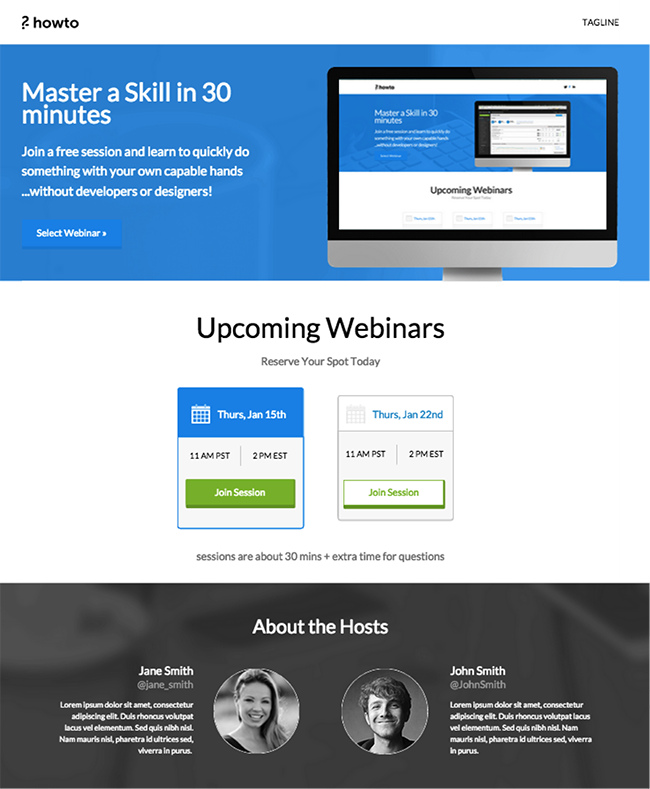 As with all of Unbounce's templates, you can customize everything here to make this page all your own.
If you run webinars as lead gen campaigns fairly often (and you probably should – in 2014 they were our #1 marketing channel for new customers), choosing a simple template like this is handy.
All you have to do is swap out your speakers, descriptions and dates each month. This means you can focus your attention on creating outstanding webinars (with actionable takeaways) rather than trying to perfect a page design.
4. The "Here, Have a Discount!" Campaign
After building your audience, demonstrating your credibility and giving folks the opportunity to learn from a real person at your company, you can start inching folks toward the end of the funnel – toward that sweet, sweet conversion.
Yep, it's time to prompt a demo, a free trial or give away a coupon as a special discount (read: incentive!).
As an example, check out this landing page by Spud, a delivery service for organic groceries: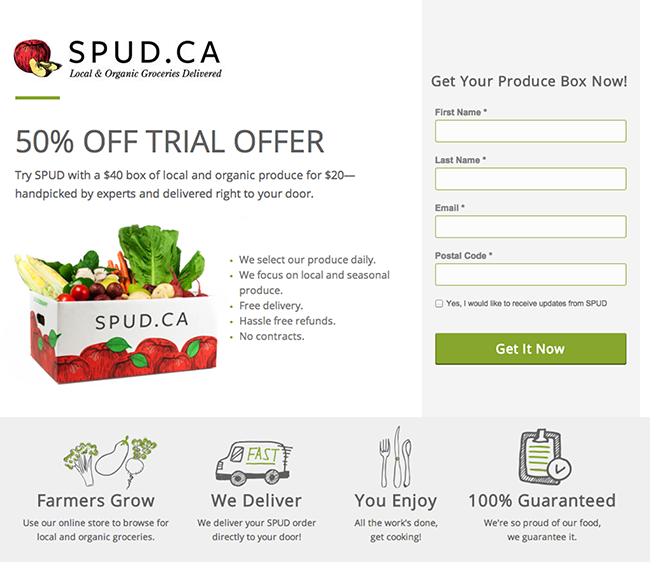 In this campaign, they offer 50% off a one-time trial of their service. You simply fill out the contact form to claim your delivery at the discounted rate. It's wicked smaht.
The key to this campaign is to offer a discount that fuels another, more-commitment-heavy marketing action further in your funnel.
By offering a trial, discount or consultation, you ignite interest and open up the possibility of following up later to prompt a larger commitment (after prospects have already had a super positive experience).
For running your own discount campaign…
Try out the A La Carte lead gen template in Unbounce!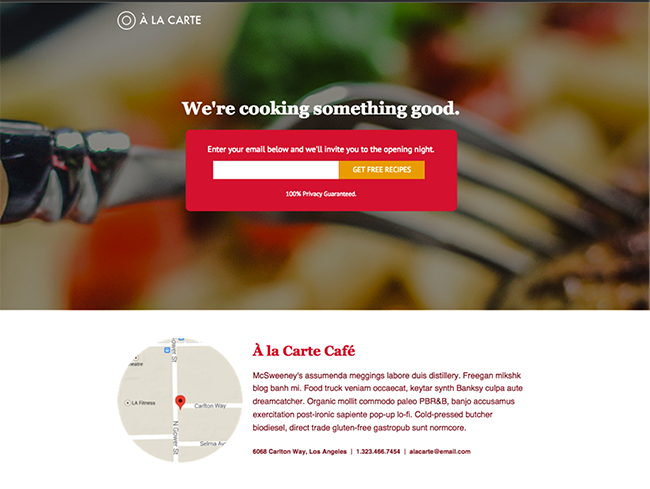 This design places emphasis on providing your email in exchange for something valuable (which, in this case would be your coupon or discount code).
Just swap out the hero shot with something relevant to your offer, and add or remove the page sections as needed. Instead of "Get free recipes," your CTA should read, "Claim the coupon," or something super-specific like, "Claim 15% off."
Whatever you do, don't forget to test!
A method to the madness
Your goal with setting up strategic campaigns is to lead folks through your funnel. Start by running campaigns with small buy-ins like a newsletter subscription and go with more commitment-heavy offers from there.
Then optimize your campaigns at every stage of the funnel. The more leads you can collect and nurture up top, the more you can impact revenue down the line.
So stop winging it.
Make it your personal mission to run the four campaigns shared here, and make a conscious decision to A/B test the heck out of 'em. You'll be sure to start filling your funnel more easily and you'll have campaigns addressing multiple stages of the buyer journey.
Best of all? You'll have a pipeline perpetually filled with leads.