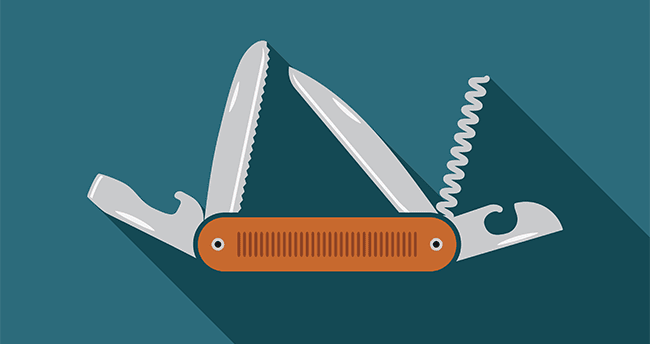 Each client is different.
Each with their own systems, tools and personnel.
And the #1 thing you can count on? It'll be a mess, with dozens of apps haphazardly strewn together.
That means yet another late night this week spent band-aiding junk together – that's both unbillable and unprofitable.
You can help. A little. But your hands get tied when you run into dead-end upon dead-end. There's never an easy fix. No simple solution.
Instead, agencies have to stay nimble. Like a chameleon that has to adapt depending on the circumstances. And you need to be able to pull in your own tools to fix what's there.
Fortunately, there are many tools that play nicely with your client's existing stack. Tools with a plethora of native integrations (hooray!), multi-client support (thank god!) and the nitty-gritty you need like full-funnel tracking (hallelujah!).
Here are 27 of the best tools to give you a swiss army marketing stack that's perfect for any occasion.
An all-in-one marketing suite to rid your clients of last-touch bias once and for all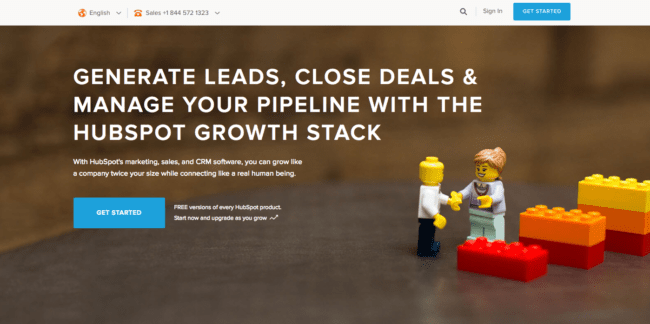 Everyone knowns HubSpot. The Inbound Marketing OG.
Their all-in-one marketing toolset brings together all of the things you (or a client) might be doing in pieces (like writing blog content, sending emails or generating leads from ad campaigns) and pulls them into one easy-to-navigate contact database.
The end result is the marketing Holy Grail: Full-funnel attribution.
Here's why you need a HubSpot (or similar) in your life.
Google Analytics typically defaults to 'last touch attribution', meaning a conversion shows up as
AdWords because that was the very last session that resulted in a conversion.
Not very many companies change this, know this, or know how / care enough to attempt multi-touch attribution. So they fall victim to a "last-touch bias."
All of the other great stuff you did that assisted or lead to the ultimate conversion – like those Facebook ads, blog content and SEO work – effectively gets ignored or undervalued.
Which means you get less credit and lower payment rendered for services.
Bad news all around. Especially because almost EVERY single client's analytics setup is a mess when you first login. No campaigns are tagged properly. Events and Goals aren't set-up correctly. And Google Analytics can't work retroactively. So you've got literally nothing to work with.
HubSpot helps you sidestep this nightmare. It gives you one dedicated, controlled environment that properly records visitor sessions and 'touches' with each promotional channel you use.
That means when John Smith becomes a customer after several weeks in your database, you can see that although he became a lead after a direct visit, he actually became a contact prior when you ran that Facebook promotion.
HubSpot delivers a lot of good. But it doesn't come cheap. Pricing starts at around $200/month and goes up to $2,400+ per month for large clients. They also have a required onboarding fee which ranges from $600 to $5,000 depending on your plan.
Enterprise-grade marketing automation for those with deep pockets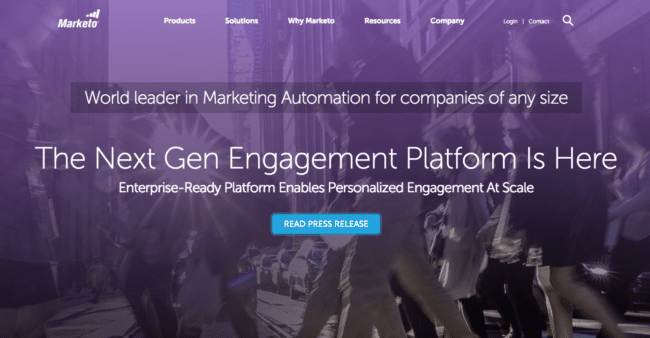 Marketo is the other 800 lb marketing automation gorilla.
They, too, have got it all covered: lead acquisition, management, nurturing. The works.
That includes everything from generating initial interest (ads, content, SEO, social) to engagement (email, events, webinars, mobile) to optimization (A/B tests, lead scoring, analytics) to conversion (landing pages, retargeting, notifications) and campaign management (dashboards, calendars).
So, lots. And it's awesome. If you can afford it.
Pricing is tied to contacts, not usage. So you get full access with their custom bundles that range from a thousand bucks a month on up to several thousand depending on your contacts bank.
Editor's note:
Unbounce's
native integration with Marketo
creates an airtight funnel that captures leads, automatically feeds them into email lists, and nurtures them into new customers with powerful automation tools.
Lightweight marketing automation to get more out of your database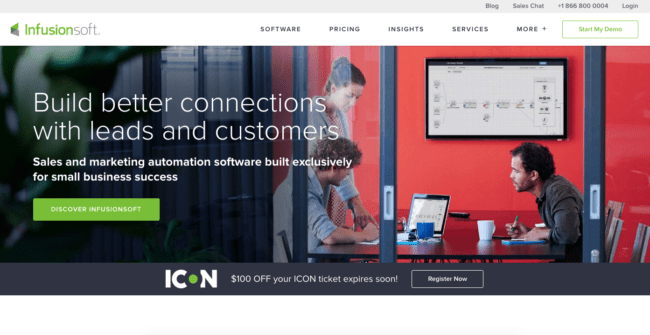 Infusionsoft is the lighter version of the above two. They position specifically around being a CRM; that includes all of the contact tagging features you know and love (to record contact behavior) to trigger messages at the exact right moment.
But they also include a fully functioning payment gateway. So you can integrate payments and point-of-sale data (customer LTV, etc.) with your marketing and communication efforts.
That's where the power lies. New prospect reaches out. Sets up an appointment (or doesn't – in which case you automate follow up). Decides on a package, product or service. Purchases and proceeds to onboarding. The entire flow under one helpful roof.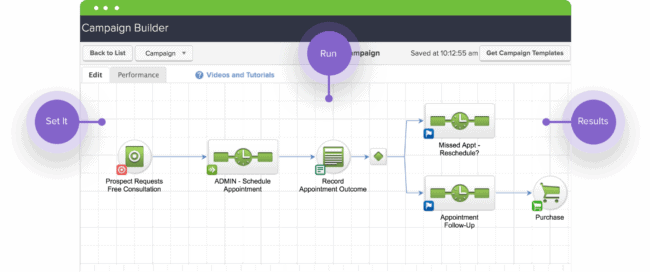 Pricing ranges from only $199/month on up to $599 depending on the features you're looking for and number of contacts.
There's also a required Kickstart package to get you up and running. You're looking at a one-time fee of either $999, $1,999 or $2,999.
Product-based email automation to drive engagement and lower churn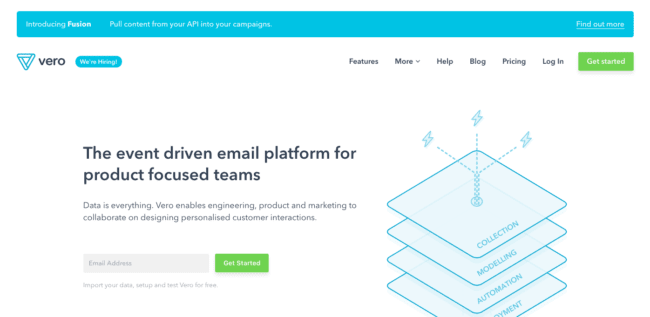 Vero focuses on email marketing automation specifically for product-based teams.
That includes everything from collecting contact info, segmenting contacts with on-site behavior and "events" and then automating messages accordingly.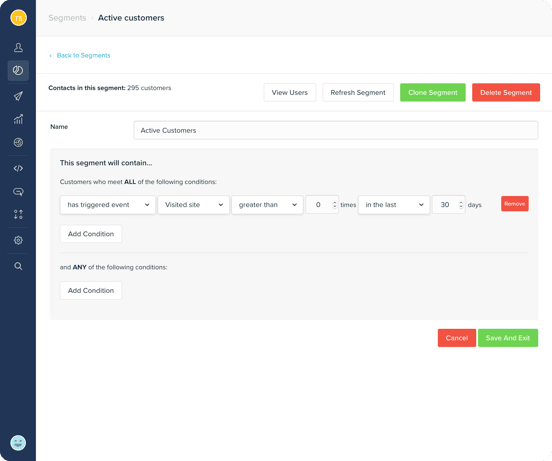 The best part? No static 'lists' to worry about. Instead, the focus is on creating dynamic segments that are constantly updated based on the actions people do (or don't) take.
Not ready for automation like that yet? No problem. Vero also takes care of your one-off campaigns or recurring (weekly/monthly newsletters).
Pricing is also MUCH lower than the first few listed here. Vero starts at $99 a month for up to 12,500 contacts before progressing to $299 for 100,000 and up to around a thousand bucks a month for over 500,000 contacts.
The best all around simple email marketing tool on the market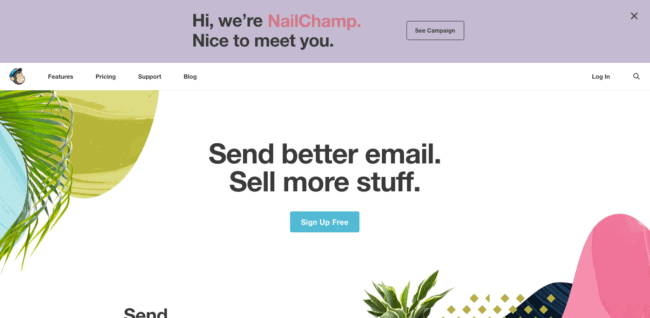 What's left to say about MailChimp that you don't already know?
Beautiful UI. Easy to use. Pre-designed templates don't look like pre-designed templates. (Instead, minor tweaks will make them look custom and branded in no time).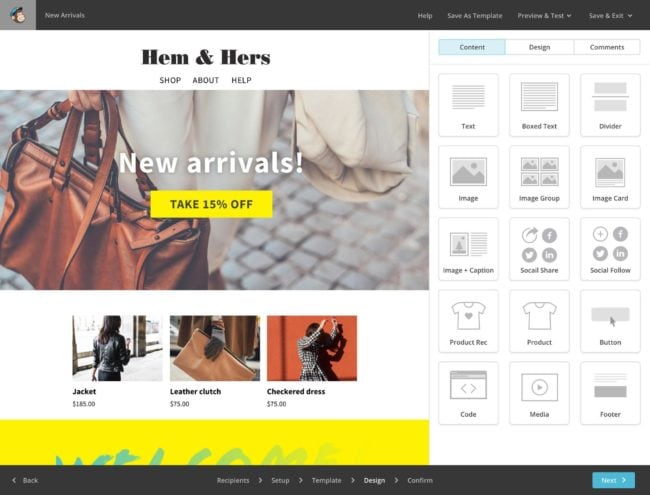 MailChimp excels at your standard newsletters and other one-off campaigns. They've got automation capabilities and can power custom workflows. However, their slightly limited segmentation data makes true email automation tough in practice to be honest.
MailChimp works perfectly with popular ecommerce stores like Shopify, Magento, BigCommerce and WooCommerce. That means you can setup and test Unbounce product landing pages with Shopify and add those peeps straight to MailChimp after purchase.
Wanna boost your Black Friday promo? MailChimp recently unveiled their Facebook ad feature. So you can tap custom audiences of your subscribers or create lookalike audiences to reach new prospects that are likely a perfect fit.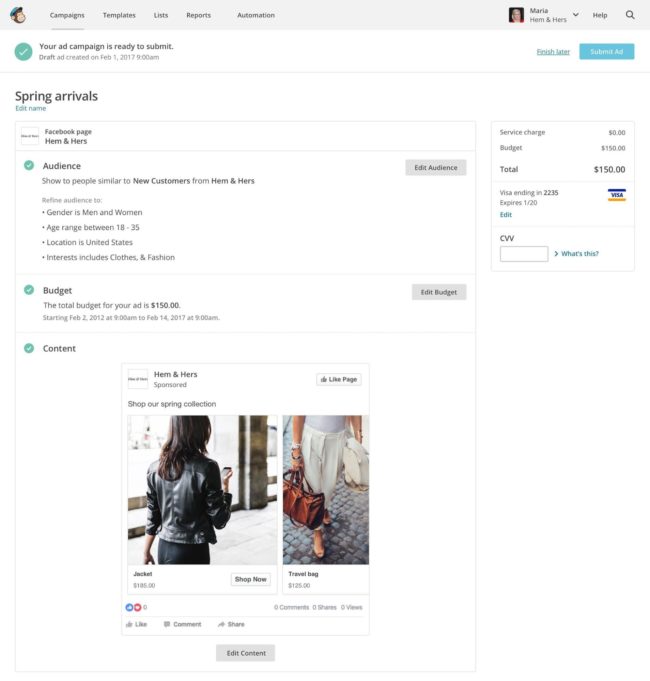 There's no better basic email service. Pricing starts at the reasonable $free for 2,000 contacts before skyrocketing to the spendy price of $10 a month (and up from there).
Finally get recognized for the offline phone calls your team drives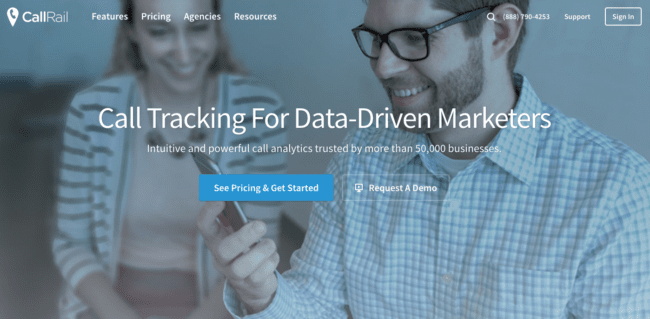 Google AdWords has a call extension that will track people who call the phone number listed on your ad in the search result.
BUT. Guess what happens in real life? Person clicks on the ad, hits your beautiful Unbounce landing page and browses around for a bit. They go from page to page to page, building awareness and trust in your offering. Until finally they call the number listed in your header.
After all, people don't click and buy instantly. It might take a dozen touches before converting eventually.
And guess what? Your ad campaign just lost all credit for that offline phone call. The data trail ended. And you lost a conversion that should be credited back to all your hard work.
Thankfully, CallRail comes to the rescue. You can create a pool of available phone numbers based on source (like AdWords) or use their "dynamic" option, which will assign a new phone number to each visitor session. That way, it stealthily follows the person around your site, as they browse from page to page to page, recording all of that data as it goes.
So when they finally do pick up the phone and call, you get to see the source that delivered them, their physical location, what pages they viewed, and so on.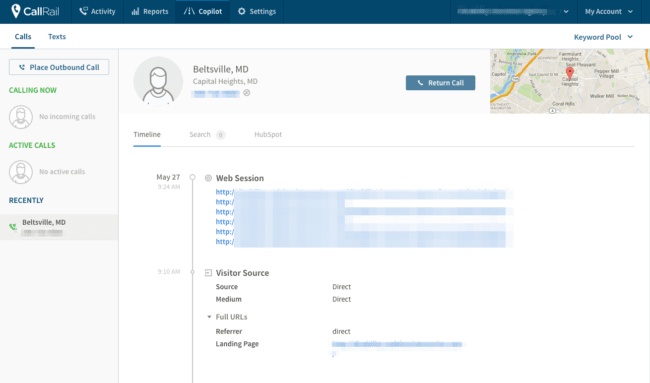 It can record phone calls to help you improve sales and customer service, and it also integrates with HubSpot and Salesforce. So caller details can be matched with marketing or sales contacts already in your CRM.
Plans start at $30 for individual accounts. However, they also have agency accounts to manage multiple clients inside.
Real-time conversation engine to nurture and close on-site visitors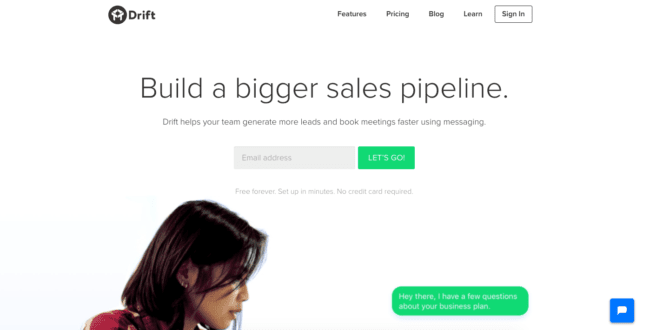 People love live chat. It's preferred 73% of the time. That much is true.
But let's be honest about something for a second. Older live chat options kinda suck. Their capabilities were super limited. So that you're often forced to sit there, waiting… still waiting… for someone to initiate the conversation.
Today's live chat, thankfully, flips that script. Drift is a perfect example.
Instead of passively waiting around, they arm you with an arsenal of tools to proactively engage with people on your site. You can use personalized messaging based on their behavior (like the pages they're on, the number of times they've visited your site, etc.).
But at scale. So you can use rules and pre-set conditions to automatically show people the right message at the right time.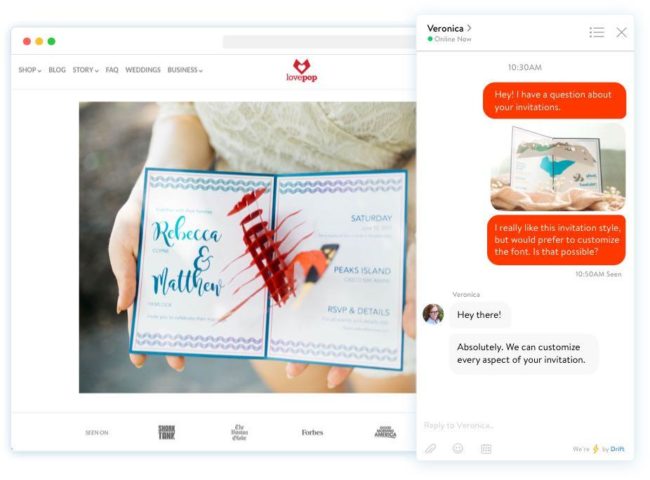 Their backend messaging platform gives you seamless control, too. Here's what I mean. You can assign a point person to monitor for new messages (like the inexperienced intern) and have them swiftly pass off new conversations to the right person within each client.
All from within the friendly confines of Slack with their helpful integration!
Now a live chat on your Unbounce landing page isn't a glorified customer support option, but a fully-fledged lead generation machine.
While there's currently no native integration available, you're only a simple
Zap
(more on this at the end) away from integrating
Drift + Unbounce
within seconds.
The offer a free kick-the-tires option, and paid plans cost between $50 and $250 per month depending on the number of people you'd like on their tool.
Trigger text message notifications to new leads and customers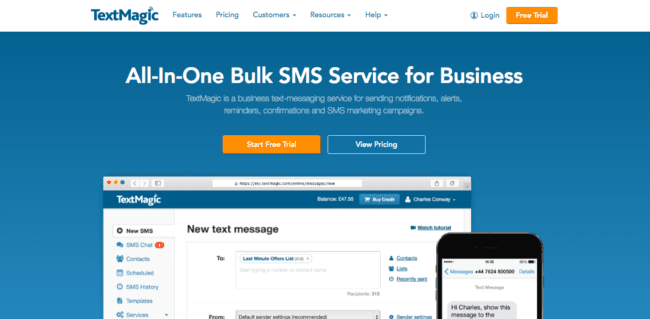 Speaking of tactics that used to suck but don't anymore… Let's now turn our attention to SMS.
This once spammy tactic is now gaining mainstream marketing attention thanks in large part to products like TextMagic.
You can quickly fire off messages to segments of people from their online app. But that's not where the magic (ha!) lies.
Instead, you can (1) personalize messages with tags and (2) automatically trigger pre-crafted messages based on certain conditions.
So someone opts in for a new service proposal via a brand spanking sexy new Convertable. You can automatically fire off a SMS reminder to make sure they follow through with setting an appointment. And when they do, fire off upcoming notifications so they don't miss the appointment they set-up.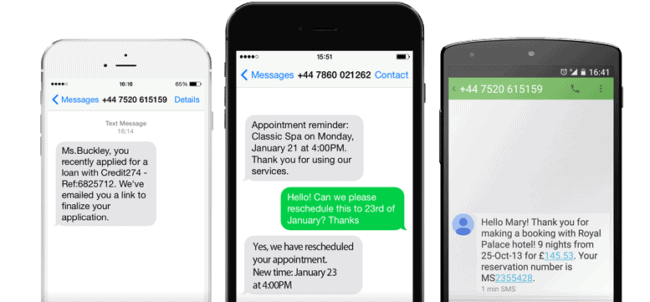 Same goes for signing up for a webinar or purchasing a new product. You get the point.

Inbound text messages are free. You just pay for outbound ones.
Pricing ranges depending on the number sent each month (and your location). For example, 100 monthly messages in USD might only set you back $0.04 per message.
Record real visitor website behavior to spot conversion gaps
Trick question: Should you use a short or long landing page variation?
Depends on lots of things, right? Typically speaking, cold visitors should get longer pages while warm ones are fine with short, to-the-point ones.
But you never really know. Design is subjective. And although something looks beautiful you have no idea whether it's going to work properly or not.
That's where a tool like HotJar comes in. You can use heatmaps to study how people are actually interacting with your landing pages.
So if your primary CTAs aren't 'hot' or getting any clicks, you now know why conversions are so low.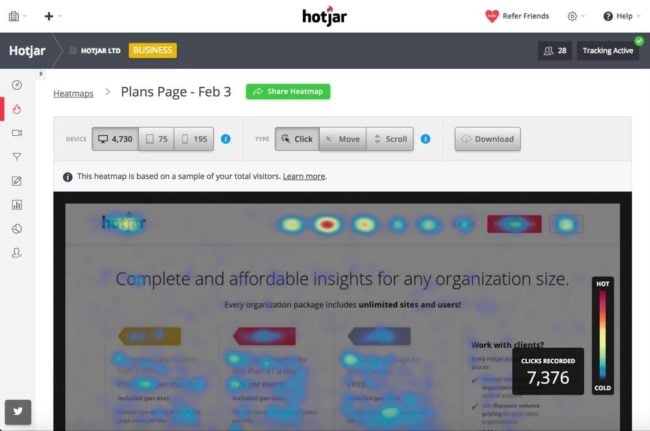 You can also record visitor sessions to watch their confusion unfold in real-time.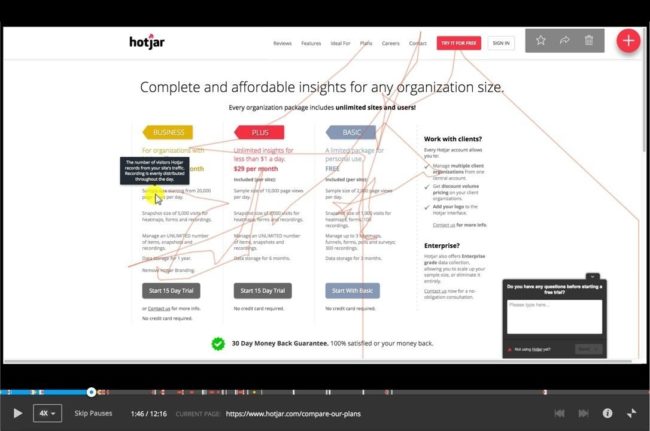 These are especially helpful when analyzing transitions from one page to another (i.e., user flow optimization). So you can see where drop offs are occurring when someone is attempting to sign up for an app or placing an ecommerce purchase.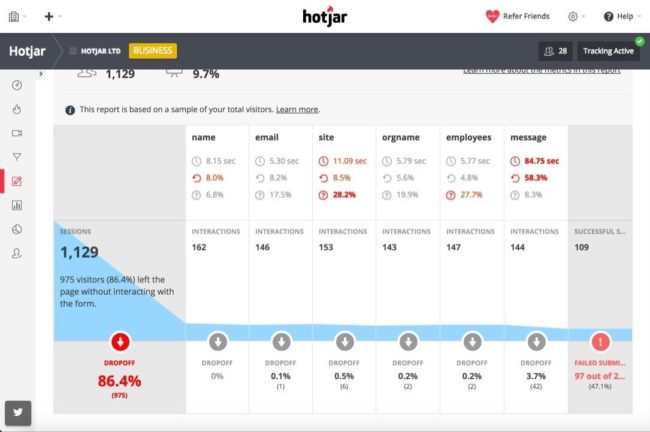 Pricing depends on pageviews. For example, $89/month will get you up to 20,000 daily. The next tier jumps to $189/month for 50,000 per day.
Personalized content for individual web sessions based on personal data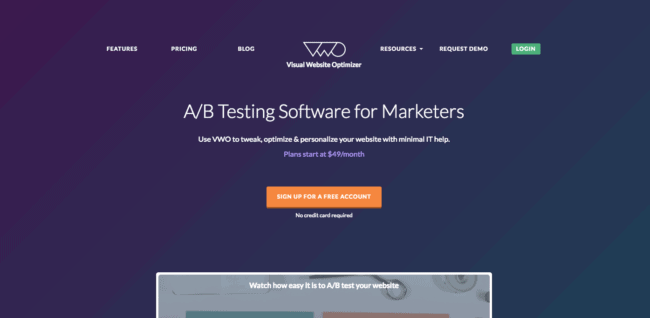 Visual Website Optimizer packs many of the same heat mapping and scroll mapping user behavior features. However, they go way beyond basic user behavior with multivariate testing and personalization features.
Returning Facebook referrals can see one page. While brand new AdWords ones see another.
Those using a Windows device can see a message telling them to upgrade to a Mac already (JK).
And location + their IP address can be used to personalize messaging for that new prospect.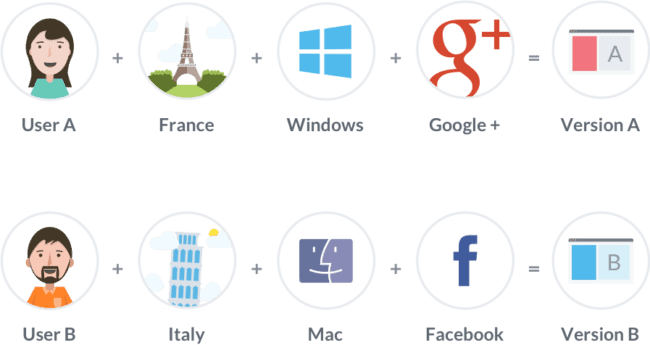 Even demographics and income data can be used to create highly segmented targeting groups.
All of these features are combined with pre-set idea library and training to help you figure out new ways to squeeze more profits out of underperforming client campaigns.
Pricing starts at around $59/month for 10,000 monthly visitors and rises from there as your monthly visits do. VWO also has an agency plan to manage multiple clients under a single account.
Sales-ready CRM that integrates with the entire Zoho business suite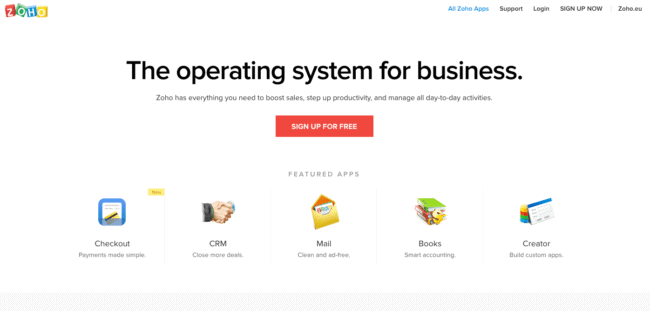 Zoho features a stand-alone sales CRM to help you pass new qualified leads over to an inside sales team.
But the sweet spot lies in its integration with the rest of Zoho's product suite.
For example, you get insight into each and every interaction an individual has with your brand over time. That includes basic emails through to payments they've made.
So your team can collaborate on closing a new customer that comes in through a landing page; preparing, delivering and managing a new product; and then creating new marketing campaigns to increase LTV or sell additional products or services.
Zoho's suite also includes everything from a document and presentation creator through to accounting software. Their aim isn't to just help you with sales, but to truly provide an operating platform that's a one-stop shop for collaborating across departments or remote teams.
Zoho CRM plans start at $60 per user per month (for month-to-month billing).
The industry standard sales automation tool for large(ish) sales teams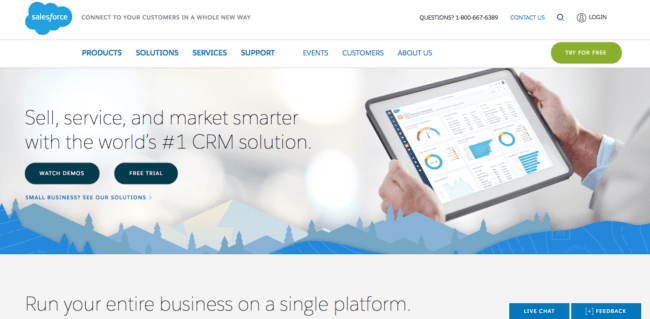 Salesforce needs no introduction. It's the go-to for large sales teams.
It's highly customizable, which is good and bad. The good: It can be crafted to fit almost any use case for your organization. The bad: You're gonna need Salesforce developers to hack away at the setup.
Their massive AppExchange platform also means that your basic sales CRM can expand into almost every other facet of your business. For example, you can integrate and leverage cross-channel marketing campaigns for people in virtually any stage of the buyer's journey.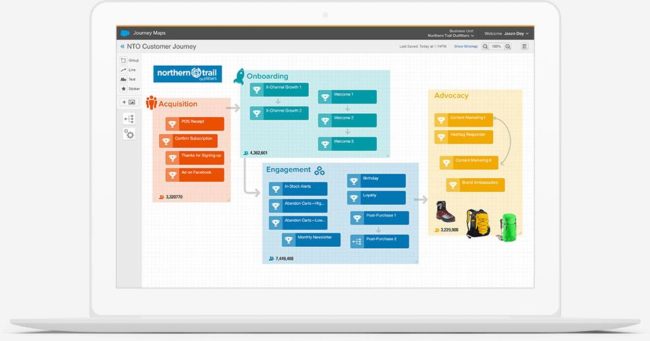 That even includes leveraging your database to better target ad campaigns or personalize page content.
Brand new, first time visitor? No problem. New leads can be automatically synced with Salesforce the minute they hit Submit. From there, Salesforce automation toolset will help you keep track of their funnel segmentation (or which Unbounce pages they'll see next in sequence).
Salesforce flagship CRM offering starts at $25 per user, per month (for up to five users) and goes up from there depending on the number of users added or additional features/apps/customizations you need.
Oh. And that's paid annual. So pull out your calculators and hit X 12.
Simplified sales tool to help individual reps nurture their pipeline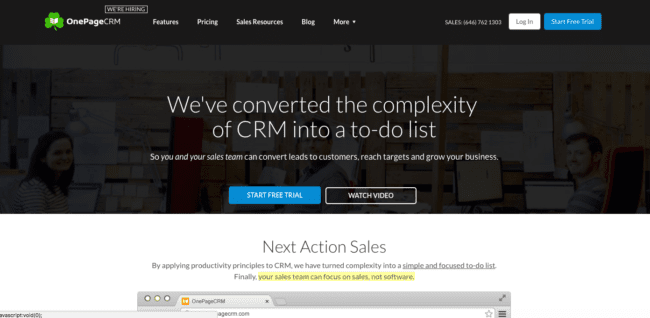 Zoho and Salesforce are great. For large teams.
For smaller ones? Completely overkill.
You'll spend more time organizing and managing as opposed to actually selling anything.
OnePage CRM is a slimmed down option that's perfect for smaller teams with flat-as-a-pancake org structures looking to prioritize outreach, actions, responses and following up. They pride themselves on a "next action" workflow that transforms a random database into an actionable to-do list.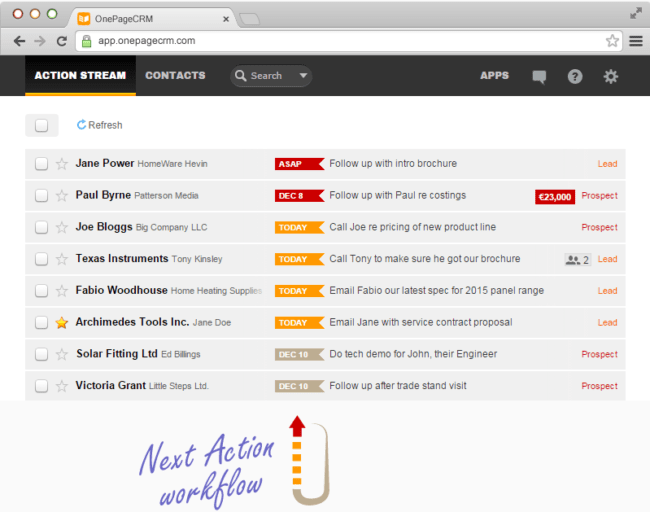 Their handy little lead clipper is a Chrome extension that lets you copy someone's information from an email or social network and automatically send it to your sales CRM (along with a "next action" of course).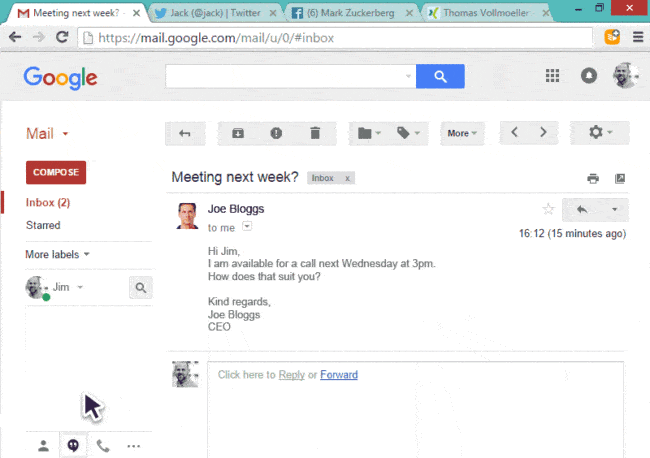 OnePage CRM integrates with most other tools, like Xero for accounting or customer service like Help Scout, so you can get a complete pipeline management picture at a moment's notice.
So you can see how someone moves through your sales process (along with expected close dates) as they interact with several landing pages (filling out a basic opt-in form, then a sales inquiry and finally a product purchase).
Monthly pricing for OnePage CRM is a budget-friendly $12 per user, per month.
Editor's note:
Unbounce's
integration with OnePage CRM
allows you to capture leads and push them right into the CRM where you can convert them into customers.
Visualize leading indicators to pivot in real-time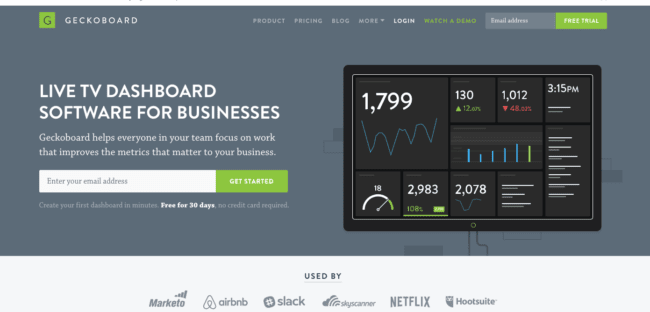 Our results lag.
What I mean, is that the end result you deliver to clients often takes awhile to show up.
Sure, you might be generating leads. But leads are just a leading indicator. Not a true business metric like paying customers or new revenue.
So it often takes a few days, weeks or months to prove to clients our value.
Identifying and monitoring these leading indicators can help though. They're a measure of productivity or performance. You can see over time how your activities (like new pages created or new tests run) impact rankings, new traffic, extra leads and then more sales. Those inputs are what eventually help determine the outputs (that you get paid to deliver).
Geckoboard helps you visualize how these inputs are trending, in real-time, so you can determine how and when to make changes so you can course-correct (before it's too late).
While there's currently no native integration available, you're only a simple
Zap
(more on this at the end) away from integrating
Geckboard + Unbounce
within seconds.
Instead of trying to wrangle this raw data inside Excel, you can drag-and-drop the desired KPIs into place within seconds.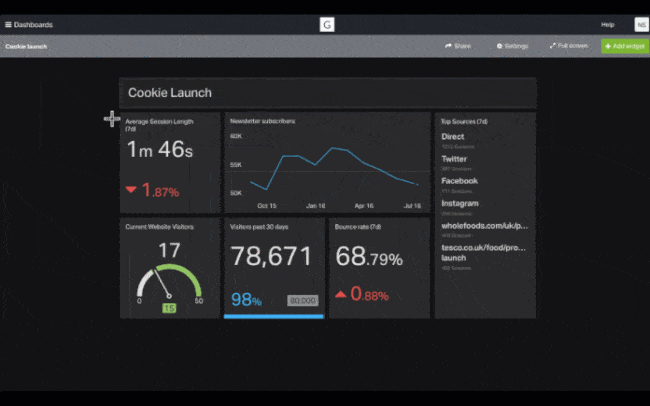 Pricing starts at $25/month per dashboard on the low end, or $149/mo for up to five dashboards and $599/month for unlimited.
Literally record where a visitor's mouse (cursor) flows to pinpoint problem areas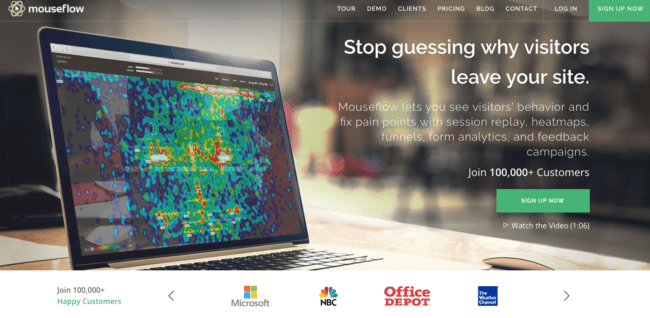 Mouseflow does exactly what it sounds like: track visitors' on-site behavior as their mouse moves across each page.
Movement = intent. It indicates what someone is looking for.  And whether they find it or not can dictate the results you see at the end of the day.
The reason? Conversions — the big ones like new opt-in leads or product purchases — are an end result. Each requires a ton of little steps, or microconversions, that help transform strangers into loyal customers.
These include events like watching a video or viewing certain pages in sequence. Mouseflow's funnel helps you visualize the process from beginning to end in order to see exactly where bottlenecks are occurring (like the big gaps where a high percentage of people are dropping off in droves).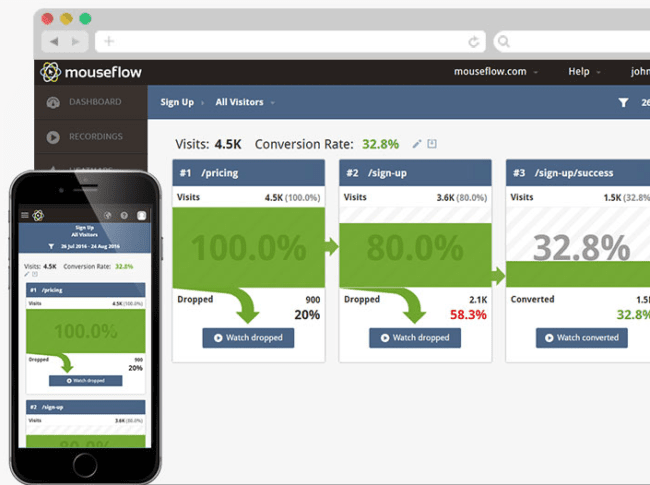 Which converts better: the red or the blue button? Doesn't matter. Too small, insignificant, and miniscule.
Instead, spend your precious few available hours minutes per client that day on improving transitions from one step to the next. Add some brand new pages within this user flow or remove others entirely. Then use Mouseflow to record the results.
Monthly pricing starts at only $29 for 10,000 pageviews (or 2,500 sessions). Jumping from there up to $99/month for 50,000 pageviews (or 10,000 sessions) and higher.
Create specific tests for your customer segments about their website experience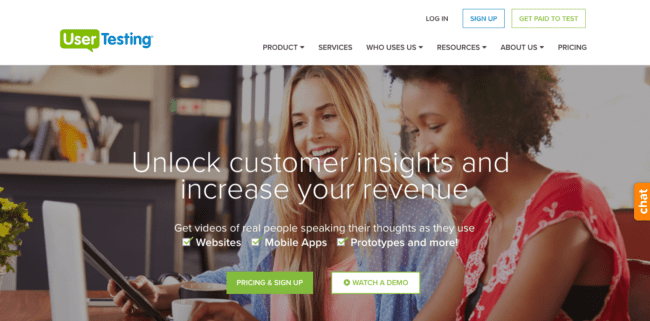 Watching mouse flows (literally) or re-watching user session replays can help you spot problem areas.
But actually listening to people explain their thought process as they're going through your site can be, well, priceless.
UserTesting does just that; recording audio and video user sessions as they follow your instructions. For example, designing a new checkout flow? You can have users actually go through the process of selecting a new item, adding it to the cart and progressing through shipping, etc. All the while, they're explaining any problems or issues they encounter.
You can even pre-screen applicants. For example, you want only females within the ages of 21-39 who live in the Western United States and use iPhones.
UserTesting allows you to prompt applicants to fill out a brief survey before taking each test. Looking for only people with a Master's degree in psychology (for whatever reason)? You can ask and allow only those who meet your specific criteria to progress through each test.
You can also flip the script a little bit, getting unbiased feedback and reviews of your competition's landing pages. That way you can learn what's working well (and what's not), before applying those findings to your own design and mockups. (Measure twice, cut once.)
Fast, free landing page feedback for last-minute launches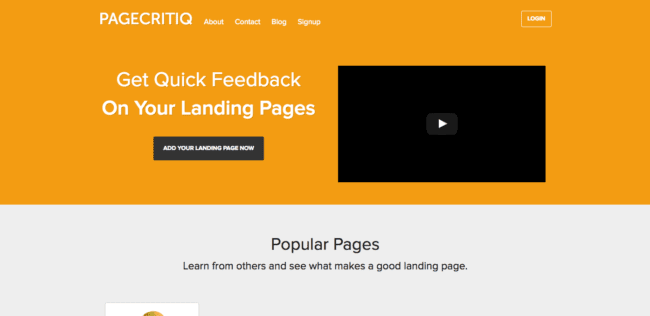 A landing page that fails to convert is a mistake you can't afford to make.
But…  how are you supposed to know how well it will perform before you roll the dice? It's impossible. You do the research, work from best practices and apply experience. Yet at the end of the day you have to hit the Publish button and start sending traffic.
Pagecritiq is a crowdsourcing feedback tool that can help you get last minute feedback right before that moment of truth.
It adopts a community-minded approach that asks you to review or critique a few other pages before your own will be reviewed.
Which means… you guessed it: free.
Guaranteed to give you last minute nuggets of wisdom. Or your money back.
Simplified help desk platform to provide customers with excellent experiences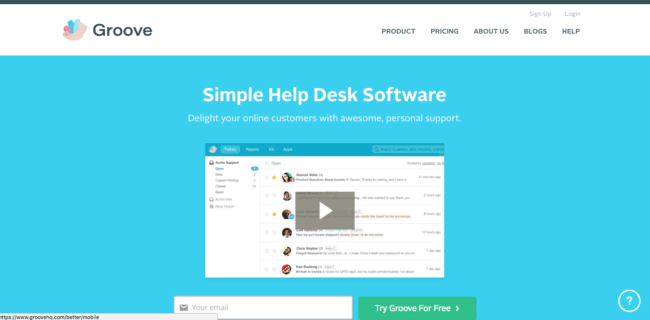 Groove is an intuitive help desk option that lets you take chaotic email services you're already using (like Gmail or Outlook) and turn them into a well oiled machine.
You can collaborate with other people on new submissions. Leverage canned responses to quickly answer frequently asked questions. If there are multiple issues or questions from the same person on the same topic, you can merge the existing records so there's no duplication across your team. And you can create automation rules to filter or sort incoming email, routing it to the right person at the right time.
Best of all, there's no external branding or notifications. Instead, each message looks like a regular old email with another person.
That means you can use it for much more than just typical customer support. For example, you can log phone calls during the sales process and integrate the data with your CRM or billing to provide more visibility across your team for each customer interaction.
Groove provides a free plan with a single shared inbox. Otherwise, pricing begins at $15 per agent, per month.
While there's currently no native integration available, you're only a simple
Zap
(more on this at the end) away from integrating
Groove + Unbounce
within seconds.
Eliminates classic ecommerce problems with ease in an all-in-one platform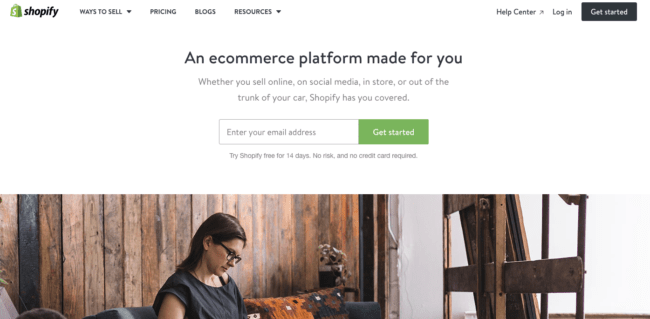 Ecommerce used to be a nightmare back in the day.
You had to figure out how to manage product inventory features, the checkout process, payment gateways and processing, shipping, taxes and, not to mention, try to make it look halfway decent in the process too.
Then Shopify happened. And now, there's no turning back.
Sure. There's Magento — the big industry standard that requires a team of developers to manage.
Or you can force-feed WooCommerce + WordPress. But it's a bloody nightmare. Each time a plugin needs an update? Your entire store could come down as soon as you click the Activate link.
Shopify eliminates all of the problems typically associated with running an ecommerce store. And then they package everything in beautiful-looking templates that are beginner-friendly to change or update.
BUT. The biggest drawback with Shopify is that you're restricted. Shopify restricts how you can change or present product pages to customers, similar to how Apple restricts what you can do on its platform or in its App store to keep a tight lid on how things look and work.
So the standard product page might be perfect for referral traffic who already know about what you're offering. However, you're gonna need to pull out all the stops for cold ad campaign traffic.
These people need more information and additional context before pulling the trigger. Fortunately, Unbounce landing pages can fill this gap. Choose from any of Unbounce's product templates, drop in a Shopify widget and you're good to start squeezing out more revenue from existing campaigns.
Shopify starts at only $29 per month before progressing up to a few hundred. There's also a few transaction fees or credit card rates depending on the plan you choose.
Simple product sales directly from your Unbounce pages (without visitors leaving the page)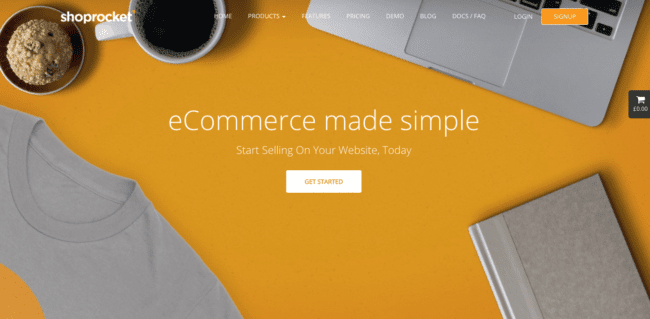 Shoprocket is a slimmed down ecommerce option that takes away the headaches of managing an ecommerce-like infrastructure.
Instead, you simply paste a little bit of code onto your site, social network, blog or even email and it'll allow you start accepting payments instantly.
The payment gateway setup process is removed, but you still an accept payments with Stripe or PayPal. And customers don't have to leave your site, either.
That makes Shoprocket ideal if you're selling one-off items from Unbounce pages, like digital goods, where there's a simple download link for redeeming and there's no inventory management issues.
Shoprocket is $7 bucks a month with zero transaction fee. If you want to accept subscriptions or setup payment plans, their Pro plan is $19/month.
Finally your teams can manage account-based marketing campaigns at scale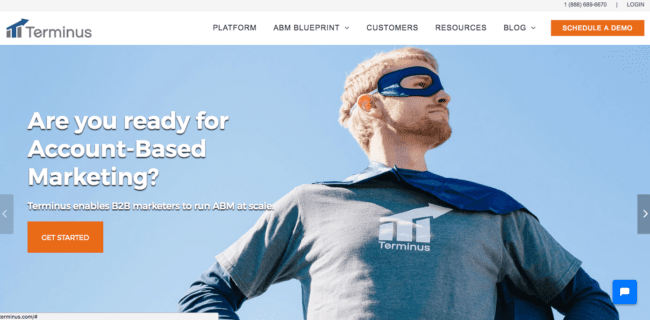 Conversions don't happen in a vacuum. The page design and messaging matter, of course.
But they're also completely dependent on who is seeing the page, where those people are in the buying cycle when they see it and how the offer lines up with their expectations and desires.
Ever tried sending out a bunch of cold emails to win new business? Yeah? How'd that work out for ya?
Terrible, right? Because there was no alignment between those variables (not to mention, little to no interest on the recipient's part either).
Thankfully, account-based marketing can come to the rescue. And Terminus can make it happen for your entire organization, helping you to identify, research and sell into a pipeline of pre-identified prospects.

Their database includes more than 200 B2B professionals to look through. You can enter desired persona data to have them filter out specific individuals who might be a good fit. Then you can make this raw database actionable by plugging them into your CRM and marketing automation efforts.
Creating a centralized list like this also makes it easy to build tailored advertising. So no more spray-and-pray. Instead of wasting ad spend on a massive yet unqualified audience, you're able to pick out individuals across multiple different channels and deliver the most relevant message (based on where they're at in your funnel) to each.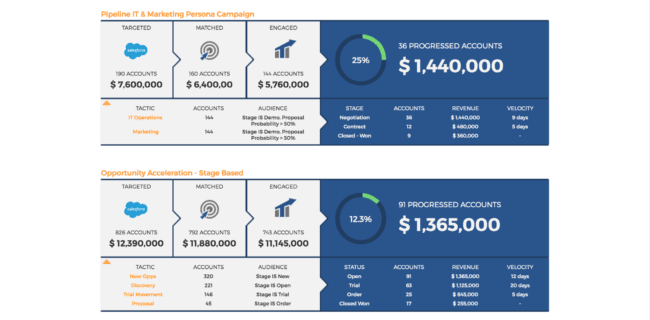 Better track your campaign performance with these beautiful, personalized domains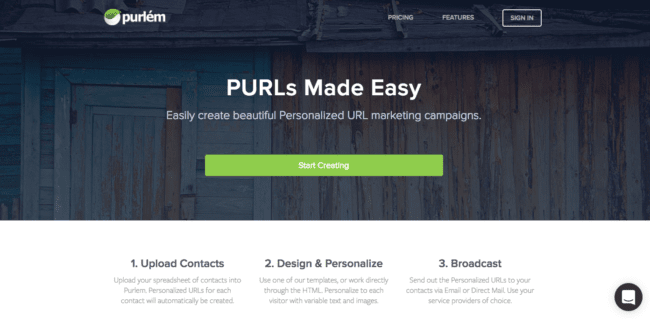 Account-based marketing focuses on pre-identifying contacts first before sending out collateral. By the time that person does reach your site, you should already know a lot about them.
In fact, that's one of the ways you track performance. You create custom landing pages (using inbound funnel segmentation) that are only available to those people. That way you can easily tell who, how and when your ABM campaigns are paying off (literally and figuratively).
Purlem takes this one step further. You can upload a list of contacts ahead of time and it will create personalized URLs for each individual.
Even your landing page design and content can be personalized before being sent out through email or even direct mail (think of segmenting by zip code).
So you're killing two birds with one stone:
You're vastly upgrading the experience a new contact will receive, thereby increasing your conversion odds, and
You're increasing your own ability to track the effectiveness of each campaign, down to individual segments, locations, etc.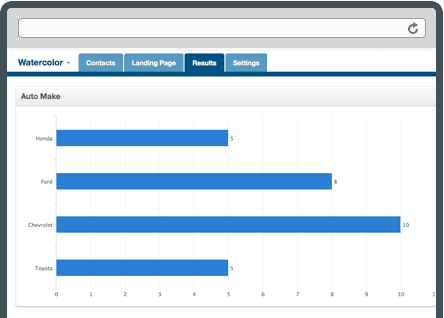 Purlem has a monthly plan that starts at $99 for 1,000 PURLs (and another for $199 for 10,000 PURLS). But they also have a white label for agencies so that you can upload branding, logo and manage all clients under one roof.
Stop back-and-forth scheduling emails. Start actually getting appointments scheduled, instead.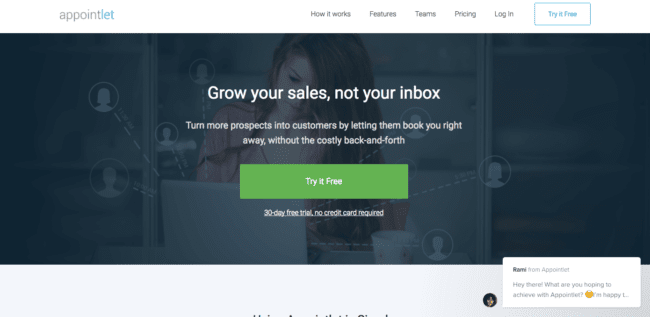 Average website conversions hover around a miniscule 1-2%, while phone conversions edge up closer to 30-50%.
Only one problem. You gotta get them on the phone, first!
Appointlet helps you streamline appointment setting without the back-and-forth.
"How does Friday at 1pm look?"
"No, Friday doesn't work – what about Monday?"
"Sorry, Monday is booked up for me."
Instead, you simply hook up Appointlet to your Google or Office 365 calendar so prospects can book directly.
Reminder emails will be sent out to make sure they don't flake. And all of this data can be sent back to Zapier (coming soon below), GoToMeeting, Salesforce and MailChimp (just to name a few).
Best of all, you can integrate Appointlet into an existing workflow. You know that lame Thank You page that serves no other purpose on your site right now besides helping you record conversions properly? Why not make better use of it and automatically send people to Appointlet so they can book a meeting ASAP after converting on a landing page.
Pricing starts at $15 each month. It goes up to $30 monthly to allow for unlimited services, form fields and the ability to accept payments. An upgrade to $45/month allows for five team members, too.
Stock images that are as beautiful as they are affordable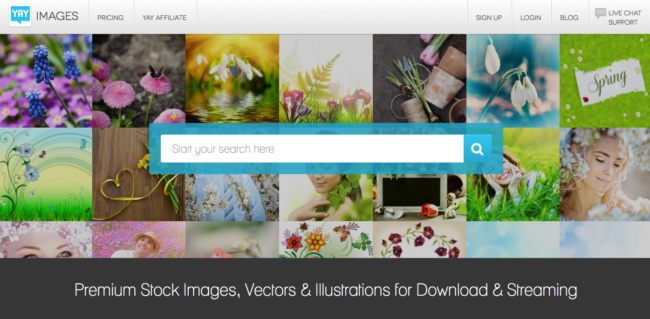 Take away images from today's modern designs and what are you left with? Not much to be honest.
There's a reason "67% of consumers consider image quality 'very important' when making a purchase online" (that's a real statistic, courtesy BigCommerce, about why you should create your own product photography whenever possible).
Chances are, you're familiar with all of the stock image sites. Chances are, you may have received a threatening letter from one of them because you used one of their high-priced images without technically buying the license (what… just me?).
YayImages solves that problem. Their massive library contains literally all shapes, sizes and categories of landing page photos (even celebs — for that new Justin Bieber fan group app you've been working on).
All included in a subscription.
But here's my favorite part.
They also feature an in-browser editor. So you can tweak, crop or resize images from their site without ever having to open Photoshop.
Then setup the WordPress plugin and automatically add featured images to new posts within seconds.
Their $9.90 monthly subscription includes 19 photos a month, scaling up from there depending on the number of images you'd like to access to. (There's also a price per image if you're working on a single campaign or landing page.)
Pain-free video creation to boost landing page conversion rates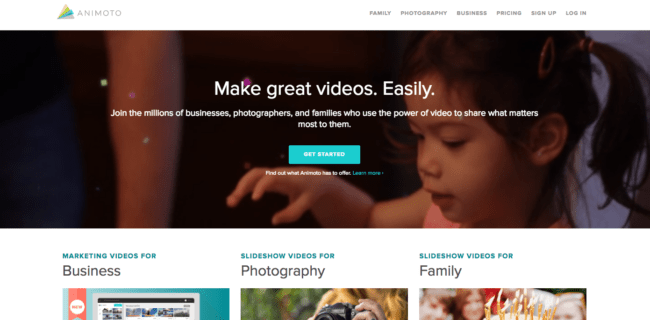 Videos can increase landing page conversions by 80%! And 64% of viewers report that they're more like to purchase a product after watching a video.
There are a few problems in practice though.
First, videos are incredibly complicated. The visual component is just one small piece. Audio needs to be flawless. Your script engaging. And production quality second to none.
Which means producing effective, high-quality custom videos can also get insanely expensive.
For example, it took InVision 18 months and over 400 hours of onset filming to produce the 70-minute documentary, Design Disrupters! (It is excellent, though.)
Animoto helps you put together DIY videos (that don't suck) by pulling together audio options, adding photos or video and then producing it to share online.
Access to build your own marketing videos starts at only $22 per month (paid annually). Which is still a hell of a lot cheaper than building your own in-house video team or outsourcing to experts.
Native webpage translations for international visitors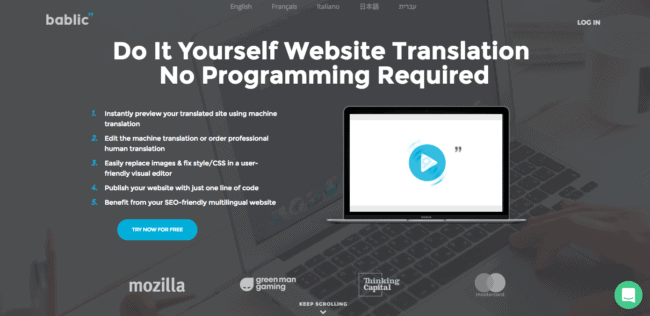 Almost 73% of today's web browsers do not speak English natively. And 56.2% of those people believe browsing in their own native tongue is a more important factor to them than price!
Bablic solves this problem by letting you either tap into their machine translation or order a first-person human translation from a native speaker.
Then you can publish these translation variations to your website with just a single line of code, so you don't have to worry about creating multiple subdomain installs with different pages, which then brings up a host of duplicate content problems, etc. In other words, a giant mess.
Instead, Bablic can instantly translate your landing pages into multiple different languages, sense where each user is viewing from and switch it out accordingly to keep them on the page.
Bablic's pricing starts at $15/month (annual) for two languages and up to 50,000 pageviews. Bigger agencies with multiple clients might want to upgrade to their $49/month plan though (again, billed annual), because it includes up to six languages and 200,000 pageviews.
Connect two apps that don't otherwise already connect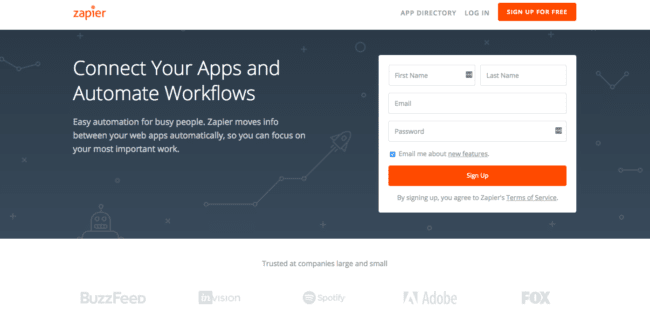 I could write a series of article on Zapier. In fact, I've already written at least one.
Unfortunately, not every tool your company uses will play nice with one another — not out of the box anyway. That poses a problem. Because processes beat hacks. And processes break down when things don't align seamlessly.
Each client uses a different toolset, too. This CRM or that project management tool. No two set-ups are alike. And you gotta figure out a way to get lead submissions from a landing page into the stuff your client is already using (even if it's a sucky outdated option… which unfortunately happens a lot).
Thankfully, Zapier helps you tie together tools you use to trigger a seemingly endless amount of actions when something happens.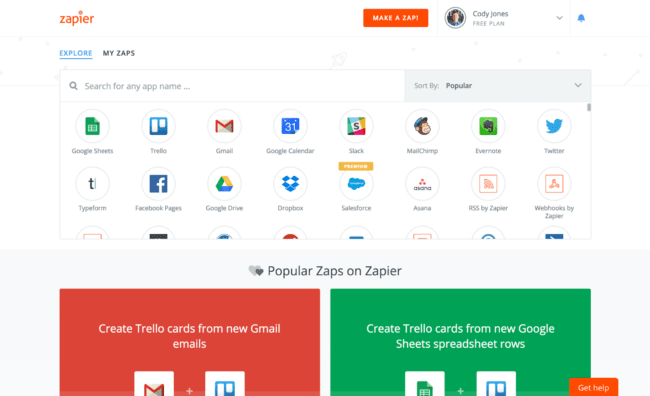 For example, when someone fills out a form you can not only send that person's contact to HubSpot or Salesforce (thanks to Unbounce's native integrations with each), but also over to Freshbooks or another invoicing tool to automatically create a new contact and generate a new invoice.
All automated. Without you writing a single line of code.
THEN, you can even monitor the payment of said invoice and send out Slack messages internally to your team in order to automate project management or client receivables, too.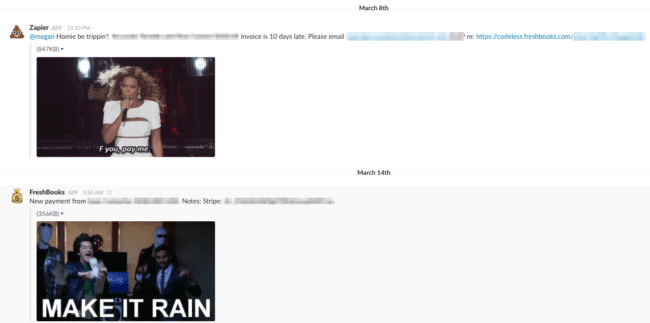 Zapier has a free plan to get your feet wet with up to 5 'zaps' (or workflows). Pricing then starts at a very reasonable $20 bucks a month, and slowly rises depending on the number of unique 'zaps' you use and how quickly you want the information sent.
How do you stack up?
'MarTech' didn't even exist a few years ago.
And today we're already at over 3,000 and counting (fast). So fast, that we might touch 100 different ones on a daily basis.
Customers hop from device to device to device (and back again). And it might take over a dozen touches with each individual before they purchase.
"Tool fatigue is real," says Armando of AdEspresso. "Every day new marketing solutions are launched in a market that's hyper-fragmented already… it's hard to keep track of what's new and what works, it's even harder to make it work together with the existing marketing technology stack."
Unfortunately there's no easy solution or quick fix. (Welcome to Agency Life.)
But starting with these essential 27 apps can provide a foundation to build off of. They'll arm you with an indispensable Swiss Army-like marketing stack. So you'll be ready to tackle any problem, for any client. Now or in the near future.