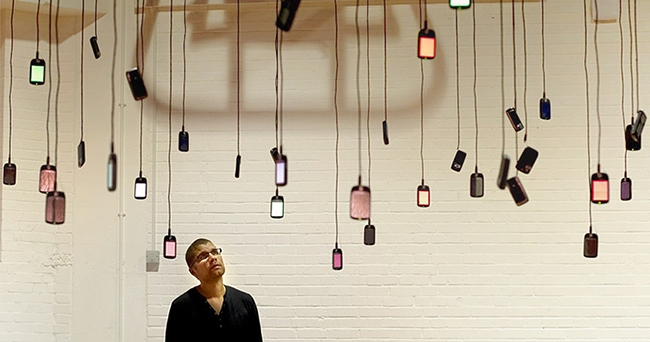 We've all read a metric ton of marketing articles telling us that "A mobile marketing strategy is a must."
If it feels like you've been hearing that forever, it's because people have actually been spewing that advice for nearly a decade. That type of article started cropping up way back in 2008, according to Google Trends: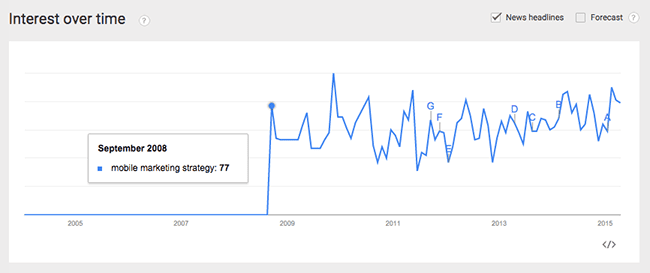 Several years later, you've likely (hopefully) got a mobile strategy in place; your landing pages are mobile responsive and your emails scale for many different screen sizes.
You've adapted to the new reality because you've accepted that this is just the way things are now: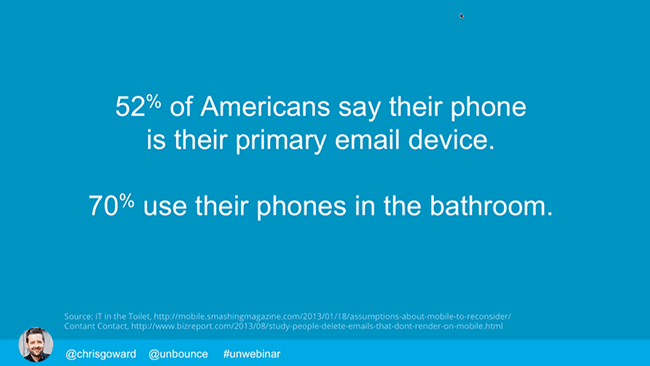 But with sobering stats like that and #mobilegeddon behind us, simply having a mobile marketing strategy isn't enough anymore.
As Chris Goward, CEO of conversion optimization agency WiderFunnel, explained in our recent Unwebinar, if you want to be successful, you've got to have an optimized mobile marketing strategy – one that you're constantly refining and improving.
To help with that, Chris shared a three-pronged approach to mobile optimization that will help you stay ahead of the curve (and score more conversions). Read on for a summary of his process – or check out the webinar recording here.
The trinity of mobile optimization
On the webinar, Chris shared a diagram which broke down his approach to mobile CRO: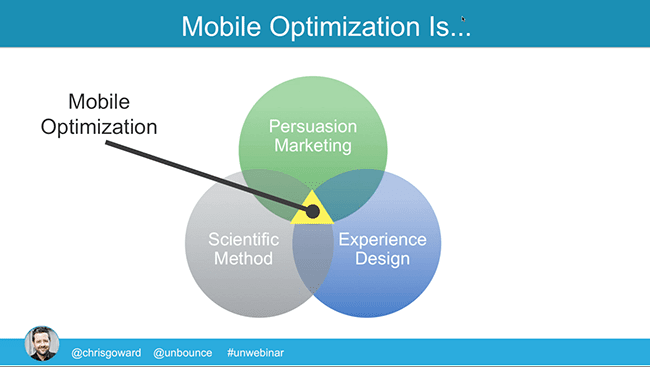 Every solid mobile optimization strategy, Chris explained, has three essential elements:
Persuasion marketing: tactics that motivate visitors to take action
Experience design: tearing down conversion barriers to create friction-free and delightful experiences
A scientific method: for testing your hypotheses and refining the tactics from elements #1 and #2
Let's dig a little deeper into each of these elements to get a better idea of how it all fits together into a killer, constantly-improving mobile CRO strategy.
Persuasion marketing
The first ingredient of your optimized mobile marketing strategy should be a healthy dose of persuasion marketing.
If you're a CRO buff, you're likely already intimately familiar with a lot of this groundwork. It's the intuitive (but super essential) stuff that will never change, regardless of which device prospects are using:
Making use of clear and concise language
Communicating a unique value proposition that resonates with prospects
Using social proof, compelling CTAs, and other triggers that motivate prospects to take action
All pretty straightforward so far, but this is when things get a bit deeper.
Experience design
Experience design is all about minding the experience you're creating for your mobile users. It's about understanding their state of mind and facilitating interactions that are unique to the mobile experience.
The first step in doing that, Chris explained, is understanding that mobile optimization isn't just about the device:
Mobile is a state of being, not just a type of device – @chrisgoward via #unwebinar now! cc: @unbounce

— Susan Staupe (@smstaupe) April 21, 2015
After all, as Chris puts it, there is no such thing as a "mobile user." At the end of the day, your mobile users are the same people as your desktop users.
In a mobile context, it's the circumstances that differ: users behave differently and react to different stimuli. As a result, a new set of challenges arise in the mobile environment: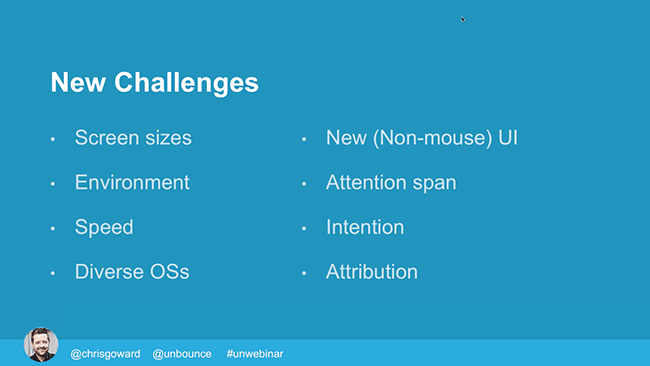 New challenges require new solutions – which, Chris explained, represent hidden opportunities for you.
With so few people actively optimizing their mobile campaigns, there are so many possibilities for testing and improvement (and for staying ahead of the competition):
"The best mobile UXs are still being discovered." – @chrisgoward #unwebinar

— Sean Ronnel Gelera (@sean_ronn) April 21, 2015
So how can you determine the best possible experience for mobile?
Scientific method
Here's where a scientific method comes in – it's your responsibility to test to find out what the best mobile experience is for users.
Without a doubt, this is easier said than done. So how do you get started?
Do your homework
Like any good CRO strategy, your mobile optimization strategy needs to start with a healthy dose of research:
Make sure you understand your customer's mindset and language
Take the time to collect data through heuristic analysis, web analytics, surveys and all that nerdy goodness
Once you've laid the groundwork, you need a framework for asking the right questions and identifying ripe optimization opportunities.
Identify a list of opportunities
Chris shared WiderFunnel's LIFT model, which provides a structured approach to analyzing your mobile landing pages (and the other pieces of your mobile campaigns):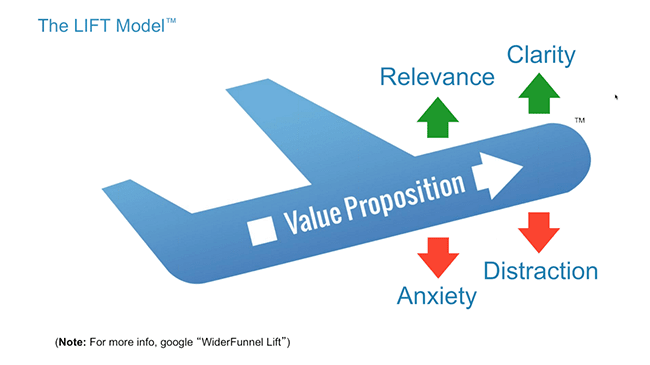 In a nutshell, it helps you take a structured approach to evaluating your landing pages for:
A strong UVP: Are you clearly describing how you can solve your prospect's problem and what distinguishes you from the competition?
Relevance: Does the landing page deliver what prospects were promised before arriving there? Are you speaking in a language they find relatable?
Clarity: Does your copy spell out exactly what prospects will get? Does the page have a logical flow that guides prospects toward the goal?
Urgency: Is there any indication that prospects need to act now?
Anxiety: Does your prospect have any objections that aren't being addressed? Are you unintentionally raising red flags?
Distraction: Are there elements competing with your conversion goal?
As an example, Chris showed an analysis of a mobile landing page for an iPhone 5 screen protector: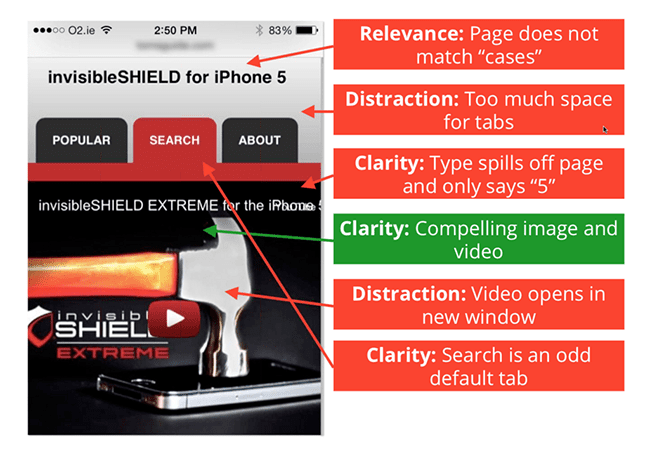 For this mobile landing page, Chris found that there were many elements inhibiting prospects from converting.
Image source
.
After you've critiqued your page for each of the components of the LIFT model and made a list of the weaknesses, it's time to start optimizin'.
Turn weaknesses into opportunities for improvement
Now you take the problems you've identified and flip them on their head – crafting hypotheses that will allow you to turn all your problem areas into strengths.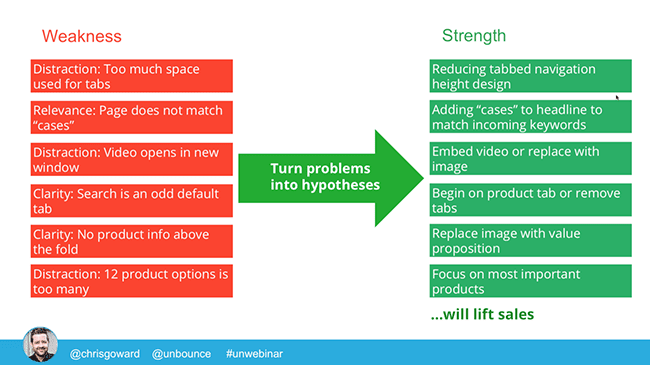 You'll be left with a list of optimization opportunities – and all you have to do is pick one and run your first A/B test.
Psst: if you're wondering how you can start prioritizing these tests, check out this article by Chris about the
PIE
method – a straightforward formula for prioritizing your tests based on three criteria: potential, importance and ease.
Always keep learning and optimizing
With every test you run, be sure to debrief and reflect on what you've learned about your users.
As much as your end goal is to lift conversions, it's also to gain insight that you can learn from and apply to all your marketing efforts.
And as Chris suggested, look for opportunities for borrowing insight across tests – and even across channels: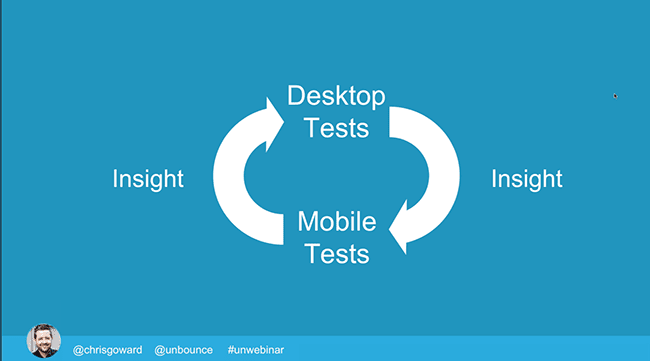 Because your mobile users and desktop users are the same people, your testing efforts across channels don't exist in a silo. You can learn insights from your mobile tests that you can then apply to your landing page and campaign optimization on any channel.
No optimization effort is ever complete, but testing consistently and borrowing insights across channels will bring you closer to the unattainable goal of a perfect conversion rate.
---