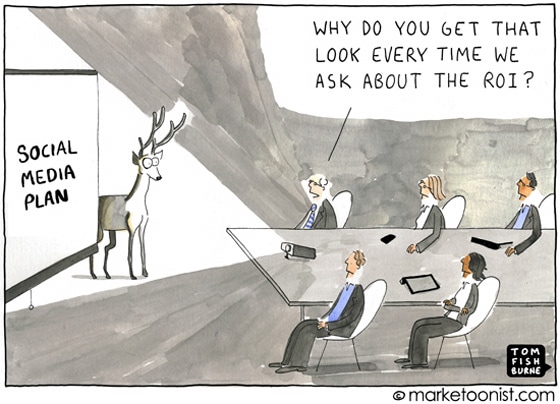 If you're tired of not getting the results you want from social media, maybe it's time to step up your social media marketing strategy to include paid social advertising on the top social networks – Facebook, LinkedIn, and Twitter. In today's post about maximizing ROI from social advertising, you will learn how to prepare your landing pages to convert ad visitors, set up analytics to track your results, and create ads for the best possible results.
Before You Start Creating Ads
For starters, you don't want to just start buying up ads left and right without a plan. Here's what you need to do before you start placing ads on social networks.
Define Your Goals
First off, you need to define your advertising goals. Otherwise, how will you be able to measure them to see if you were successful? Some social advertising goals include the following.
Increasing your fans and followers on Facebook and Twitter.
Getting leads for a specific product or service.
Recruiting new talent for an open position at your company.
Increasing signups for an upcoming webinar.
Growing your mailing list by offering an eBook, whitepaper, coupon, or other downloadable freebie.
Create Optimized Landing Pages
The worst thing you can do when it comes to conversions on any advertising is advertise one thing and lead visitors to something else when they click on your ad. For example, if you were promoting a specific service, you would want to link to a landing page about that service, not your homepage where visitors would have to search for a link to more details about what you were advertising.
Once you've decided what to advertise, your next step is either creating a landing page for that specific item or making sure that your existing landing page is optimized for conversions. Otherwise you'll just be wasting your advertising budget on a lot of clicks but not a lot of conversions. If you're not sure how to do this, you can refer to these handy guides and examples.
If you are using ecommerce based click-through landing pages, you'll be using your landing page to "warm up" the visitor before you send them off to your website, which is discussed below.
Prepare Your Website
Once you've defined your advertising goals and created/optimized your landing pages, your next step (if using click-through landing pages as mentioned above) is to prepare your website to set up and track these goals. My personal favorite is Google Analytics which make it easy to set up goals that track when visitors complete specific actions. Examples of goals include when your visitor completes a purchase through your shopping cart, submits a contact or opt-in form, or clicks on a specific button.
You will also need to track your conversions. In order to make tracking goal conversions from your advertising simple is to create specific UTM parameters for the URLs you are using in your ads. Google Analytics makes it easy by giving you a URL builder. So if you want to direct traffic to the following URL in your ad campaigns:
http://try.domain.com/your-product/
Then you would create a URL like this.
http://try.domain.com/your-product/?utm_source=facebook&utm_medium=fall2012&utm_campaign=ads
Using the URL builder, it would look like this: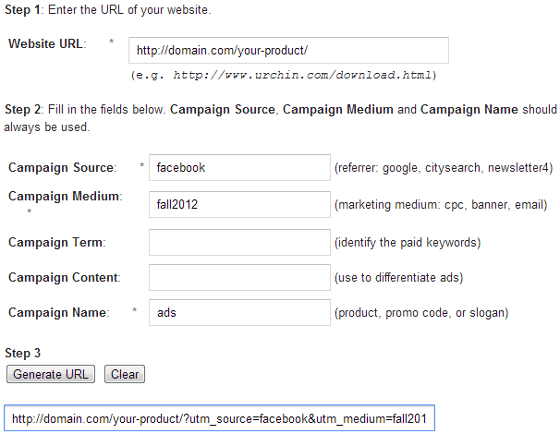 If you're running ads on multiple social networks, you can create three URLs and use the utm_source to specify Facebook, LinkedIn, or Twitter. This way, when you look in Google Analytics under Traffic Sources > Campaigns, you can find your Ads campaign. If you click on that campaign, you'll see the amount of traffic that came to your pages from those ads. And then if you click on the Goal Set in the Explorer view, you can see which ads specifically led to conversions.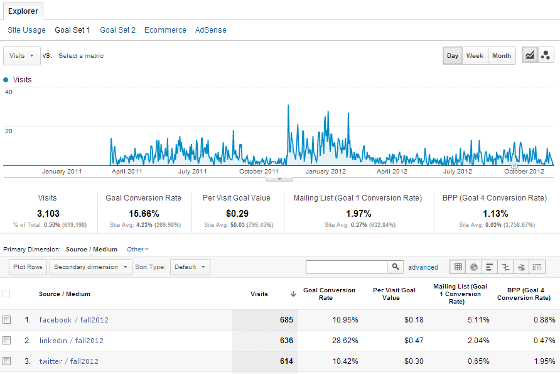 Now that you know how to measure the results of your advertising campaign, let's look at how to set up your ads for the best possible ROI.
Social Ad Platform 1 – Facebook
Facebook offers the most advertising options of any social network thus far. You can use Promoted Posts to extend the reach of updates you post on your business page to fans or on your personal profile to friends. You can also use Sponsored Stories to increase the number of likes on your page or on the updates you post to your page. But in this post, we're going to focus on ads promoting links to your landing pages instead. The following are ways to set up your Facebook advertisement for the best results.
Check Out the Competition
First off, let's look at your competition. If you need some inspiration before designing your ad, you can also browse through the Facebook Adboard that shows the latest advertisements that are targeted to your profile.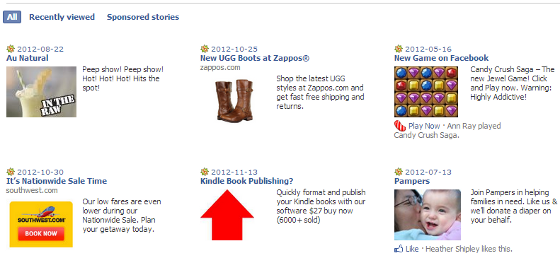 Things to look at include which ads stand out based on their images and which ones are appealing to you based on the title text or description. Also take note whether you feel more compelled to look at ads simply because a friend likes the business placing the advertisement.
Create the Title, Description, and Image
A good advertisement should remind potential customers about a problem they may face and what you can offer to solve it in the way of your products, services, eBooks, whitepapers, or webinars.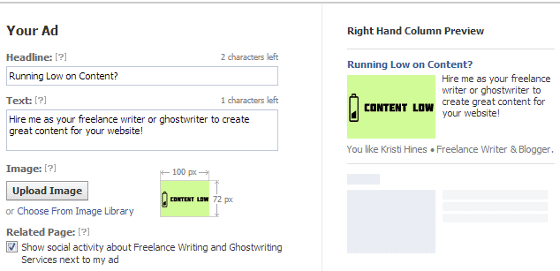 An eye-catching image should also be included – it can either be the product your advertising, a well-recognized person from the business, or a representational image of the problem you can solve or solution you offer. The optimum size for Facebook ad images is 100px X 72px.
If you have the option to show social activity from a related page based on the URL you have entered for your ad, be sure to do so. This may help sway someone's decision if they note a friend has also liked your business on Facebook.
Choose Your Audience Targeting Options
Be sure to use targeting options to your advantage. The goal of your ads is not to have a huge audience that will generate a ton of clicks but little conversion. Instead, you want to have a more defined audience which may result in less clicks and impressions, but more conversions which will be better for maximizing your social advertising ROI.
On Facebook, you can target your ad based on:
Demographics – Choose your audience based on location, age, and gender.
Precise Interests – Choose your audience based on what they've listed as an interest on their personal timeline. Information is pulled from interests, activities, education, job titles, pages they've liked, or groups they belong to. Topics with a # let you target everyone interested in something closely related to the topic.
Broad Categories – Use broad category targeting to reach groups of people who share similar interests and traits. Information is pulled from what people include in their personal timelines.
Connections – Target your ad towards anyone or towards those who are connected to your Facebook page, app, or event.
Friends of Connections – Target your ad towards anyone or towards those who are friends with people who are connected to your Facebook page, app, or event.
Under advanced targeting options, you can continue to narrow the field by:
Additional Demographics – Choose your audience by gender preference, relationship status, and languages spoken.
Education – Choose your audience based on their current education level, places they have gone to college, and fields they have studied.
Workplaces – Choose your audience based on their current workplace. This is ideal if you want very specific potential clients to see your ad.
Choose Cost Per Click
If the goal is conversions, then cost per click is the way to go simply because you can't get a conversion if people don't click through to your page. Hence impressions are somewhat useless – they are less expensive than clicks, but otherwise not necessarily helpful.
Social Ad Platform 2 – LinkedIn
LinkedIn allows you to advertise to the most professional audience on social media, which is especially great for B2B companies. Here are some ways you can get the best out of LinkedIn advertising.
Research Your Ideal Client
For starters, look at your current or ideal client list, then search for them on LinkedIn Company Pages. When you find their page, scroll down to the bottom of their page (if they are using the new company page design) or the bottom of the right sidebar (if they are using the old company design) to see basic stats about their company.

Here, you will want to note the industry and company size for your ideal clients as you can use both in your ad's targeting options.
Create the Title, Description, and Image
Again, your ad should include a problem your potential customer might face as well as your solution to that problem.

Images for LinkedIn ads are resized to 50px X 50px, so the image you chose for Facebook may or may not work so well on LinkedIn. You will want your image to be eye-catching and legible.
Create Variations
Once nice feature with LinkedIn ads is that you can create up to 15 ad variations per campaign. This means you can create ads with 15 variations of title, description, and image to your target audience and monitor them to see which one receives the most clicks. Throughout your campaign, you can turn these variations on and off to achieve maximum results. LinkedIn offers a few tips for variations:
Use different headlines that you think are enticing.
Change the call to action (e.g.: 'Buy' vs 'Order Now').
Include or shift special offers ('50% off' vs '2 months free').
Choose Your Audience Targeting Options
LinkedIn offers the best targeting options when it comes to B2B advertising. You can choose from.
Demographics – Choose your audience based on location, gender, and age.
Company – Select companies by name or by category including industry and company size.
Job Title – Show your ads to people with specific job titles, job functions, and seniority.
School – Target LinkedIn users who attend or graduated from a specific school.
Skills – Target LinkedIn users with specific skills.
Group – Enter specific group names. Helpful if you are well known in participating in particular LinkedIn Groups.
You also get the option of showing your ads on other websites through the LinkedIn Audience Network – a collection of partner websites that display LinkedIn Ads on their pages. It's a great way to increase the reach of your ad.
Choose Cost Per Click
Again, Cost Per Click means you are only getting charged when someone clicks through to your landing page from your ad. Since LinkedIn's suggested bids are generally higher than those of Facebook or Twitter, you will want to make sure you have carefully targeted your ad to the audience most likely to convert.
See Who Clicked on Your Ads
LinkedIn analytics only shows you how many times your ads and variations have been clicked upon, and Google Analytics will only show you how many people have visited your landing page from your ad. If you want to know more details about who these people are, then you might want to try a service called Jumplead. Jumplead goes beyond clicks to show you which companies have been visiting your pages based on their LinkedIn data.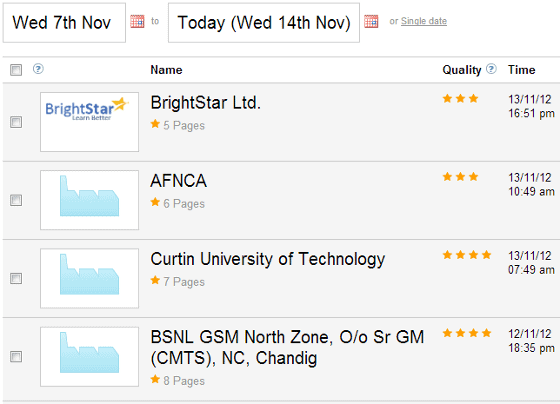 You can also see where these customers have been on your site as well as get a link back to their LinkedIn company pages. It's a great analytics system if you want to learn more about the types of companies attracted to your ad and allows you to retarget your LinkedIn ads specifically towards companies most interested in your product or service.
Social Ad Platform 3 – Twitter
Twitter has the most questionable advertising platform when it comes to producing results, especially for businesses with smaller budgets. The reasons include…
You don't get targeting options when it comes to your advertising campaign beyond location (for now at least).
Your ads are either your tweets or a link to your profile.
Between Facebook, LinkedIn, and Twitter, you can figure (based on your own activity) that less people are actually on Twitter with all of the apps available to manage it like HootSuite compared to Facebook and LinkedIn. And thus far, I've only seen one sponsored tweet per day through my HootSuite dashboard, and those have been entertainment related.
That said, here is what you can do with Twitter advertising on a smaller budget to get the best results.
Optimize Your Bio and Tweets for Keywords
Twitter uses keywords in your Twitter profile bio as well as those within your tweets to find a matching audience. For example, this promoted tweet appears when you search for SEO.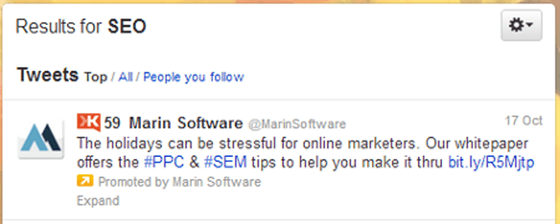 Be sure that you have carefully keyword optimized your Twitter bio – and the tweets you want to promote – for the best possible targeting through the Twitter ad system.
Create a Set of Tweets to Advertise
Twitter lets you select several tweets to promote at one time, which could almost be considered variation testing. This means that you could tweet several different messages promoting the same landing page URL. For example, one tweet could be a simple description of a product plus a link to your landing page, and the rest could be a benefit of your product plus a link to your landing page.
Use Your Analytics
To maximize your social advertising ROI, be sure to keep an eye on your Google Analytics and which social networks lead to the most conversions. This is essential because your goal will be to ultimately focus your budget on the social networks that bring the best results and save money by not creating more ads on networks that bring you lots of clicks but little conversions. Also be sure to craft your UTM parameters wisely in the URLs you use for your ads as these will help you keep track of which ads had the best results over time.
Have you had success with social advertising? Which networks did the best for you based on your advertising goals? Please share in the comments!