The first step is getting someone to open your email.
Email subject lines are the gatekeepers of your email campaigns. When you've put hours of effort into getting your segmentation just right and even more into nailing your awesome email copy, you want to make sure your emails actually get read!
Subject lines are the first thing your recipients see in their inboxes. The subject line is given pride of place and many argue that you should spend almost twice as much time reviewing your subject line compared with reviewing the body of your email. That's a big call… but nailing your subject line really does pays off.
This post, inspired by a previous and popular Unbounce infographic post, How to Write the Perfect Email Subject Line, will give you five tips you can use to write email subject lines that get your recipients opening and, ultimately, converting!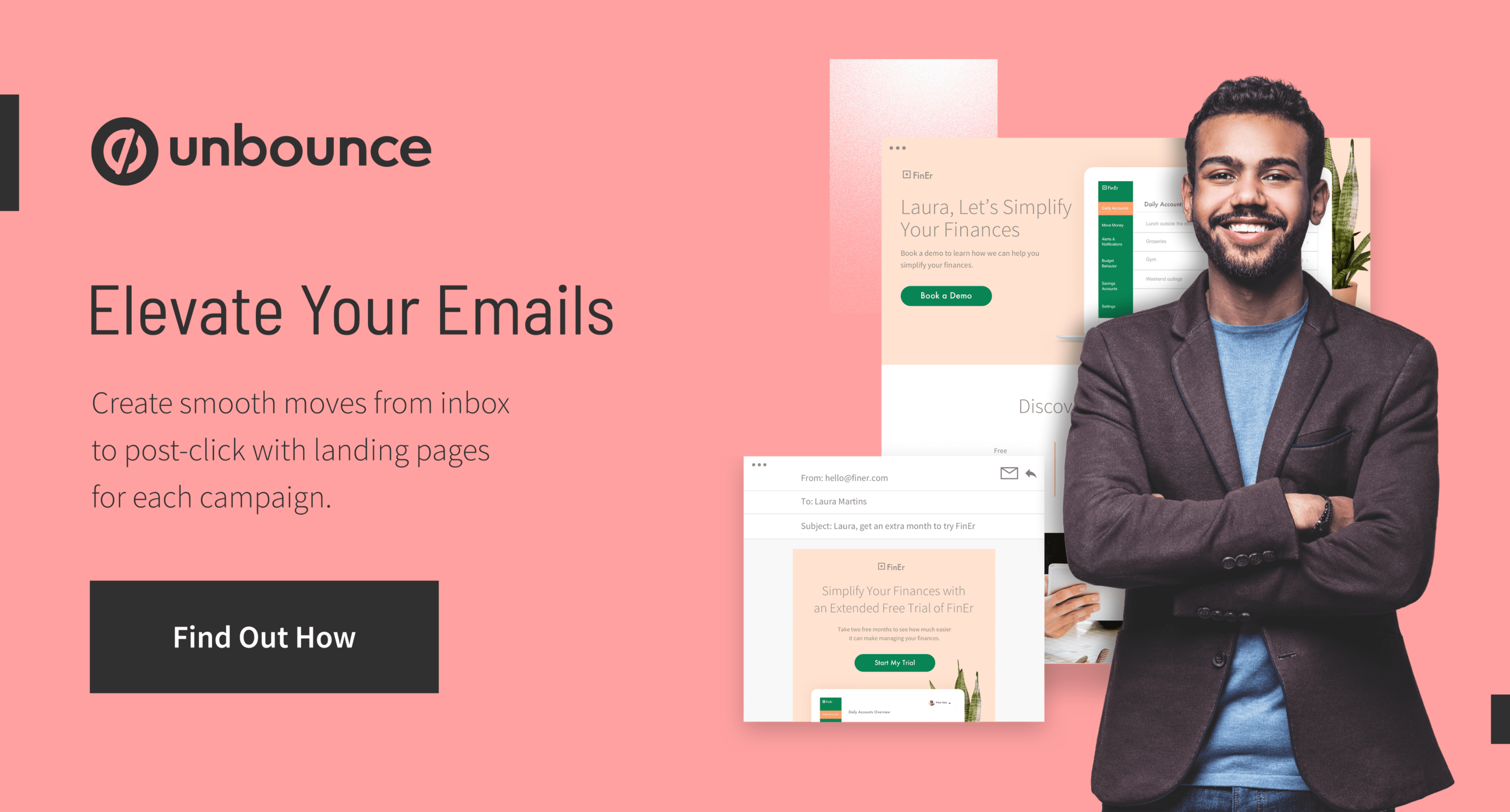 1. Be specific
here are generally two types of emails businesses send to their customers: notifications and direct updates (newsletters).
It's important to be clear about each campaign you're working on as, just like writing any other copy, a lot of psychology is at play when it comes to the subject line. Whenever you're working on a subject line, you need to be absolutely clear about your goal.
When it comes to notifications (transactional emails) the best approach to subject lines is usually to be specific and let customers know exactly what they're about to open.
This might sound counter-productive but letting the recipient know why you're sending the email and what to expect is the best way to get their attention. The best way to get customers to open your emails is to get to the point. This doesn't mean you need to reveal everything but, assuming your email is actually targeting a relevant segment, being upfront and honest will get opens.
Take this example from LinkedIn:

They let you know exactly what the email is about, reveal a little information to entice you and then leave you with a sense there is more to learn.
Another example comes from Perfect Audience with their conversion notifications:

Although this subject doesn't have the longevity of LinkedIn's, it is effective because it is upfront, gets you excited and leaves the details of the conversion path to the body of the email. Once you're reading the email, Perfect Audience can then direct your attention as required.
When you're not sending transactional or notification emails, you're going to be sending newsletters or one-off campaigns, generally not triggered by any particular event. In this case, the trick with subject lines is generally to be original and to pique curiosity.
Raising curiosity is no mean feat but a general rule of thumb is to ask questions.
Take this example from Kiva:

A part of their Mother's Day campaign the subject line uses a single question to get your in head. After reading this subject line you might wonder: How good am I at what? An awesome example of how asking a question can get customers into the body of your email.
Another great email comes from Optimizely with this personalized sales follow-up:

…and a final example comes from Crazy Egg, who combines the two tips above. They are straight to the point in asking for feedback but use a question to make the ask sound both fast and friendly. A great subject line.

2. Localize, personalize and target
Basic personalization is very common these days. Starting your subject line with 'Hey Chris, why do…' is pretty standard, and perhaps a little 'same old'.
This doesn't mean you should give up on personalization! Personalization comes in many forms. Using customer attributes and actions to tailor the email you're sending and your subject lines is one of the most powerful things you can do.
EasyJet includes the name of your destination in the subject line, based on your booking:

LinkedIn uses people in your network and customers that have requested a connection to power their campaigns.

Another great example is this campaign from Memrise, you use the exact details of your last course / your most complete course in their subject lines:

When personalizing your subject line, here are a few things you can A/B test:
First and last name: it might be common but it's always worth a try!
Alter the details in the subject line based on the recipient's location: summer vs. winter and holidays in different parts of the world (Father's Day isn't the same date in every country) are two examples.
Gender: using men vs. women in the subject line of a clothing store's newsletter or highlighting specific product names for each group are some basic examples.
Use details of the actions the customer has taken: what has the customer been doing on your website? What are their favorite products or what features are they yet to use? The examples above all use this tip.
3. Build momentum (i.e., don't email out of nowhere)
Using auto-responders in order to email customers in series is an extremely powerful aspect of lifecycle email marketing. Series allow you to ensure your recipients know exactly who you are and give you the chance to build momentum, increasing your open rates dramatically.
Take Kareem Mayer, who blogs about his experience with a welcome series for his product SocialWOD. It's evident that as his emails build he uses the power of the series combined with informative subject lines to build momentum.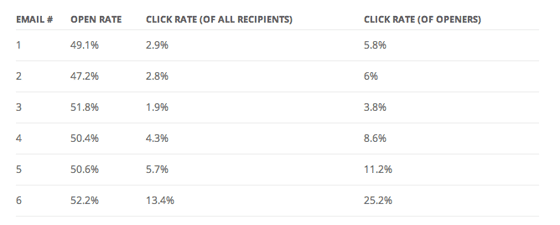 GetResponse takes this one further and actually includes the 'position' the recipient is at in the series. This is really useful as it clearly identifies the email and, assuming the customer has had a positive experience with earlier emails in the series, adds to the power of the subject line, increasing opens.

Using series campaigns and flagging this in the subject line is a logical way to increase your email conversions. Most businesses send fewer emails than they could for fear of annoying customers. Spend time ensuring your emails are helpful and you won't have this problem, allowing you to send emails in series that really convert.
4. Test, Test, Test
You will commonly read that shorter subject lines increase opens.
This is just one example of a quote thrown around as fact but, the truth is, you can never be sure this will hold true for your own audience. Mailchimp recently published a whole bunch of statistics on subject line length that reveal the truth: there is no hard and fast rule when it comes to subject line length. It's completely relative to your target audience so you need to draw your own conclusions!
If you want to really nail your subject line then you should start testing. Dan Norris at Inform.ly recently shared a little trick with his readers: when sending out blog updates he A/B tests his subject lines in order to determine which title is best.
Here are some results from a recent campaign:

This is a great example of the power of testing when it comes to finding out what subject lines work with your audience. Short, long, with funny characters, CAPS, first-letter capitalization, etc. are all things you should experiment with.
Creating A/B tests is easy — when was the last time you A/B tested one of your subject lines?
5. It's not just about the subject line
These days email clients are getting pretty sexy, and this means you actually have more than just the subject line to work with.
This article from MarketingSherpa shares how important it is to consider factors outside subject line length such as word choice and order. So, with this in mind, here's the standard format of an email as your recipients will see it in Gmail:

…and here's a similar example from Mailbox: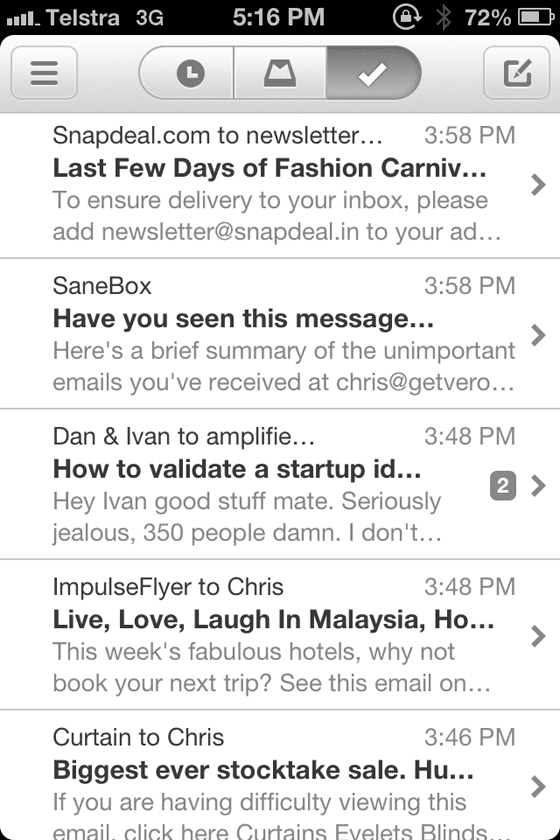 This format is fairly standard across desktop email clients, online clients (like Outlook and Gmail) and even mobile clients such as Mailbox.
As you can see, you should not only spend time optimizing the subject line itself but also the from field and the short preview.
Here are three things you should try:
Put the name of your company in the 'from' field: Rather than 'Chris Hexton', you could use 'Chris from Vero'. Mentioning the name of your company can be good if your brand is recognizable and is always a great way of building consistency and trust. It keeps your customers from guessing. Lots of companies will email with '[Vero]' or similar in the subject line, but this is a waste of precious space! Maximize your from address.
Move the position of 'Open in your browser': Lots of email marketing templates have the 'View in your browser' link at the top of the body. This means that it is generally the text that shows up in the 'short preview' section of mail clients. Bear this in mind and consider moving the link to the bottom or slightly further down the campaign (where it might actually be noticed).
Use an H1 tag that has meaning: Never waste 'headings' in the body of your email. Make sure you include a H1 tag or bold text at the top of your email content that is relevant and will give a good idea of the body of the campaign. Use the 'short preview' to your advantage and, if you're clever, you can even play the subject line of the 'short preview' to craft some clever content.
---
Boosting open and click-through rates? Amazing!
But what about your overall conversion rate? If you're sending recipients to a generic webpage (like a product page or home page) then you risk losing their attention yet again.
Capitalize on those killer open rates by creating tailored landing pages for your email campaigns. With Unbounce, you can drag-and-drop your way to a compelling, on-message page in a matter of hours.
And mobile-optimization means they pair extremely well with emails.
Read more about how Unbounce works with your email campaigns here.
---
Over to You
So, what you think about these five tips? Do you agree or disagree with any of them? Let me know in the comments!