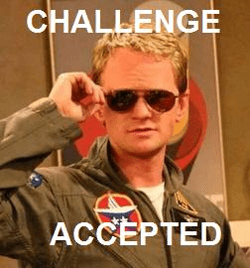 In honor of National Trivia Day (who knew?), it's time to crack your knuckles, put on your thinking cap, and get ready for the most fun you can have as a marketer. We've put together 20 multiple-choice conversion brain teasers, each worth 5 points.
At the end you'll have a score out of 100 that you can brag about in the comments, or hang your head in shame and go directly to our blog to learn what you should already know.
Remember to choose what you think is the best answer to each question. How hard can it be?
---
Question 1
What is the most used testing method for improving conversions?
---
Question 2
When you optimize, you should optimize for:
---
Question 3
When does conversion rate optimization give diminishing returns?
---
Question 4
What percentage of companies use split testing software?
---
Question 5
What is the MOST important thing to test?
---
Question 6
For every $92 spent acquiring customers, How much money is spent converting them?
---
Question 7
What is the average amount earned per click on a banner advertisement?
---
Question 8
48% of people clicked an ad because it showed a product they were already interested in.
---
Question 9
What does HiPPO stand for?
---
Question 10
When did A/B Testing originate?
---
Question 11
In 2011 alone, Google ran roughly ______ A/B tests.
---
Question 12
A page with video is _____ time more likely to appear in Google search results.
---
Question 13
With your PPC adwords campaign, you should send your traffic to:
---
Question 14
More than ____% of companies say they don't have a landing page testing strategy.
---
Question 15
What is the purpose of a transactional landing page?
---
Question 16
What does 'Bounce Rate' mean?
---
Question 17
What is A/B testing?
---
Question 18
CTA stands for:
---
Question 19
What is an evergreen landing page?
---
Question 20
What is the difference between a Squeeze Page and a Landing Page?
---
So how did you do?
Check your score against this chart to see how your rating best defines you as a marketer. Oh, and don't forget to add it to the comments…
| | |
| --- | --- |
| Your Score | What it says about you |
| 0-25 | Erm, I think you might be in the wrong profession. Maybe you could be a used car salesman instead? |
| 30-50 | You are on the right path, young Jedi, but you should pay a bit more attention in class. I'd recommend you start with the posts listed below to bump up your skill levels. |
| 55-75 | Pretty darn decent! Well, that's the cup-half-full version anyway. The bad part is that if you're on the lower end of the scale here, you're only really half a marketer. Just keep your score away from your boss. |
| 80-100 | You're not having my job okay! Stay where you are and be brilliant for someone else. Wait, want a job at Unbounce? |
---
Some posts worth reading to make you a better marketer
---
Brag about your score on Twitter
Tell all your Twitter followers how smart you are. And don't worry, you can change the tweet text and input your score before it goes out.
I scored ___/100 on the @Unbounce Interactive Conversion Trivia Quiz!
» Tweet This «