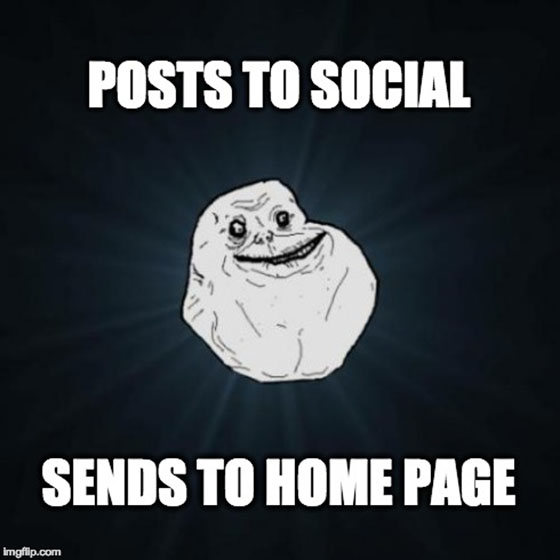 Whether you're promoting a product, piece of content, event or contest, if you're not sending your traffic to a dedicated landing page, you'll live a lonely life as a marketer.
When a social media marketer is doing their job properly, they draw me in with a creative social ad or post, then drop me off at a dedicated landing page with one call to action.
The other ones? Well, let me show you…
I recently came across a limited-time offer in a Facebook ad and was legitimately intrigued. When I spied this deal for 40% off a season pass at our local ski hill, I thought I'd stumbled upon a gem: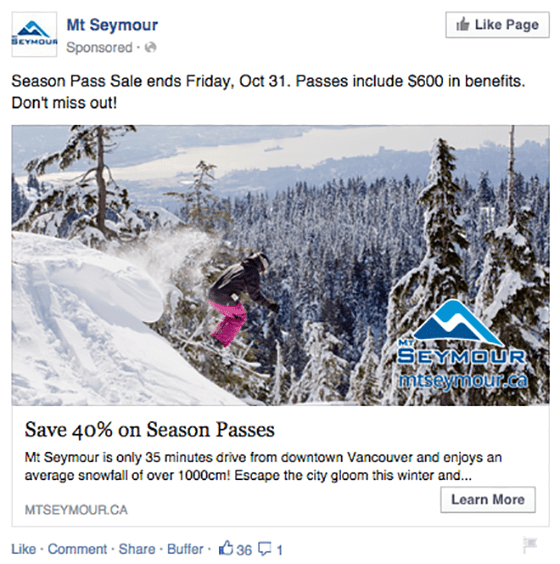 Sadly, this is where I ended up: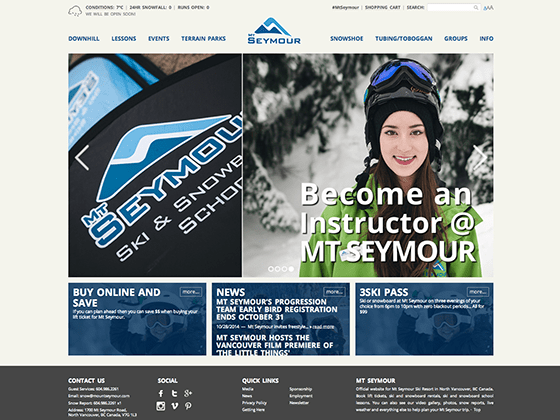 The "Become an Instructor" banner was part of an image carousel. But seeing it after clicking on Mount Seymour's Facebook ad for 40% off a season pass = shattered dreams.
Cold, lost and alone. Not even one mention of a season pass around here, just plenty of distractions.
You can't expect prospects to complete the action you'd like them to take if you're sending them to a page that doesn't acknowledge where they just came from (and what they came to do).
You can do better. Think of me as Hitch… for your social campaigns.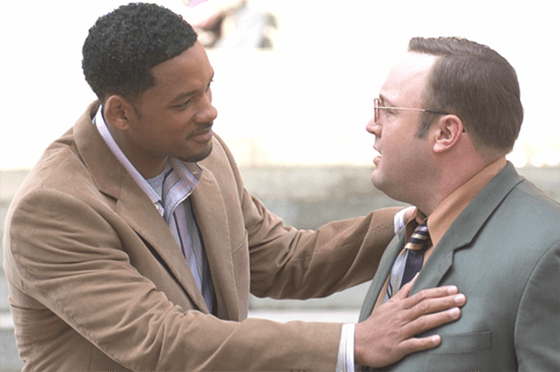 In this post, I'll show you some companies who recently told me how they used their social channels to convert visitors by sending them to dedicated landing pages. Then I'll explain how you can set up tracking on your landing pages to measure your campaign performance.
Before you know it, you'll be closing as smoothly as the date doctor himself.
Case study #1: Getting more customers for your service/product
If you're promoting your service or product on social channels, there's no excuse for sending people to your homepage. Ever.
Prospects that are curious enough to click on your ad are likely looking to sign up, so make it easy for them.
Shopify empowers small business owners to launch full-scale ecommerce websites for almost any industry. To target their different buyer personas, resident Growth Hacker Demetrius Michael runs vertical-specific ads tied to relevant landing pages.
For example, to encourage crafty entrepreneurs to start selling their wares through Shopify's Facebook Store, they run targeted ads: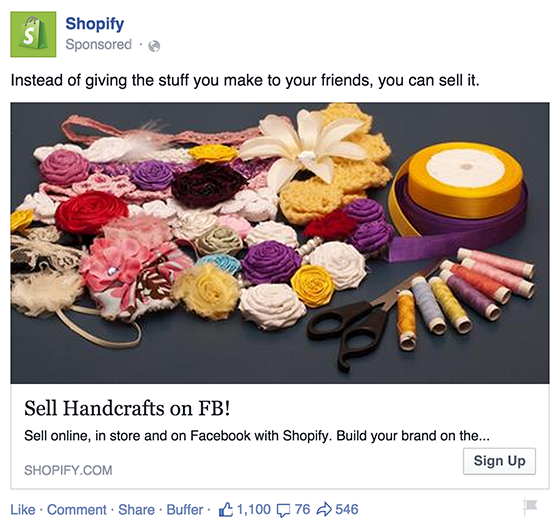 For every targeted ad, they link to a dedicated landing page that continues the conversation that their ad started: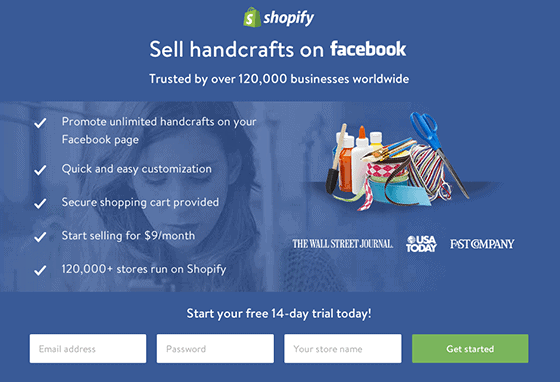 Shopify matches their Facebook ad's headline to the headline of their landing page.
Notice how the headline in the Facebook ad perfectly matches the headline on the landing page? That tells visitors they've made a "good click."
Coupled with dedicated landing pages, Shopify's optimized Facebook campaigns have resulted in a 10x drop in cost-per-lead (CPL).
Landing page optimization tip:

Selling something? Make sure your landing page's hero shot accurately represents your product or service (and matches the imagery in your ad or post).

A generic picture of a smiling woman at her desk doesn't exactly illustrate that your software helps make accounting easy. Use icons and images that clearly explain what you're offering.
Case study #2: Getting more webinar registrants
As an industry expert, you're a trusted source among your community. Your supporters already follow you on Twitter, like you on Facebook and have you circled on Google+. Why not invite them to participate on other channels using social as a driver?
KISSmetrics does a bang-up job of using their social accounts to promote upcoming webinars: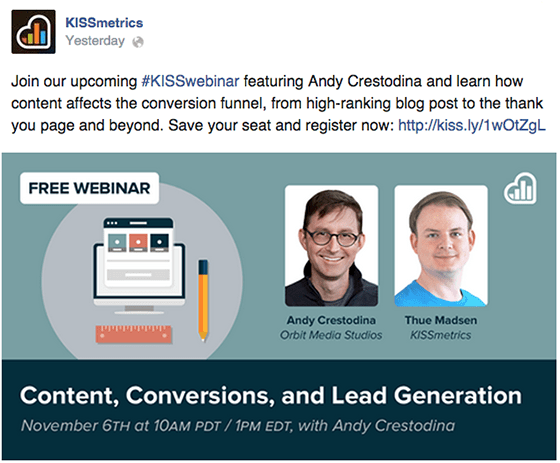 A consistent design across all channels entices curious marketers to click, and the sign up landing page delivers exactly what's expected. Notice the matching color palette, hero shots and title?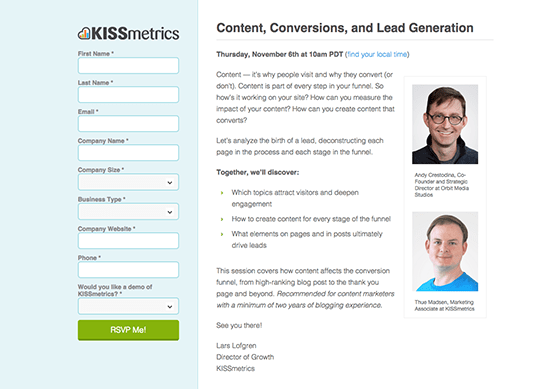 Beyond that, they do an awesome job of summarizing what the webinar will be about, emphasizing the benefits that spectators stand to gain by listening in. They even qualify prospects with the line, "Recommended for content marketers with a minimum of two years of blogging experience."
When I spoke to Lars Lofgren, KISSmetrics' Director of Growth, he told me that webinars help them obtain over 10% of their new monthly leads (and get on average 1500 registrants each).
Landing page optimization tip:

Visitors might be reluctant to sign up if they know they can't make the live event. Soothe their anxiety by letting them know they can still get the recording if they RSVP.
Case study #3: Advertising special offers
Got something unique to share that's time-sensitive or unexpected?
Consider using social to help share the wealth, as Simply Measured does here: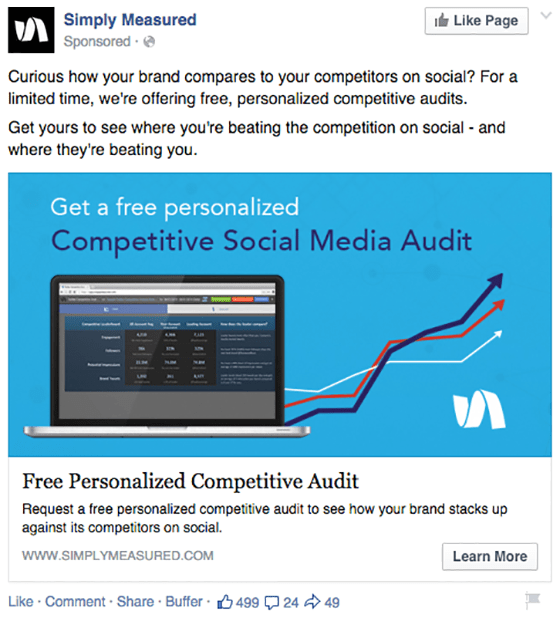 Though their software offers social media analytics, Simply Measured's messaging focuses on the campaign objective. Both their offer and the corresponding landing page talk about the special offer at hand and why followers can benefit from it: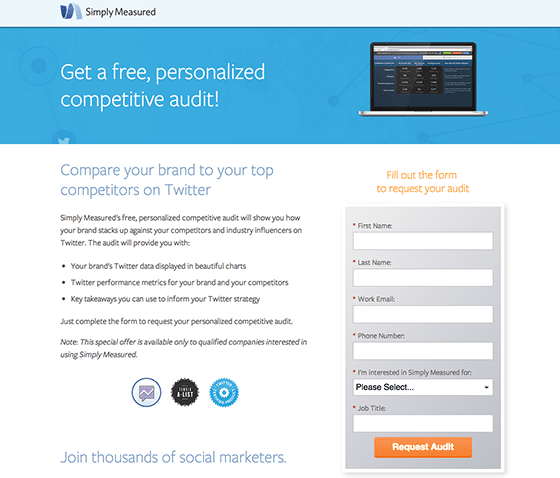 The goal here is to demonstrate the value of your product without directly selling – and hopefully encourage your prospect to sign up. The more relevant your offer is to their immediate pain points or interests (and the less you talk about yourself), the more invested they'll feel. And that's good for conversions.
Simply Measured's Paid Media Marketing Manager, Danie Pote, explains how crucial this approach is to her team:
Paid social has been one of the most effective ways for us to generate leads for our sales team.

Keeping the user experience cohesive, from the ad image and copy to the landing page design and description, helps improve conversion rates on our form because we create an organized and streamlined process that ties together our ad with our offer.
What Danie's talking about is good 'ol message match. When prospects click on a post or ad, they're expecting to be directed to a landing page with identical headlines and imagery. Strong message match increases conversions because it reassures people they've come to the right place:
Bonus tip:

If you're a retailer running a limited-time offer, run ads that promise 50% off exclusively for social supporters and direct them to a landing page where they can download or print a coupon to redeem in-store.
Case study #4: Getting ebook downloads
Ebooks are a great way to deliver value to your prospects, but they're also a great way to attract qualified leads who are researching a solution to their problem. In an ideal world, an ebook will share tons of actionable advice with readers and educate them about your solution.
As inbound marketing experts, you kind of expect HubSpot to nail it – but it's always nice to see a company that practices what they preach! For every piece of content they release, the HubSpot team creates a handful of images that are optimally sized and designed for each social media network in order to encourage sharing and engagement.
When they launched their recent "Comprehensive Guide to Content Promotion," they even updated their Facebook cover photo to announce it: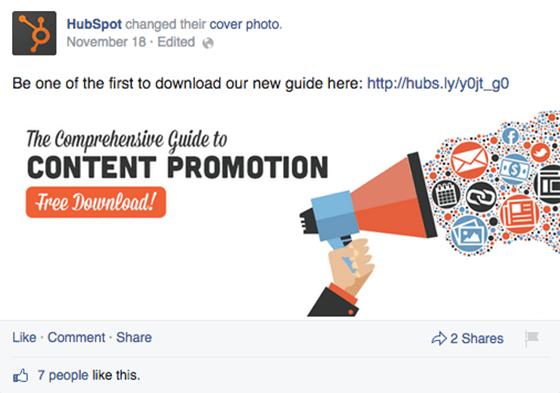 Each of these social assets points to (you guessed it) a dedicated landing page: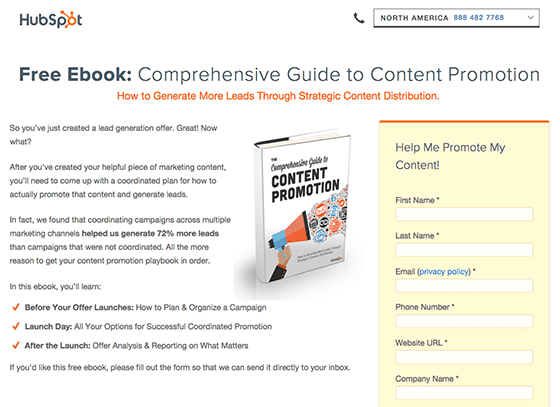 HubSpot's landing page hero shot mirrors the imagery from their social media ads to indicate to visitors that they've made a "good click."
So how's this tactic working for them? HubSpot's Campaigns Manager, Amanda Sibley, told me that for the first day of this campaign, traffic from social media contributed to over 15% of the total views of the ebook.
Landing page optimization tip:

Make sure the length of your form is proportional to the value your visitor will receive in exchange. Use fewer fields if you're giving away free items like ebooks to reduce friction.
Case study #5: Running successful contests
Contests are a quick way to boost brand awareness and attract new customers. Centralizing all of the details on a landing page makes it easier to promote your contest through various channels, reach a broader audience, and track which channels get the most traction.
When Junction was tasked with running an annual promotional campaign for Wings, they turned to landing pages to see if they could improve over the previous year's performance. The result? 117% more participants.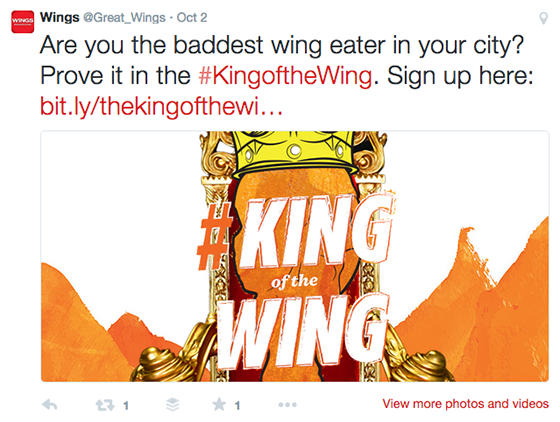 Junction promoted their contest on social channels, including Twitter.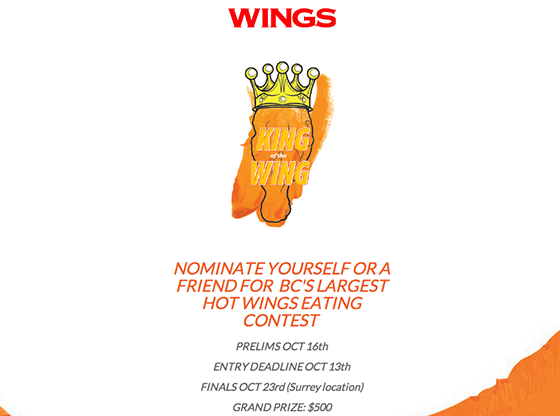 A screenshot of their contest landing page.
It's worth noting that they created a dedicated landing page for each of their three distribution channels, allowing them to serve up the super message-matched content.
Wondering which channel converted best? Paid social ads took the cake with a conversion rate of 14%, followed by organic social traffic (9%) and traditional (1% using radio and print).
Hypertargeting FTW!
Landing page optimization tip:

Don't forget to include all of the rules and guidelines on your contest landing pages! Check with your local compliance laws and include your terms in a lightbox to keep visitors from having to click away.
Case study #6: Selling tickets for your events
Whether you're hosting a one-time gala for hundreds or recurring meetups for small groups, landing pages can help you market your event to the masses and easily collect information from attendees. All you have to do is determine your ideal audience and serve them up targeted ads that link directly to your event landing page.
When Weddingful was holding a meetup last summer, they targeted ads to a Facebook custom audience of Vancouver area vendors: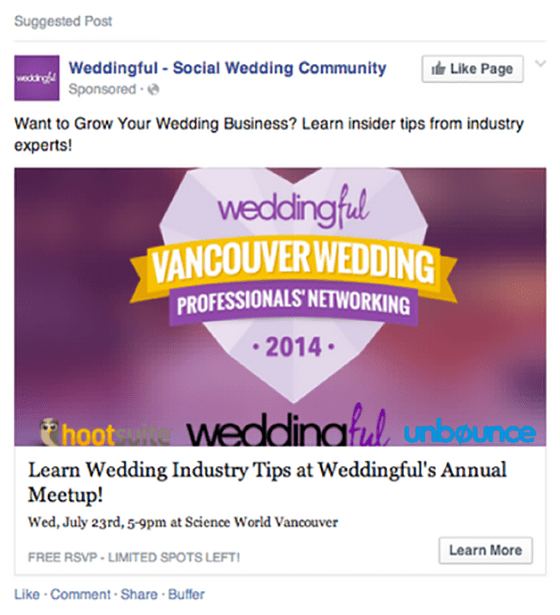 This type of targeting allowed them to send highly qualified traffic to their meetup landing page: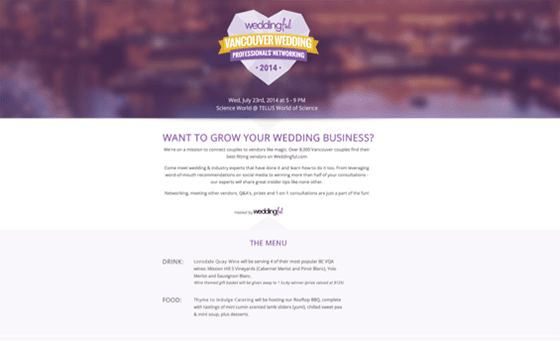 Allowing guests to RSVP right on the page, the Weddingful crew secured responses from 220 industry professionals who were looking to improve their marketing. With an event cap of 200, they oversold their goal by 10%! Not too shabby.
Bonus tip:

For a successful local event, upload an existing leads or customer list into the social platform's ads manager and use it to develop a targeted ad campaign. Loyal members of your community will be more likely to attend and help spread the word to people within their broader network.
Case study #7: Announcing feature launches
Shannon Byrne recently wrote about using landing pages to help validate a feature development idea… but you can also use them to announce the update once it's ready!
When Intercom introduced their in-app messaging feature, they used social to announce its release: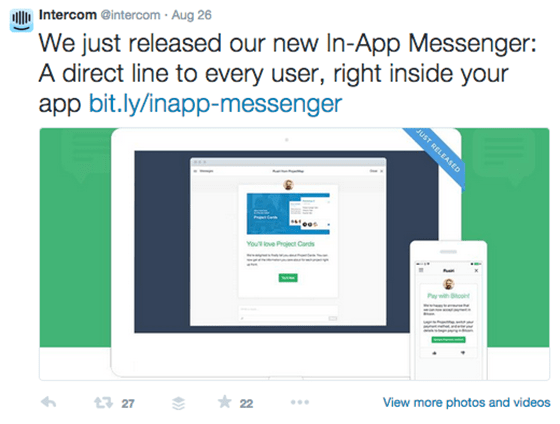 Here's the landing page they linked to: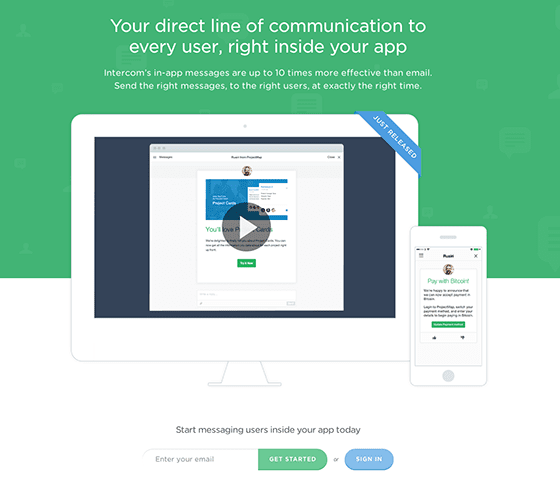 Sharing this update on their social channels and directing prospects to an informative landing page got Intercom 1,643 pageviews and 46 new email addresses directly from a social source.
Landing page optimization tip:

Short videos are an effective way to explain more about a new feature without taking up precious landing page real estate. Keep your message concise and be sure to focus on the benefits.
Bonus: Track your success
Okay. Now you're on board with using landing pages for all your future social campaigns, but is all that juicy content you're pumping out truly benefiting your business?
There are a number of ways you can set up your own tracking to measure success, but here's what we do at Unbounce:
Step 1: Create the landing page and visual assets for your next campaign
Come up with an awesome marketing idea (in this example, we're using the Ultimate LPO Beginner's Toolkit, the brainchild of our Community Manager, Hayley).
Build and publish your campaign's landing page to collect leads or make the sale, and create matching visual assets to promote it on social media: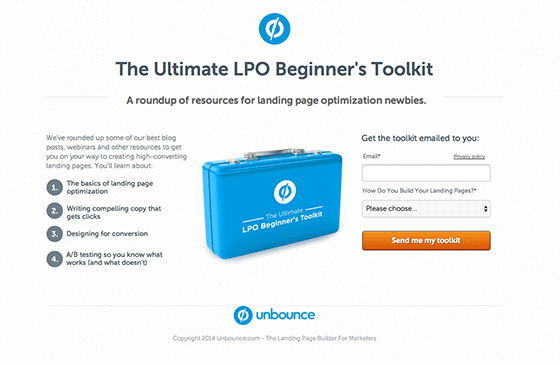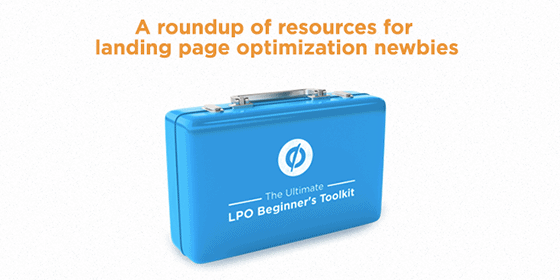 Step 2: Create UTM-tagged URLs for each social channel
Make unique, UTM-tagged URLs for each social channel using Google URL Builder.
Include the landing page URL, the name of the source (social), the specific medium (LinkedIn, Twitter, Facebook), as well as the campaign name.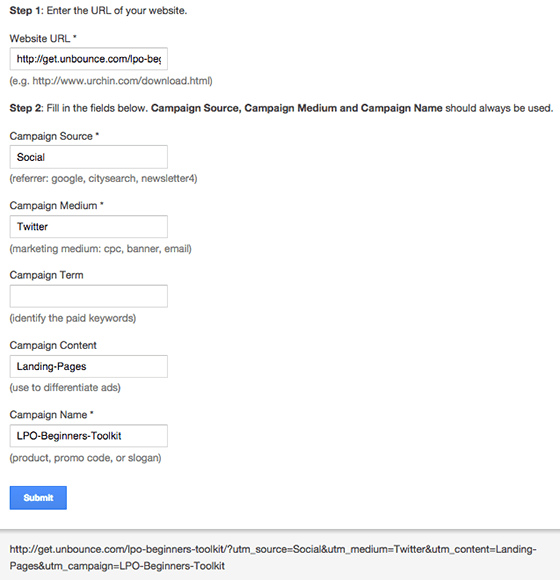 Make sure you add this tracking to all the links you use to drive traffic to your campaign landing page (email links included).
Step 3: Launch your campaign and distribute via social
Remember those visual assets we talked about in Step 1? Now's the time to queue them up and distribute your brilliant creation to the masses: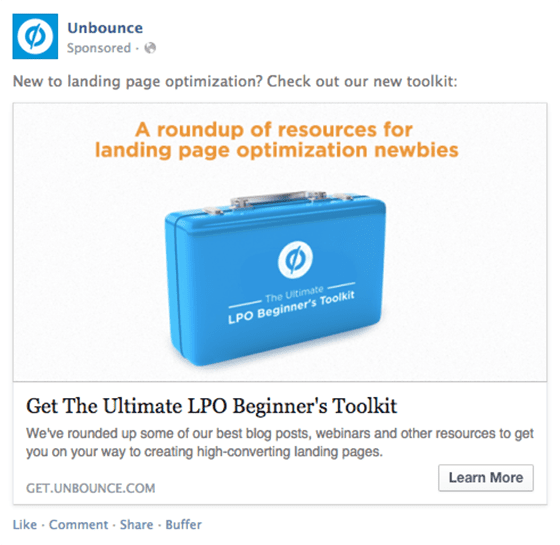 Step 4: Monitor and optimize
Now it's time to monitor the progress of your campaign. Here's how:
Sign into your Google Analytics account and click on "Acquisition" > "Campaigns:"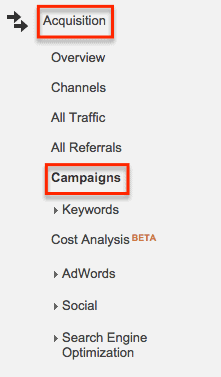 Under "Secondary dimension," choose "Source / Medium":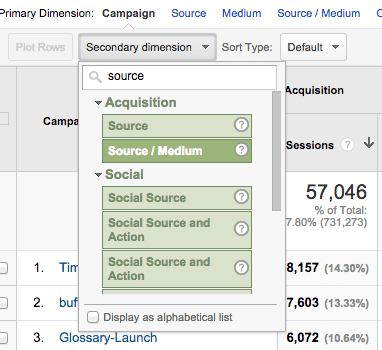 Next to the search bar to the right, click the "advanced" text link.

Choose "Exactly matching" from the dropdown, and type in the campaign name you defined in the URL builder. In this case, I want to show results matching "LPO-Beginners-Toolkit."

Hit "Apply."
Now you can see how many sessions have been started and where that traffic came from, along with a number of other stats.

Not much data to see here (yet) as this campaign hasn't been launched publicly.
If you have conversion goals set up, you'll be able to track those as well. AdStage has a helpful guide on how to set up conversion goals if you're not sure how to get started.
Can't stop won't stop
Just because you've thrown up the tightest ad and landing page combo, don't think you can drop the mic.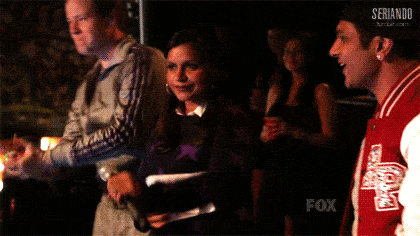 Make sure you're A/B testing both your ads and your landing pages to get the highest conversion rate!
Experiment with different headlines, images, button copy or whatever you think could increase your page's success. For more ideas on how to formulate a solid test hypothesis, check out this post by Michael Aagaard.
There are so many ways you can use landing pages to help boost your social media marketing efforts — I've by no means exhausted the list here.
Have you used them in other creative ways for your social media campaigns?
---