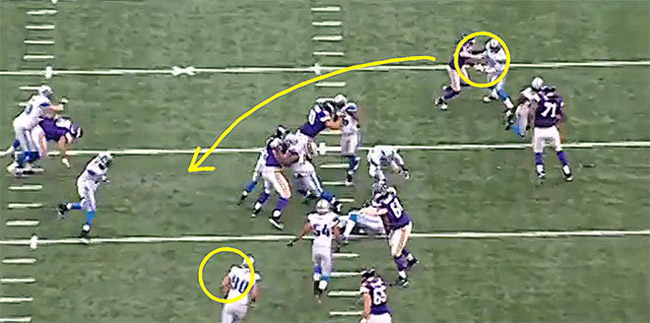 Use these content marketing tactics to draw up strategies that help you achieve your lead generation goals.
Image source
.
What sets content marketing apart from other forms of content creation is that every piece of content you produce needs to serve a business objective. For many content marketers, that goal is lead generation.
But what types of content should you create? And how will you capture the leads once you've created it?
We've assembled seven content marketing tactics that anyone can get started with right away. In addition, we've got landing page templates for each tactic so you can collect leads once you've published your content.
Let's take a look!
1. Create an engaging ebook
In the last couple of years, the ebook has become a remarkably popular method of capturing leads. A 2014 B2B Content Marketing Benchmarks Report states that 34% of marketers are using ebooks in their marketing strategies.
Done properly, releasing an ebook can help marketers do the following three things, according to Ramesh Ranjan writing for the Hubspot blog.
A. Educate your leads
An ebook should provide actual value to readers. By the time they're done reading it, they should be able to walk away with information that answers a specific question they have.
That ebook download may be the first point of contact you have with a reader, so in order to build a relationship built on trust, you have to deliver on whatever you promised on your landing page. If you do that, they'll come back for more information.
B. Demonstrate your knowledge
You want to demonstrate to your readers how knowledgeable you are about what you do in order to establish trust and loyalty. Well-written ebooks that provide a lot of in-depth information help you do just that. According to Ramesh:
The more quality information you provide the reader, the better the education they'll receive from your post. They'll associate you with providing great information and possessing a breadth of knowledge on it.
C. Get 'em in the sales funnel
In order to get the ebook from you, they'll have to give you their email address – which is where your landing page comes in. This is where you'll tell your customers what the ebook is about, and why it's a fair trade for their email address. And the good news is that you don't have to start from scratch.
The Lido landing page template is crafted to give visitors enough information to understand what they're going to get when they download the ebook.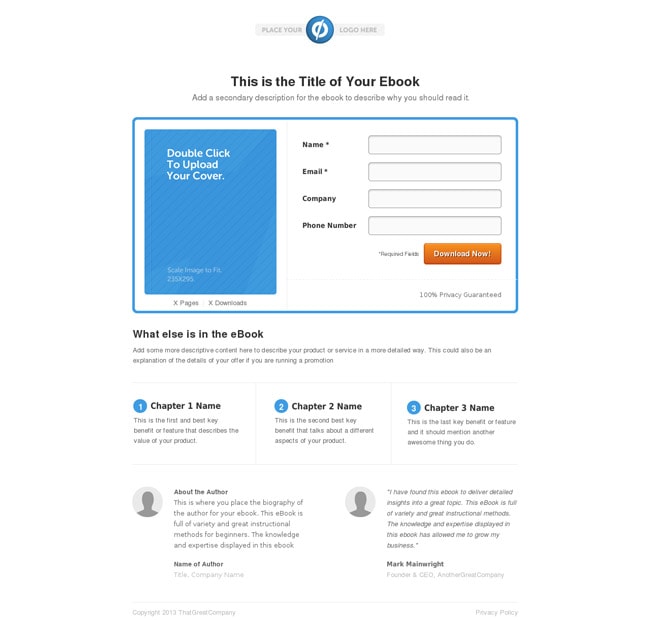 With a nice big headline, you can announce the main subject of the ebook and quickly break down what they'll learn. There's a spot for a front-and-center hero shot of your ebook, which you can punctuate with a CTA button that speaks directly to your visitors.
There's even an area to provide author credentials and a reader testimonial, giving readers further incentive to provide their email address.
2. Get more leads through webinars
Webinars have proven to be a remarkably effective lead generation tool here at Unbounce. We've even taken the lessons we learned and created a webinar about how you can make webinars a super powerful acquisition channel for your business, too. #meta
One of the reasons our webinars have been successful is that we've managed to partner with some very knowledgeable people whose presentations provide attendees with real, actionable insights into a variety of subjects. And we're sure to brag about our speakers' credentials on our registration landing pages.
The How To landing page template below has a sparse feel to it that allows readers to focus on the copy: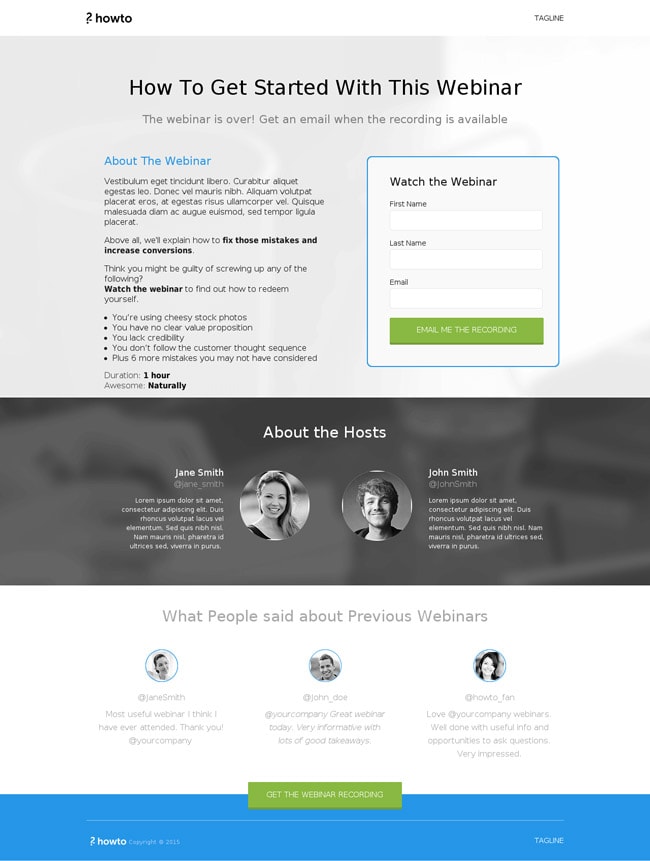 See the section in the middle for presenter headshots and bios? Credentials can go a long way towards convincing people to attend a session. And with testimonials at the bottom as a last reminder of what you can get out of attending, you've got a page that convinces and converts.
There's also ample space to tell attendees what they'll get out of the webinar. The more you can convince them that the information they'll be getting is valuable to them, the closer you'll be to getting them to sign up. In our own experience, this page has had up to an 80% conversion rate!
3. Host events in real life
Our Event Marketing Manager Stefanie Grieser is fond of saying that events are an essential aspect of any content marketing strategy.
Events help you get to know your prospects at a level that just isn't possible through email lead nurturing. Events are an amazing lead generation tool, provide amazing branding opportunities and help you to make personal connections with your leads.
But to get people to your event, you're going to have to put together engaging and inspiring sessions – and then you have to flaunt them on a high-converting landing page.
The Evento landing page template has lots of space for the specifics of your event, including who your speakers are going to be. The agenda section shows them how their day will unfold.

What you'll notice about this landing page is that there is just one form field and call to action above the fold. You can use this form in one of two ways:
In the early stages of promoting your event, you can direct people to "Save a spot" or "Stay in the loop" by simply adding their email address. As your event draws nearer, you can send them a series of emails as the event date draws nearer, reminding them to get a ticket.
In the latter stages of the event, you can change that CTA to "Get my ticket now" and direct people to the ticket purchase page. By adding some text like, "Only one week to go!" you can create a sense of urgency, which nudges people towards your CTA.
4. Build a customer case study
Traditional case studies are a perfect storytelling tool. They're proof that your product works. You can show your readers how you solved a very particular problem, and tell them what steps you took to get it done.
Presented properly, case studies can be an invaluable aspect of converting readers into customers, especially at the bottom of the sales funnel. For example, you might talk about how prospects can use one of your tools to create leads, like we did here.
You'll want to send an email to your prospects directing them to a landing page, where you can tell them all about why they should download the case study. The Lead Generation Minimalist Light landing page template is well suited to that: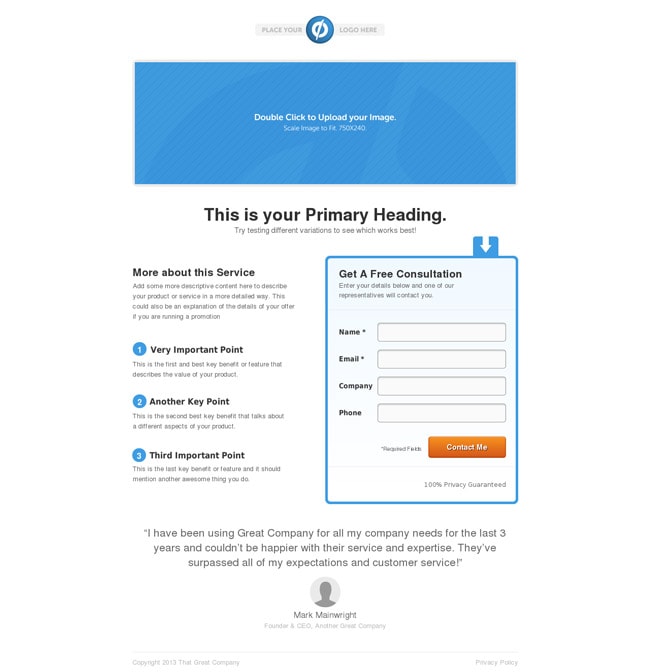 Reiterate what you've already told them in your email and break down the main points of the case study. You've also got a great spot for a quote from your case study subject just below that, which will provide further incentive to sign up.
Just change the well-highlighted CTA to "Get my free case study," and let the downloads begin!
5. Use video to reach your customers
An article in the Guardian newspaper recently called video the future of content marketing. It's an increasingly popular method of consuming content. The article cites a Cisco study that states that by 2017, video will account for 69% of all consumer internet traffic.
Like all other areas of content marketing, the idea is to provide value to your audience. From the Guardian article:
Always consider the audience you are trying to reach and ensure the video is relevant to them. If it's not the most appropriate means of getting your message across, you are probably wasting your time.
If you have videos that are relevant to your audience, you can publish them as gated content in order to collect email addresses in exchange for views. But to get those emails, you'll need to prove that they're worth that exchange. Check out how we used speaker videos to gather leads after The Conversion Road Trip, a four-city tour de force of one-day conversion optimization conferences.
You can repurpose the Mova template below for that very purpose. In the video area, instead of a demonstration video about a product, you could put in a short teaser of what a viewer will get from watching the video in its entirety — after they sign up.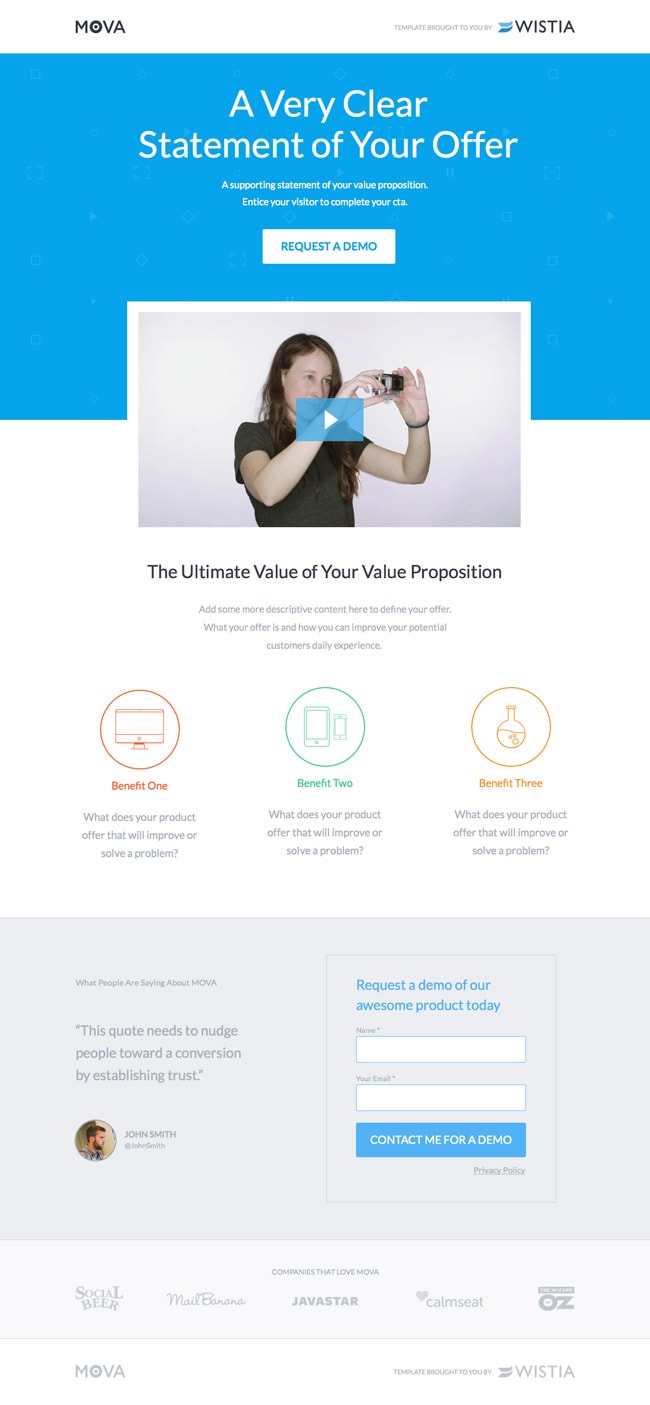 Once they've seen the trailer, you can hit them with three main benefits they'll get out of watching the video, and drive it home with a nice big testimonial from a happy viewer.
The simple form provides a relatively frictionless signup experience, making it easy for you to collect that all-important email address.
6. Create an informative whitepaper
According to this article by the Content Marketing Institute, despite the fact that marketers have been using them since the 90s, whitepapers are still an effective lead generation tactic.
But what should you include in a whitepaper in order to make it attractive to potential leads? According to that Content Marketing Institute article, there are four things that a whitepaper should provide:
Rich, substantive content that educates, not sells
New ideas that prompt and provoke innovative thinking
A clearly communicated point of view on issues that are highly relevant and timely
Statistically-sound data and well-researched findings
By presenting a new point of view, you flaunt your expertise and help prospects better understand how you're equipped to solve their specific problems.
The Forward template below is a great example of a page that could serve as an excellent template for promoting a whitepaper: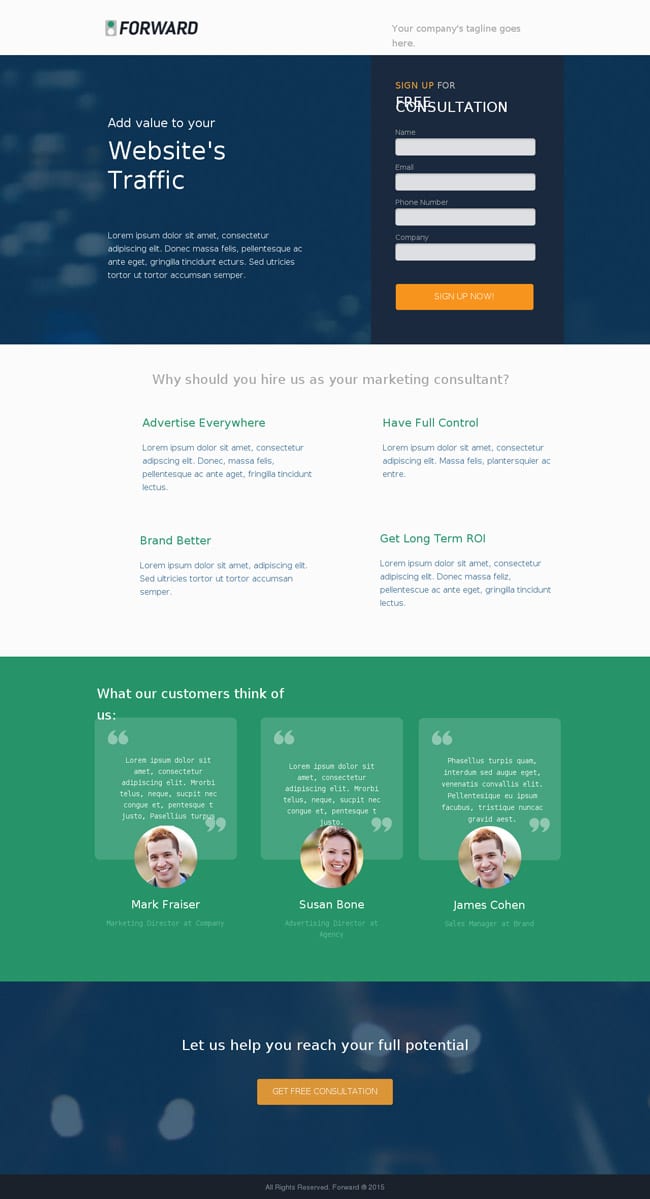 This page has an area above the fold where you can clearly outline the main points of your whitepaper. You'll also find the signup form right up top where you can get people to sign up right away (if you've managed to demonstrate the value of the whitepaper above the fold).
Make sure to experiment with a couple of different versions of your copy to see which one works the best!
7. Get more blog subscribers
Blogging is generally the first tactic that businesses turn to when rolling out a content marketing strategy. Consistently creating great content is a surefire way to establish credibility and attract leads.
But you already knew that. And now that you've got that great content, how do you get readers to keep coming back? Get them to sign up to receive updates about your blog so you can keep engaging them on a regular basis!
The A la Carte template could be turned into a landing page that simply and easily converts visitors into subscribers. Hit them first thing with your blog's tagline and unique value proposition.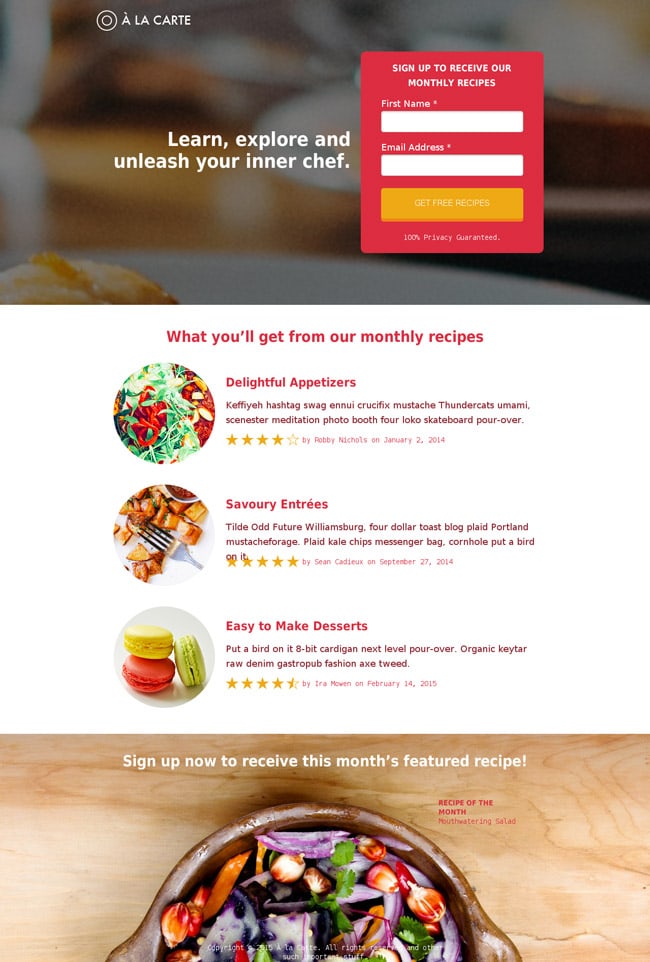 You can also use the area below the fold to tell people in more detail about what they'll get as a subscriber.
With subscribers comes engagement, and once you're regularly engaging prospects, you have a much better chance of converting them down the line.
What's content marketing all about?
Content marketing is not just content for content's sake. Though some marketers believe that just writing some things provides some form of value, the reality is that it doesn't.
In this blog post on the Unbounce blog, Tommy Walker, Marketer at Shopify, says:
If your content doesn't drive actions, it's not really marketing. It's just content.
Each of the content marketing tactics in this post are tools to help drive a larger strategy.
Remember that generating that lead is just the beginning. From there, you have the opportunity to start sending your prospects more and more valuable content in an email lead nurturing campaign.
Create great content to generate your leads, and then create more to keep on engaging them.