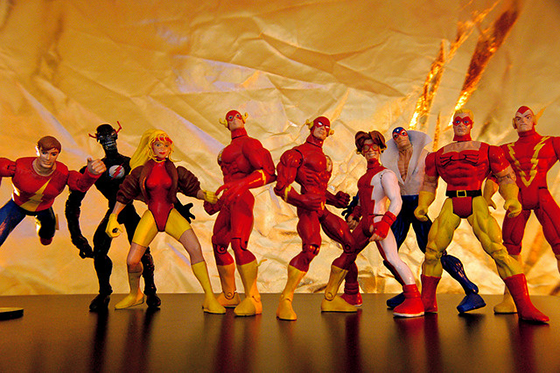 What gives successful marketing agencies the efficiency of a superhero? Image by
JD Hancock
via Flickr.
Today's successful marketing agencies seem to have superpowers – superhuman efficiency, x-ray analytics and lightning fast turnaround. How do they do it all with so little? The answer, Batman, is landing pages.
Landing pages help generate bigger wins at faster rates. Especially for smaller marketing agencies where resources and deadlines are tight, this superpower is especially vital. So what makes landing pages so great?
We asked several small marketing agencies why they use landing pages – and which strategies have brought them the greatest ROI.
Here's what they had to say.
Why Successful Marketing Agencies Use Landing Pages
They give results that are immediate and data-driven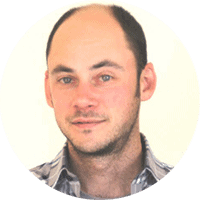 "It's as if you have a board of levers and switches," says Igor Belogolovsky, co-founder at Clever Zebo. "With so many small pieces to maneuver and rearrange, you can easily measure the changes."
The convertible elements give agencies the ability to scale, test and redesign instantaneously. The best part for Igor? Landing pages give results that are immediate and data-driven.
"It's really a hardcore direct response, do-or-die type of initiative. It strips away a lot of detail that's present in other marketing efforts — it's your product laid bare, and it forces a visitor to say yes or no. That's both a scary proposition and a big, sexy opportunity."

– Igor Belogolovsky, Clever Zebo
They allow you to put your creative ideas into practice
Because a landing page can be refined in a matter of minutes, agencies have the freedom and creativity to test daring design – without the risk of wasting time or money.
"With landing page campaigns, you don't need to be a seasoned copywriter or retired creative director from Ogilvy.

You're not limited when it comes to your own creativity and you don't need to have a developer by your side to test that new offer, call to action or hero shot."

– Johnathan Dane, Disruptive Advertising
They can save you hours of work
With a learning curve that's as soft as Zuckerberg's peach fuzz, bringing landing page strategy into your repertoire is accessible and intuitive. Agencies can empower current employees rather than hiring expensive experts or additional team members.
"I've been a PPC advertiser since 2003, and gaining the ability to create landing pages without having to go through a development team has been hands down the biggest game changer for me.

With Adwords getting more and more complex, it's refreshing to work with a tool that actually makes my life easier.

– Cheryl Hill, Metric Marketing
They make your workflows more efficient
Because landing page stats are so easy to collect and analyze, agencies can drastically increase efficiency, no matter how small the team.
"For us, landing pages have been a multiplier. We can do the work of ten people with five people.

It's helped us build the PPC side of the business and we're getting better results all the time, but becoming much more efficient."

– Andrew Miller, Your Search Advisor
Heard enough? Ready to get started? 
Here are the landing page strategies that worked for the marketing agencies we spoke to – and tips for how your agency can do the same.
Tips from Agencies That Are Killing It With Landing Page Strategy
1. To reduce form friction, test a multi-step sign-up process
When testing a lead gen landing page for their client Advanced Grass, Disruptive Advertising found that the traditional one-page lead capture wasn't working.
When greeted by name, email and phone fields, visitors bounced. According to president Johnathan Dane, they didn't want to wait to receive a quote by phone. They simply wanted to know, "How much does it cost?"
"We actually increased the amount of fields — a best practices 'no no.'"
Generally, this is thought to be against best practice because too many fields on a form will increase the perceived friction of filling it out. Knowing this, Johnathan was strategic about it.
He implemented a two-step sign-up process to avoid adding perceived friction to the original landing page.
The two-step process:
The first page asks questions only relevant to generating a quote: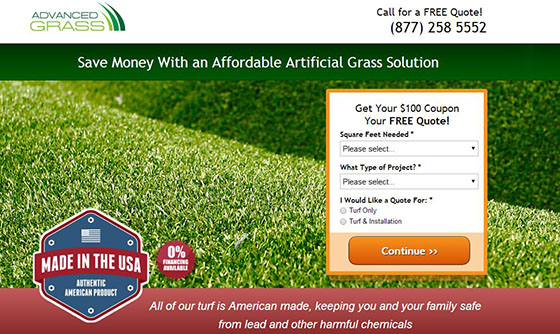 The second page says the quote is "being generated," then captures contact info.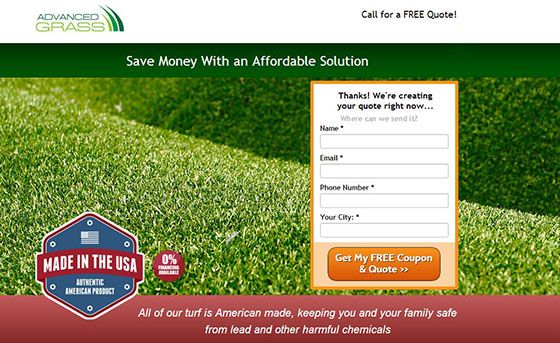 This setup allowed more questions to be asked while actually boosting lead volume. Not only did adding a micro-commitment incentivize people to finish the sign-up process, but filling in the extra fields reassured visitors they would receive a real, personalized quote. According to Johnathan:
"The two-page process helped the visitor believe they'd get a solution unique to their needs."
Because landing pages are so easy to build and test, Disruptive Advertising could afford the risk of breaking best practices. With such fast turnaround, if the strategy hadn't worked, Johnathan says they would've quickly tried something else.
But it did work. In fact, conversions exploded.
Advanced Grass saw a 214% increase in their conversion rate.
2. If your A/B tests aren't showing big improvements, start over
Don't be scared to scrap your poor-converting landing page.
When the little tweaks aren't working, Andrew Miller of Your Search Advisor says just start over.
When running A/B tests for a client (an air purification company), Andrew just wasn't seeing impressive conversion lifts. His solution was drastic:
"Rather than continue to test this page to achieve marginal improvements with diminishing returns, we took a step back and re-built the page from the ground up."
The original landing page promoted community relationships and intangible benefits of local contractors.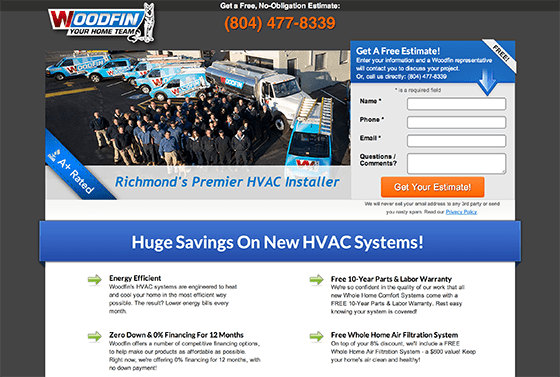 Click for larger image.
But ultimately, that's not what people cared about.
"We had to challenge our assumptions," Andrew says about the variation they created. "We achieved higher phone and email lead conversion rates by reducing the fluffy content and focusing on the consumer benefits: special offers, reliability, flexibility and peace of mind."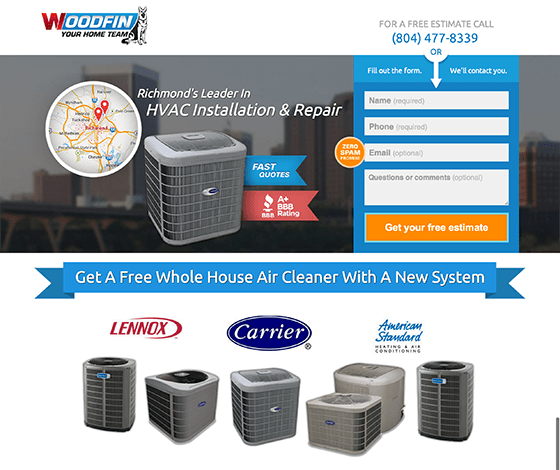 Click for larger image.
Variation B (pictured above) was rebuilt with:
More consumer-friendly offers positioned more prominently on the page
Dynamic text replacement in the headline to match the AdWords and Bing Ads search terms
Less text and more imagery to communicate benefits, selection and offers
Re-iteration of the primary CTA at the bottom of the page for people that scroll below the fold
The new version was cleaner, lighter and less dense. And it delivered.
According to Andrew, the new page converts seven times better than Variation A for email leads and four times better for phone leads.
3. Test for metrics that matter
When working on a lead gen project for a mortgage company, Theresa Baiocco of Conversion Max wasn't only looking to increase conversions. She wanted to increase profitable conversions.
To do this she needed to segment the most valuable leads (those that resulted more often in a sale) and convert them.
She ran an A/B test where she tested which CTA appeared first: Variation A had the phone number appear above the fold, whereas Variation B had an email opt in form appear more prominently.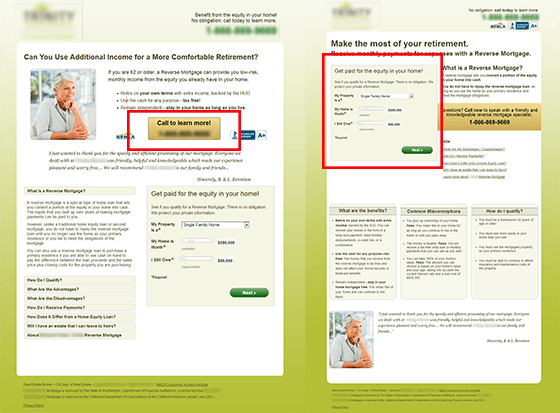 Variation A (left) had a prominent phone-in CTA, whereas Variation B (right) made the email opt-in form more prominent.
Both pages converted well, but the actual value of each lead capture varied drastically. Theresa explained:
"Phone calls generated five times more value because it was easier for salespeople to close deals with the prospect on the phone."
It was important to scrutinize the numbers and find metrics that mattered for the company.
"Many agencies starting out in landing page strategy just watch traffic and conversion numbers. But those can be very superficial metrics.

You have to examine the data and find the patterns."

– Theresa Baiocco, Conversion Max
It wasn't enough that Variation B generated leads – the form fills didn't result in as many actual sales.
According to Theresa, prioritizing the call to action of a phone call resulted in a 25 percent improvement in the value of conversions.
With great power comes great responsibility
Now that you've got all the superhero secrets, it's time to put landing page strategy on your agency's tool belt.
Even with few resources and a tight budget, landing pages can help you create better marketing campaigns for your clients. In turn, you'll create better brand experiences for their prospects. It's a win-win situation.
Are you a marketing agency that's already using landing pages like a boss? Tell us your own tips and tricks in the comments below.