On marketing blogs everywhere (including this one), you hear a lot of lip-flapping about the importance of meticulously planning your marketing campaigns.
But what many don't address is that marketing campaigns aren't specific to product launches – if you want to achieve measurable results with your marketing, you need to treat every single one of your marketing activities as a marketing campaign.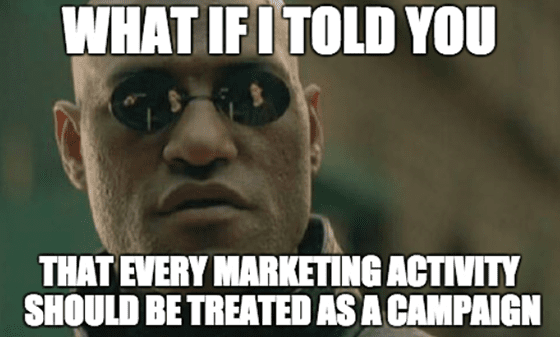 For every single project you take on to move the needle for your business, you've got to have a master plan: a set of clearly-defined goals, a finite start and end date, and a means of tracking your successes (and failures).
So what extra baggage comes with this "campaign mentality"? What's the ideal order of operations? What extra resources will you need?
Here's a step-by-step blueprint for planning and launching your next campaign – with a selection of hand-picked tools to help you through each step.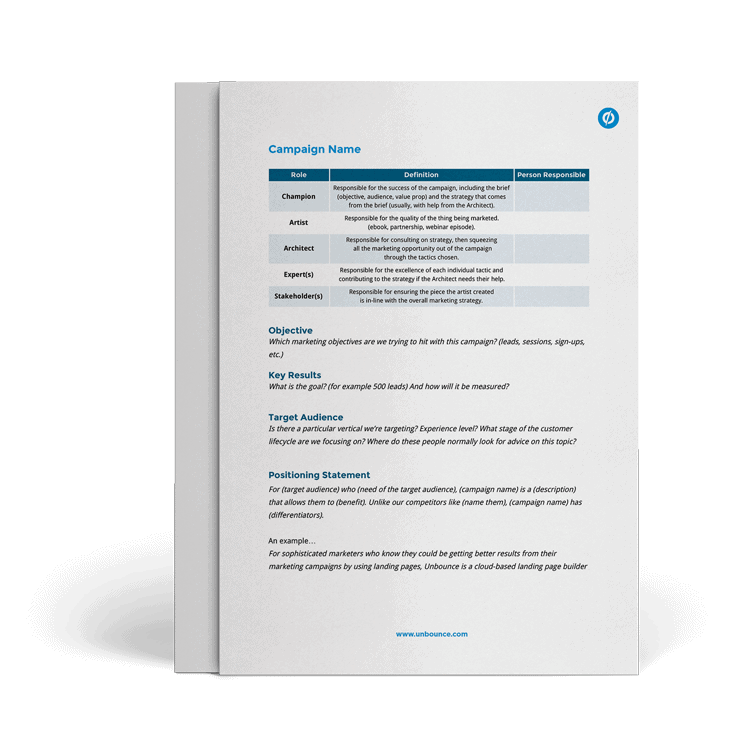 Planning your next marketing campaign?
Steal Unbounce's Campaign Strategy Brief template to help you plan for measurable success.
By entering your email you'll receive weekly Unbounce Blog updates and other resources to help you become a marketing genius.
1. Ideation, research and goal setting
Have a brilliant idea
I'm willing to bet that you've got more brilliant ideas floating around than you realize – but are they getting lost in the shuffle?
Organizing your ideas goes a long way in helping to identify the opportunities with the most potential.
Get a Trello board started for your marketing ideas, with columns for each stage of the planning process: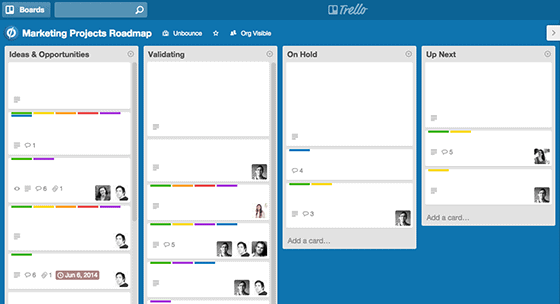 This is the Trello board for Unbounce's marketing campaigns. "Brilliant" campaign ideas have been omitted. ;)
Start by brain dumping cards into the "Ideas" column. For each campaign idea, identify the scope of the project:
How long will it take?
What resources will it require?
What sort of results do you expect?
As each campaign gets off the ground, move the card through each stage of the planning process, from "Validating" to "Underway." Keep a "Done" column as well so you can track your progress and prove that you're getting shit done.
Organizing things in this way helps you prioritize and holds you accountable for your ideas from start to finish.
Know your audience and what resonates
When validating ideas, always keep your audience top-of-mind.
Ask yourself:
Which part of the marketing funnel are you targeting? What sort of content or campaign will resonate with those prospects?
Which topics are popular with your audience? Which of your campaigns have resonated in the past? Which ones have failed miserably?
What is there a need for? Are the same questions appearing in blog comments, on social channels and with your customer support team?
Always ask yourself how you can deliver as much value as possible to your prospects.
There's a reason why people say, "The customer is always right" – at the end of the day, if you give them what they want, they'll thank you with conversions.
Be as specific as possible when setting goals
Once you've identified a ripe opportunity, get super specific about what you expect from the marketing campaign.
I'm not talking about simply declaring that you "want more sales." You want to be as specific as possible so you can measure your success later.
For example, when we launched our Conversion Marketer's Guide to Landing Page Copywriting, here were the results we estimated:
5,000 downloads
1,000 new leads
100 new trial starts
Ask yourself which key performance indicators matter most to your business and what results you can expect.
If you don't have previous campaigns to refer to, take your best guess. At the very worst, you'll be way off and will have more realistic expectations next time. :)
2. Building (and testing) your campaign landing page
If you want your campaigns to inspire action, then you've got to make the intended goal crystal-clear. After all, your users deserve a delightful, seamless marketing experience, don't they?
If you agree, then you've got to create a dedicated landing page for every marketing campaign you launch.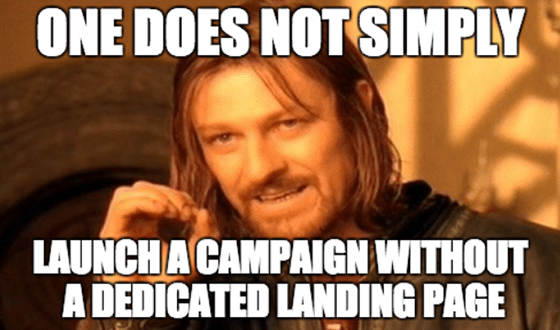 Having a dedicated landing page for every marketing campaign allows you to direct prospects toward the goal in a concise, compelling manner – and allows you to easily track the success of your campaign.
Use the five elements of a high-converting landing page
Every campaign landing page should lead with the question that prospects have on the brain:
What's in it for me?
That includes talking about benefits, not features – and making sure you supply prospects with all the information they need to make a decision.
A simple way to achieve this is to be sure that your landing page includes the five essential elements of a winning landing page.
Have a look at the landing page we created for the launch of our mobile responsive feature: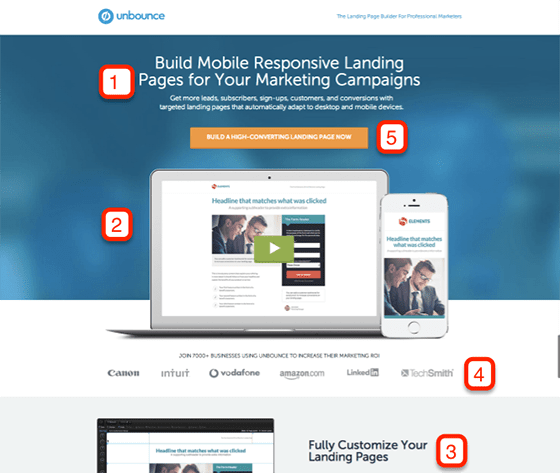 Click for full-length landing page.
Notice how all five elements appear above the fold?
Once you've got all the elements in there, don't forget to test your heart out.
Checking "hero shot" off the list isn't enough. You've got to make sure that you've got the optimal hero shot!
Ask if video can add value
Sometimes, your offer is hard to summarize above the fold.
Maybe it's a complex offering, or maybe you want to show your product in action so prospects can picture themselves using it.
Including a video on your landing page (with the help of a service such as Wistia) could be exactly what you need to counter objections that prospects have when they just don't get what you do.
When we launched mobile responsive, we decided to include a video on our landing page. We wanted to inject a little more delight and we wanted to be able to clearly illustrate exactly what mobile responsive is (and what it looks like in app):
But does video really work?
I could link to a super convincing case study that indicates that videos increase conversions on landing pages. I could also link to one that suggests the opposite.
One thing is certain: A/B testing is your friend.
If you do go with video, remember that it's a time-intensive venture that will require lots of resources. Make sure you're not neglecting the other important elements on your landing page.
'Cause if your copy falls flat, your video won't shine either.
Set up the delivery mechanism
As people fill out the form on your landing page, you want them to be added to a relevant list that you've created in your email service provider (such as AWeber). Create a dedicated list or segment for that campaign so you can track sign ups easily and keep in touch.
Then add a follow-up message that delivers the offering, or deliver it on the confirmation page.
Don't leave anyone hanging!
3. Setting up goal tracking
If you're going to invest time and resources into your brilliant ideas, you'll want to know how your campaign is performing.
Google Analytics can be useful in tracking straightforward goals and conversions (such as an ebook download) – but often, campaigns involve more than one touchpoint with prospects.
Go deep with your analytics
Tools like KISSmetrics address some of the frustrations marketers (especially SaaS marketers) have with Google Analytics.
KISSmetrics makes it easier to tag your campaign data and build a simple custom report to display results. We've found it extremely valuable that the tool allows you to pull customer data from your billing system so you can accurately track their progress all the way down the funnel – and even after they become a customer.
For each campaign, you'll want to set up events for every micro and macro conversion. For example, you may want to set up an event when a prospect completes each of the following:
Visits the campaign landing page
Signs up for a free 30-day trial
Uses your product
Then you can set up funnel reports so you can see the point at which people are dropping off – and optimize accordingly.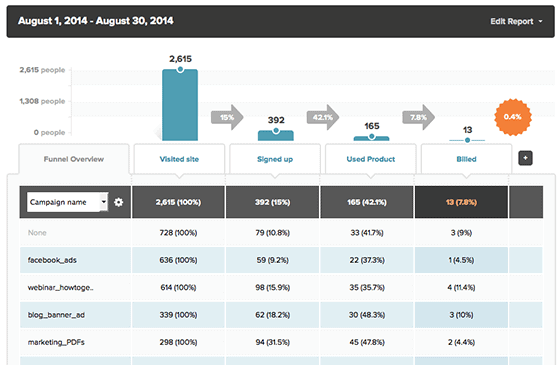 Funnel reports like this one pulled from KISSmetrics give insight into where prospects are dropping off in the conversion funnel.
Image source
.
To get started with goal tracking, check out these helpful beginner guides here and here.
4. Distribution and promo
After you've created all the things and set up all the tracking, you've gotta devise a game plan for getting it all out there.
Which channels will you use to promote your campaign? Email, co-marketing initiatives, social, press releases – maybe even a contest?
Whichever channels you choose, remember that distribution and promotion should never be an afterthought.
All this prep work should run parallel to content production so that much of the legwork is done before your launch date.
Announcing the campaign on social media
Your fans on social media have followed you because they're interested in what you're doing and what you have to say. So tell 'em what's up!
Every marketing campaign needs a corresponding social media campaign to spread the word. At the very least, you should:
Announcing the campaign in a blog post
If you've already got a group of engaged readers on your blog, why not use it as a platform to break the news about your campaign?
You could write a post on a related subject to pique your readers' interest, and then insert a CTA at the bottom of the post for your campaign. (Scroll down to the bottom of this post to see what I mean… ;)
Alternatively, you might decide to write a post that simply announces the launch!
When we launched our copywriting ebook, we found that explicitly announcing the launch (rather than burying a CTA in a post with related subject matter) resulted in more sessions and downloads:

Explicitly announcing the launch of our latest ebook (instead of burying the lede in a post on the same subject) resulted in more views to the campaign landing page and a higher percentage of ebook downloads.
Your campaign may have a finite end date, but your blog post is around forever – so make sure that you pay attention to SEO and do appropriate keyword research.
If you're running an evergreen campaign, also consider optimizing your landing page for SEO so that people can stumble on it organically. (Psst: If you're an SEO noob, tools like Moz can help.)
Announcing the campaign to your email list
If you've already got an engaged list, announcing your campaign via email is an easy win. After all, these people have already self-identified as being interested in what you do.
Here are some best practices to help get you started:
Make sure your email copy matches that of your landing page.
As Joanna Wiebe explained at last year's CTAconf, your subject line has one job: to get the prospect to open the email. It needs to grab the reader's attention, but should still be clear. Test subject lines to learn more about what triggers subscribers to open.
Your body copy should be concise, and speak clearly to the benefits of your campaign. Your body copy's "job" is to get people to click on the CTA in the email.
The CTA in your email has to pop and describe what people get when they click the button. Test CTA button copy that answers the question, "I want to…"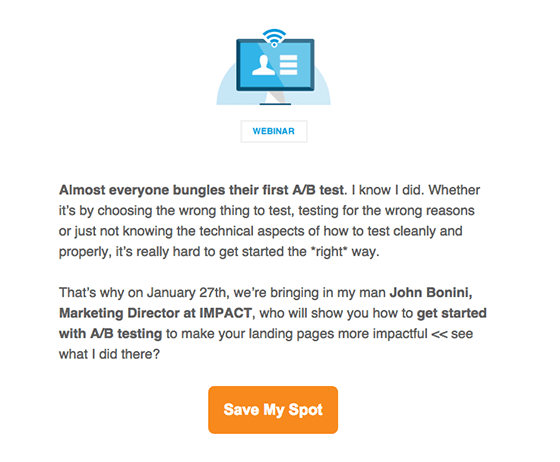 The CTA for this webinar announcement email is easy to spot and finishes the sentence, "I want to _____." Click for full email.
There are of course tons of other methods for getting your campaign out there – I haven't even touched on paid methods such as PPC (WordStream can help with that!).
You've got to find what works best for you – and then find ways to do it better than everyone else.
5. Lead nurturing
After your campaign is launched, your work isn't done.
No matter the goal of your campaign, you want to continue the relationship so you can make leads into customers and customers into repeat customers.
I'm talking about lead nurturing.
The more touch points a lead has with your business, the hotter they become.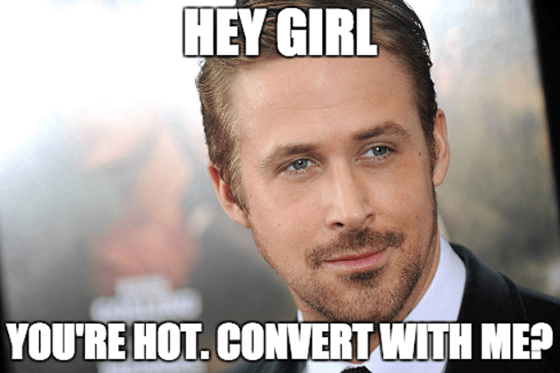 You'll want to keep track of those interactions (Customer Relationship Management tools such as HubSpot can help make this easy) – and then find ways to keep offering value.
Keep delivering value
The more details you have about your leads, the more opportunities you have to send them targeted offers that will make them happy – and more likely to do business with you.
When we recently launched an ebook campaign, we set up separate email marketing campaigns to fire based on answers prospects provided in the opt-in form.

For example, if they answered "We don't use landing pages" to the question above, we sent them a follow-up email schooling them about the importance of landing pages (and telling them about Unbounce).
Taking this approach gave us insight into the behavior of each subscriber, and allowed us to target subsequent offers based on their answers.
If you listen closely enough, you'll have a good idea of what your prospects want. And that puts you in the unique position to give them exactly what they need.
6. Rinse, lather, repeat
When your campaign has come to an end, it's time to look back and take in all the results.
Hold a postmortem with everyone involved to discuss your successes and shortcomings. For example:
Did you meet the goals you laid out in step #1?
What could have been done differently?
For anything that didn't work out, what's your best guess at why it went wrong?
How can you do things better next time?
What have you learned about your audience?
Holding meetings like this and keeping the notes on record allows the entire team to learn from each others' mistakes and become better marketers.
And that will make your next marketing campaign that much more awesome.
Treat all your marketing activities as distinct campaigns
There is no such thing as the perfect marketing campaign.
There's always room for iteration and improvement – not to mention more conversion lifts.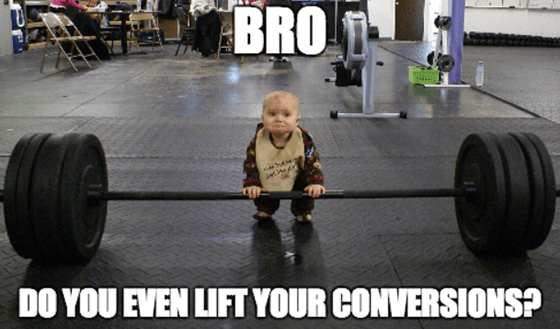 If you're deliberate about all of your marketing activities and break things down into smaller, digestible chunks, then you can get a clear picture of what's working and what's not.
And that brings you one step closer to the unattainable.
To recap, here's the grocery list of tools I mentioned throughout the post:
While this is a solid start to running a marketing campaign, there are tons of other considerations that I didn't touch on here. And there are tons of other tools that go into the planning of a campaign (at Unbounce, we're big fans of RealtimeBoard and Basecamp to name a few).
So help me out. Which tools and tactics have you found invaluable in your marketing campaigns?